10 OCTOBRE 2015 NEWS: Tithebarn Green - Kültepe Kaniş - Boulder - Pongalur / Nariyampallipudur - Kamenovo -
10 OCTOBRE 2015 NEWS: Tithebarn Green - Kültepe Kaniş - Boulder - Pongalur / Nariyampallipudur - Kamenovo -
INSTITUT SUPERIEUR D'ANTHROPOLOGIE
INSTITUTE OF ANTHROPOLOGY
ONLINE COURSES / COURS A DISTANCE
WINTER TERM : JANUARY 2016
REGISTER NOW
ROYAUME UNI –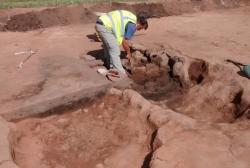 Tithebarn Green - Excavations being carried out at Tithebarn Green, Redhayes near Exeter, are revealing a complex ancient landscape with occupation dating from the neolithic through to the medieval period. The Bronze Age Pin Brook enclosure, at the northern end of the Tithebarn Green site, has sparked enormous interest among historians. Richard Greatorex, principal fieldwork manager at Cotswold Archaeology, said: "We have identified a Bronze Age enclosure with a two metre deep ditch. "These enclosures are a bit of a mystery in that they don't appear to be defensive as there are no stores or homes within them but they look far too large to be simply for retaining livestock. "We have found remains of up to 70 burials within the enclosure which we believe to be from the late Roman or post Roman British/Anglo Saxon period. "We have also found a number of furnaces or corn dryers used to dry a variety of cereals and several additional Bronze Age ditches as well as later post- medieval ones. The site had clearly been in use for a long time." It is thought the enclosure may have been built to adapt a neolithic causewayed enclosure and there is evidence of ongoing use of the site in the late Roman and/or post Roman British or Anglo-Saxon periods. There is also evidence of the post-medieval enclosure of the landscape for more intensive farming.
http://www.westernmorningnews.co.uk/Bronze-Age-mystery-unearthed-Devon-site/story-27952413-detail/story.html
TURQUIE –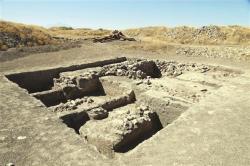 Kültepe Kaniş/Karum mound - New excavation work started on the Kültepe Kaniş/Karum mound, located in the central Anatolian province of Kayseri, will shed light on the early stages of trade. The work, coordinated by Japanese archaeologist Professor Ryoichi Kontani, aims to uncover data about ancient international trade. Kontani said since 1948, excavations in Kültepe had been carried out in a field known as the palace. The team has recently started works in the settlement field, located 300 meters north of the palace. "Our goal is to reach the first eras when trade started 6,000-7,000 years ago in Kültepe. We have so far reached 4,500 years ago. This is the basement of the places where people lived. We discovered a furnace from 4,500 years ago… We also found the pieces of an idol made of marble and known as the Kültepe Idol. What is interesting to us is that those idols were found inside the sanctuaries in the palace field. Finding them 300 meters away from the palace shows us that the Kültepe Idol had religious meaning not only for upper-class people but also lower-class people," said Kontani. Kontani said that there were rumors that trade dated back 6,000 years in Kültepe but it has not been proved. "We will try to find evidence [for this claim] in this work," he said. He said Kültepe was trade hub of the Middle East in the past. "Since this place was the transition zone for civilizations, its history might go back to earlier times than expected. At the first stage, we aim to reach 6,500-7,000 years ago. But we will continue working in this level because this place was home to many civilizations, one after the other. We see the traces of a different civilization in each layer. This means that Kültepe was not only the trade hub of Anatolia but of the Middle East," added Kontani. He said that they had been working with a team of four people in a 30-square-meter area. "We keep the area narrow because we want to reach older ages within a shorter time. But we will start excavations in a wider field with a larger group of people in the coming years," he said.
http://www.hurriyetdailynews.com/excavations-to-shed-light-on-ancient-trade-.aspx?PageID=238&NID=89593&NewsCatID=375
USA –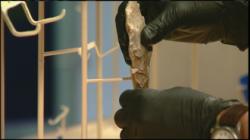 Boulder - A new exhibit at the University of Colorado Museum will feature some ancient stone tools from the last ice age. More than 80 tools were found inside the Boulder city limits in 2008. Those tools date back to 13,000 years ago, the end of the last ice age. Two different stone knives were found with protein from extinct North American animals.
VIDEO = http://denver.cbslocal.com/2015/10/07/80-tools-from-ice-age-found-in-boulder/
INDE –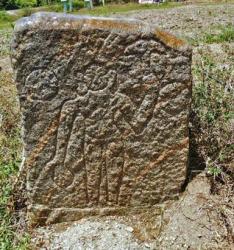 Pongalur / Nariyampallipudur - A team of archaeologists has discovered two Vaishnava saint sculptures (also called Vamana Avathar sculptures), both around 500 years old with identical carvings on the stones, at Pongalur (the one in Avinashi taluk) and Nariyampallipudur situated seven km. apart in the district. "During those era, Vaishanava mutts or monastic establishments used to give away land to the people in Kongu region as 'grants' for farming activities and collect tax from the agricultural revenue. The amounts thus collected are used for renovation of temples, lightning of lamps during temple festivals in the region. When giving away lands, these monastic establishments used to place sculptures of gods/saints to denote that the expanse was given as 'grant' and also for the people to worship the same for soil fertility," S. Ravikumar, one of the members of Virarajendran Archaeological and Historical Research Centre which discovered the sculptures, told The Hindu . In both the sculptures, Vamana holds holy pot with water on right hand (kamandalam) and the left hand has the umbrella. Both the sculptures have the emblems of sun and moon. "History books point out that the sun and moon are symbolically carved out in that era to tell the villagers that the land given as grants should be used only for the purpose meant till sun and moon exists," pointed out C. M. Ramesh Kumar, another member of the team. When spoke to some villagers in both the places, they were not aware of the historical importance of the stones. "We thought that it as a stone kept to mark the boundary," said M. Kanagraj, a farmer from Nariyampallipudur on whose farm border lays one of the sculptures.
http://www.thehindu.com/news/national/tamil-nadu/vaishnava-saint-sculptures-discovered/article7740908.ece?
BULGARIE –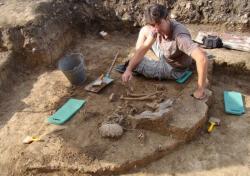 Kamenovo - The skeletons from the Chalcolithic (Aeneolithic, Copper Age) necropolis discovered in September 2015 under a former school yard in the town of Kamenovo in Northeast Bulgaria belonged to women and children of the so called "Mediterranean anthropological type". In its media release, the Ruse Regional Museum of History reminds that the discovery of theChalcolithic workshop has yielded a lot of flint materials, including nuclei for making flints tools, semi-processed tools, and fully completed tools. It points out that the archaeologists have found a clay-coated ground where the production of flint tools took place. Much of the flint material was first heated in order to fashion billets for different types of tools out of it. The flint was extracted from quarries near today's towns of Ravno and Topchii which are located not far from Kamenovo. The archaeologists have found that the production center making the flint tools started operation as part of the excavated settlement in the Early Chalcolithic, i.e. around 4,800 BC. In the Late Chalcolithic, around 4,500-4,200 BC, "as a result of demographic and economic changes", the flint workshop grew outside of the settlement, and covered a large area where part of the town of Kamenovo is located today.
http://archaeologyinbulgaria.com/2015/10/09/skeletons-found-in-chalcolithic-necropolis-in-bulgarias-kamenovo-belonged-to-women-and-children-of-mediterranean-anthropological-type/