10 MARS 2016 NEWS: Londres - Direkli Inn - Moghalmari -
10 MARS 2016 NEWS: Londres - Direkli Inn - Moghalmari -
INSTITUT SUPERIEUR D'ANTHROPOLOGIE
INSTITUTE OF ANTHROPOLOGY
ONLINE COURSES / COURS A DISTANCE
SPRING TERM : APRIL 2016
REGISTER NOW
ROYAUME UNI –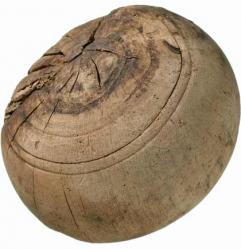 Londres - This wooden ball, found by archaeologists working on the huge new Crossrail underground tunnels across London, may either have been a jack for 16th century bowls or a ball for a skittle alley at Worcester House mansion in East London. At 68mm from top to bottom, it compares well with the modern unbiased jack, which is a shade less than five millimetres smaller. Cloten, a character in Shakespeare's 1609 Cymbeline, could have uttered the first reference to the sporting jack when he wondered: "Was there ever man had such luck! When I kissed the jack, upon an up-cast to be hit away". The use of a target ball had been fundamental to ancient variants of the game and is of great antiquity. The game had been banned among commoners from the late 14th century, although repeated statues and regulations were imposed – two by Henry VIII, which might imply the restrictions were not always obeyed, but that there was an association with social status that had to be defended. Entertainments and shared leisure were important in an era of shifting personal alliances and internecine family feuds. Judging a man's character at skittles or bowls, by repute, could have been a life-saving skill with so much staked on personal relationships.
http://www.culture24.org.uk/history-and-heritage/archaeology/art547892-bowling-ball-worcester-house-archaeology-london
TURQUIE –
Direkli Inn - Direkli Inn, where the remains of animal skeletons from 2,5 million years ago as well as sharp tools resembling pocket knives and pens have been found, has drawn the attention of international academics specializing in "inn archaeology." They want to take part in the archaeological excavations in Direkli Inn as well, according to an official on the excavation team. The inn was discovered in the southern province of Kahramanmaraş in 1959 by Professor Kılıç Kökten. Archaeological excavations were initiated at the inn in 2007 with the help of Gazi University Archaeology Department Assistant Professor Cevdet Merih Erek. The excavations have been carried out by Culture and Tourism Ministry officials and university students. The pocket knives, sharp tools and pens date back to the Paleolithic age and the skeletons of carnivorous and herbivorous animals date back to the Ice Age. Erek said the team had collected all data about the region's archaeological potential during the 10-year excavations. He said that the excavations also unearthed a site from the Epi-Paleolithic and Neolithic ages, which both came after the Paleolithic age. "The works show us that that Kahrmanmaraş has big potential and archaeological data may be unearthed in almost all districts and neighborhoods of the city," he added. People who came to Anatolia from the Eastern Mediterranean coast and ones who came to the Eastern Mediterranean from Anatolia benefitted from this geography, Erek said, and continued: "Specifically, it was very important that Anatolian obsidians [volcanic glass] were found in Kahramanmaraş. Also, a shelled animal, which was living in the Sea of Galilee, was found in the city. We see that humans were very active in this region. We wrote a book to explain the 10-year excavations at Direkli Inn."
http://www.hurriyetdailynews.com/direkli-inn-draws-world-academics-official.aspx?pageID=238&nid=96199
INDE –
Moghalmari - Excitement and expectation over the Moghalmari excavation site near Dantan in West Midnapore peaked on Monday as the state archeology department, which is digging up the ancient Buddhist vihara ruin, confirmed that it has found a portion of a gold crown over the weekend. Archaeologists say the find is extremely rare since gold and silver ornaments have almost never been dug up at Buddhist excavation sites. The recovered piece, 7.5x4cm in size, looks like the tip of a crown set in a chunk of terracotta, probably part of a Buddha statue. It has been sent to the state archeology museum at Behala for further examination. The Moghalmari vihara is gradually emerging as one of the oldest in the country, dating back to at least 6th century if not older. A large number of statuettes, pottery fragments and bronze items have been recovered from the mound since excavation re-started in January. Recently, gold coins bearing the name of Samachar Deva, a king of the pre-Pala dynasty, were dug up. "We were stunned to find the portion of the gold crown.We feel it was part of the main Buddha statue of the vihara. Gold ornaments were normally not part of Buddha statues. But the Vajrayana sect of Buddhism worshipped what was known as the Crown Buddha. It seems this gold crown was worn by a Crown Buddha," said Prakash Maity , the chief archaeologist at the site. "It is possible that the Moghalmari vihara received royal patronage during the pre-Pala times from Samachar Deva, a local satrap who came into prominence in south Bengal after the fall of the Guptas in 550 AD. Notably, king Shashanka had not emerged on the scene yet.Again, while this crown might be indicative of religious harmony , Shashanka was a Shaiva and might not have been too kind towards other religions. Naturally , these matrices have to be studied while establishing the antiquity of the vihara," Maity said. He went on to suggest that since Moghalmari was part of an important trade route, the gold ornaments might have been gifted by traders. Two important seals have already been discovered that suggest the name of the vihara was `Sribandaka vihara'.
http://timesofindia.indiatimes.com/city/kolkata/Gold-crown-dug-up-at-Moghalmari-in-West-Bengal/articleshow/51302074.cms