INSTITUT SUPERIEUR D'ANTHROPOLOGIE
INSTITUTE OF ANTHROPOLOGY
ONLINE COURSES / COURS A DISTANCE
WINTER TERM : JANUARY 2016
REGISTER NOW
ROYAUME UNI –
Sanday - Archaeologists from the University of the Highlands and Islands made the surprising find on Sanday, a small island north of the Orkney mainland. Christopher Gee was walking to Tresness with three colleagues when he spotted what appeared to be a stone cairn poking out of the sand on Monday. Closer inspection revealed stone walls belonging to 14 houses, which experts believe could be one of the largest Bronze Age settlements ever found in Scotland. However, they said the 4000-year-old complex is under threat from coastal erosion and warned that it is "only a matter of time before" it is destroyed. Cath Parker, leader of the Sanday Archaeology Group, added: "This is incredibly exciting. The archaeological landscape concealed beneath Sanday's shifting sands never ceases to amaze us. "I'm sure the local community will relish the opportunity to be involved with any work which stems from this thrilling discovery. more than 4000 years old."
http://news.stv.tv/north/1335342-shifting-sands-uncover-major-bronze-age-settlement-on-orkney/
FRANCE –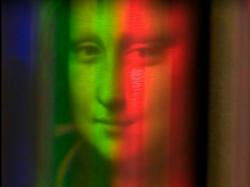 Mona Lisa - An image of a portrait underneath the Mona Lisa has been found beneath the existing painting using reflective light technology, according to a French scientist. Pascal Cotte said he has spent more than 10 years using the technology to analyse the painting. He claims the earlier portrait lies hidden underneath the surface of Leonardo's most celebrated artwork. A reconstruction shows another image of a sitter looking off to the side. The Louvre Museum has declined to comment on his claims because it "was not part of the scientific team".