INSTITUT SUPERIEUR D'ANTHROPOLOGIE
INSTITUTE OF ANTHROPOLOGY
ONLINE COURSES / COURS A DISTANCE
FALL TERM : OCTOBER 2013 
REGISTER NOW
BANGLADESH –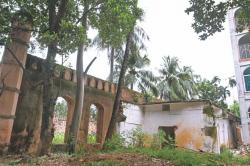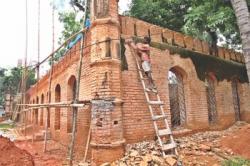 Dhanmondi - Illegal structures are hampering restoration work of the historic Eidgah at Dhanmondi in the capital. Set up in 1640 by Mughal ruler Subedar Shah Shuja Dewan Bin Abdul Kashim, the Eidgah is one of the only two Mughal congregation sites in the sub-continent, the other being in Delhi, according to historians. The arched main entrance to the Eidgah has an inscription on it in Persian language. Neglect and lack of supervision over the years have led to encroachments upon the Mughal legacy. An encroachment that comes as an eyesore is on the eastern side of the Eidgah — remnant of a demolished old mosque.
http://www.thedailystar.net/beta2/news/mughal-era-eidgah-choked-by-illegal-structures/
VIET NAM -
 Quang Ngai - Thousands of antiquities have been recovered from a 700-year-old shipwreck discovered in Vietnam's central province of Quang Ngai, local media reported. Four thousand artifacts believed to date back to the 13th century, including coins and ceramics, were recovered undamaged, China's state-run Xinhua news agency said, quoting local reports. The Quang Ngai provincial steering board for archaeological exploration said the artifacts were retrieved from the seabed during an excavation June 4-23. The ship, which measures 67 feet long and 18 feet wide, contained 13 cargo holds. Remnants gathered from holds 4 to 6 prove the ship caught fire before sinking, archaeologists said. "The hulk itself, which boasts unique, rare structure, is a treasured antique, which contributes massively to our knowledge of antique ships in Vietnam and worldwide," Nguyen Dinh Chien, deputy head of the National History museum, said.
http://www.menafn.com/d2b81bff-1e37-49b7-b648-84d850d6f91d/Shipwreck-off-Vietnam-yields-700yearold-coins-and-ceramics?src=main
CHINE – Yejiashan - A painted bronze pot has been unearthed from a cluster of tombs in central China's Hubei Province, marking the first discovery of painted bronze in an a dynasty about 3,000 years ago, archaeologists said Monday. Researchers are still excavating the Yejiashan Graveyard in the city of Suizhou. The graveyard is believed to have been used to bury the lords of the Zeng State during the early Western Zhou Dynasty (1046-771 BC). Zhang Changping, a professor at the School of History at Wuhan University, said the discovery of the pot will help researchers better understand changes in aesthetic preference that occurred during the Western Zhou Dynasty. Over 1,500 bronzes, pottery works and lacquered items have been unearthed from the tombs so far. Huang Fengchun, director of the archaeology team working at the tombs, said the items will aid in research regarding the chronology of the Western Zhou Dynasty and could serve as important evidence for the study of culture in the Hangjiang River Basin. The Yejiashan Graveyard was discovered in 2011 and was one of the most important archaeological findings in China that year.
http://news.xinhuanet.com/english/culture/2013-07/09/c_132523958.htm
ITALIE –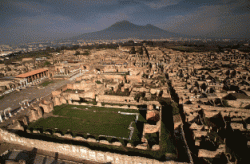 Pompei - Italian construction magnate Pietro Salini wants to donate €20 million to restore Pompeii. Reuters news agency reports that Salini wants to donate funds to restore the archaeological site that has been damaged by weather, and has suffered from corrupt management and mafia interference. Salini aims to attract other international donors to restore the Ancient Roman city, telling a press conference: "It would be a crime to let Pompeii crumble." Salini's announcement comes at a time when the head of the UNESCO National Commission in Italy, Giovanni Puglisi, warned the Italian government that it needs to accelerate ongoing restoration work at the archaeological site, saying the government "has until 31 December to adopt suitable measures for Pompeii". In January 2013, UNESCO documented structural problems and damage Pompeii. UNESCO is due to make a progress assessment in February 2014.
http://www.italymagazine.com/news/construction-magnate-donates-millions-restore-pompeii-unesco-criticises-italian-government
FRANCE –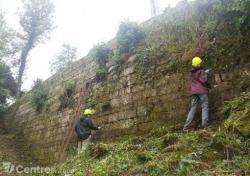 Grandmont - Les archéologues ont commencé à investir le site de Grandmont, à la recherche d'indices historiques sur les ruines de l'abbaye, une petite chapelle et sur les murs des maisons du village. Les pierres de Grandmont témoignent du passage près d'Ambazac des grands personnages de notre histoire. Ce village médiéval dont la renommée sera considérable à partir du XII e siècle, fera l'objet de toutes les convoitises pour les rois d'Angleterre et de France qui se succéderont sur plusieurs siècles. Ils revendiqueront tour à tour de posséder les trésors que renferme alors l'abbaye de Grandmont. Le site, qui n'était à l'origine qu'un modeste monastère, devient un grand chantier de construction pour laisser place à d'importants édifices religieux : l'abbaye est reconstruite et magnifiée avec dans son enclos un prestigieux palais royal. A l'origine de ces transformations, un homme. Le roi d'Angleterre Henri II Plantagenêt. Pourquoi s'est-il tant intéressé au village ? Pourquoi y a-t-il régulièrement séjourné ? Pourquoi a-t-il décidé à ses frais de financer de grands travaux qui feront au fil des années la renommée du site en France et bien au-delà ? C'est un lot de questions parmi les nombreuses interrogations que se pose Philippe Racinet, professeur en histoire et archéologie à l'université de Picardie Jules-Verne, aux côtés de son équipe de recherche. « Nous allons entreprendre plusieurs opérations pour tenter de reconstituer l'édifice dans ses périodes historiques successives et de le replacer dans son contexte historique, depuis l'origine. Pour cela, nous allons notamment procéder au repérage et à l'analyse des vestiges encore en élévation, notamment sur un mur de terrasse, avec un relevé pierre à pierre. Nous procéderons également à un relevé topographique des emplacements précis des structures existantes avec un inventaire des pierres encore visibles sur la chapelle actuelle et les façades des maisons du village. » Un travail de longue haleine dont la première étape s'achèvera début août. Des investigations historiques et archéologiques sur un édifice dont il n'existe à ce jour aucun plan et qui a fait l'objet de nombreuses transformations, ponctuées de pillages et de démolitions successives.
http://www.lepopulaire.fr/limousin/actualite/departement/haute-vienne/2013/07/04/depuis-mardi-une-equipe-darcheologues-organise-des-fouilles-sur-le-site-de-grandmont-1614366.html
MEXIQUE –
 Narigua - Archaeologists in Mexico have catalogued thousands of etchings carved into stones that they believe were made by hunter-gatherers 6,000 years ago. The carvings, known as petroglyphs, mostly consist of wavy lines and concentric circles, with some images representing deer tracks. Some 8,000 images were found at the site in Narigua in northern Mexico. Experts say the etchings may be part of hunter-gatherer initiation rites, or representations of stars. INAH archaeologist Gerardo Rivas said there was evidence of hunter-gatherer tribes having lived in the area. He said many of their settlements were temporary, but evidence of cooking implements and stoves still remained. He said the petroglyphs may reveal clues as to the level of sophistication of the tribes, and the kinds of tools they were able to manufacture.
http://www.bbc.co.uk/news/world-latin-america-23238606
ITALIE –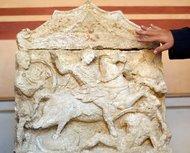 Perugia - Police from Italy's art theft squad recently recovered 21 Etruscan urns that were carved from travertine for the wealthy Cacni family more than 2,000 years ago. The urns were allegedly removed from a tomb by local people building a garage, who then destroyed all evidence of the site and built over it. Authorities say that the colors and gold decoration on the urns have faded away because of the lack of proper care and conservation. The urns date to the period of transition to Roman rule.
http://www.nytimes.com/2013/07/06/arts/design/etruscan-artifacts-looted-by-amateurs-are-prize-objects.html?pagewanted=all&_r=1&