09 FEVRIER 2018: Caesarea - Isle of Lewis - Windsor - Cape York -
09 FEVRIER 2018: Caesarea - Isle of Lewis - Windsor - Cape York -
INSTITUT SUPERIEUR D'ANTHROPOLOGIE
INSTITUTE OF ANTHROPOLOGY
ONLINE COURSES / COURS A DISTANCE
SPRING TERM : APRIL 2018
REGISTER NOW
ISRAEL –
Caesarea - A 1,800-year-old mosaic of toga-clad men dating back to the Roman era has been unearthed in Israel, archaeologists said on Thursday. The mosaic was discovered during the excavation of a building from the Byzantine period - some 300 years younger than the mosaic it was on top of - in the coastal city of Caesarea. "The surprise was actually that we found two beautiful monuments from the glorious days of Caesarea," Peter Gendelman, co-director of excavation for the Israel Antiquities Authority, told Reuters of the building and mosaic. Caesarea was a vibrant Roman metropolis built in honor of Emperor Augustus Caesar by King Herod, who ruled Judea from 37 BC until his death in 4 BC. The excavated portion of the mosaic, which the antiquities authority said was 3.5 meters by 8 meters in size, depicts three toga-clad men, as well as geometric patterns and an inscription in Greek, which is damaged. If the mosaic came from a mansion, the figures could have been the owners, or if it was a public building, they may have been the mosaic's donors or members of the city council, Gendelman said. The mosaic was of a high artistic standard, with about 12,000 stones per square meter, the antiquities authority said.
https://www.reuters.com/article/us-archaeology-israel-mosaic/israeli-archaeologists-unearth-1800-year-old-mosaic-idUSKBN1FS2MI
ROYAUME UNI –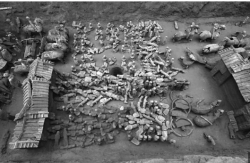 Isle of Lewis - A 2,000-year-old underground chamber has been discovered by a housebuilder on the Isle of Lewis. Mr Barrowman said food may have once been stored in the stone-lined structure. The archaeologist told BBC: "They are usually associated with what are known as Atlantic roundhouses, or wheelhouses, of the later Iron Age. "If this one was associated with a roundhouse it is likely to have been cleared away by now." Mr Barrowman said the well-preserved structure is the sixth to be recorded in the area.
https://www.scotsman.com/lifestyle/housebuilder-finds-iron-age-chamber-on-isle-of-lewis-1-4686146
ROYAUME UNI –
Windsor - A Neolithic monument has been discovered less than two miles from Windsor Castle. Dating from 5,500 years ago, it is one of the earliest known examples of monument-building in Britain. A ceremonial gathering place known as a causewayed enclosure has been revealed with the discovery of a series of encircling ditches, artificial boundaries with gap entrances, at a vast site in Berkshire. Archaeologists have found extensive quantities of animal bones as well as decorated pottery sherds, and evidence that pots were deliberately smashed, perhaps as festivities came to a boisterous close. Other finds include finely worked, leaf-shaped flint arrowheads, serrated blades, stone axes and grinding stones. About 80 Neolithic monuments have been identified in Britain, but archaeologists are particularly excited by this one as they expect to uncover the entire circuit of the enclosure. Specialists from Wessex Archaeology made the discovery at a sand and gravel quarry near Datchet, within sight of Windsor Castle. One theory is that it was seasonally occupied, with communities gathering for ceremonial feasting, exchanging goods and social obligations.
https://www.theguardian.com/science/2018/feb/08/discovery-of-windsor-neolithic-monument-excites-archaeologists
AUSTRALIE –
western Cape York - Archaeologists have confirmed ancient human remains, potentially up to 6,000 years old, are interred in burial mounds at a site long regarded as culturally significant by the Tjungundji people of western Cape York. The origins of the sand mounds in and around Mapoon, an Indigenous community in remote far-north Queensland, have long been debated by researchers. Some believe they were naturally occurring or created by birdlife, while others suggested they were human-made. Aunty Diane Nicholls said her people always knew the burial mounds held the remains of her people's ancestors.The Western Cape York Communities Trust funded archaeological consultant Veritas Heritage to investigate the site in consultation with family groups. Initial ground-penetrating radar investigation of 11 mounds showed many included human interments, and lead archaeologist Dr Mary-Jean Sutton said initial observations suggested some were around 6,000 years old. "We're thinking Holocene [epoch]," she said. "That's around the same time as the pyramids in Egypt and the Neolithic [era] in Britain, but we don't know that. "It could be earlier; it could also be much, much later."Researchers employed ground-penetrating radar and magnetometer technology to map the inner contents of the mounds without disturbing them. The images gave a glimpse into ancient burial practices and changes in cultural practices over time. Dr Sutton said the radar identified layers within the mounds and items in the grave sites including coral, flowers, and spears used to decorate the ancient resting places. It is estimated there are hundreds of similar burial mounds scattered through the Mapoon community and across the Western Cape.
http://www.abc.net.au/news/2018-02-08/discovery-of-ancient-aboriginal-remains-confirms-burial-grounds/9404322