INSTITUT SUPERIEUR D'ANTHROPOLOGIE
INSTITUTE OF ANTHROPOLOGY
ONLINE COURSES / COURS A DISTANCE
FALL TERM : OCTOBER 2016
REGISTER NOW
BURMA –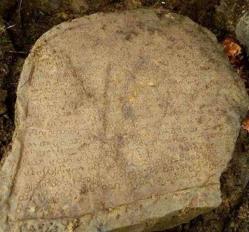 Mrouk-Oo - An ancient scripture stone was uncovered at Amyint Taung pagoda no 5 in Mrouk-Oo of Arakan State, said Director U Nyein Lwin of the Archaeological Department. Speaking to Narinjara News, the director also informed that the stone was found on August 26, where 44 sentences were written on it. Among those, 23 sentences were scripted on the back wand those were readable. But 21 sentences on the front side were illegible as it was partially damaged. The main content of the script was the punishment with the evil. Anyone, who destroys the donation schemes, has to face the curse. The script is scheduled to get translated into the present day languages for mass consumption, informed U Nyein Lwin. The height of the script is around 70 cm and the length is 80 cm. The thickness of the script is around 18 cm. The content of the script may not be useful in present days, but the stone has an archeological value. The square type script was understandably written during Mrauk period in Mrauk Oo period style asserted the Archaeological Department Director U Nyein Lwin.
http://www.bnionline.net/news/arakan-state/item/2242-ancient-scripture-stone-found-in-mrouk-oo-of-arakan.html
TURQUIE –
Şenkaya - The Solomon Monastery, which was carved out of the rocks in the eastern province of Erzurum's Şenkaya district is in need of restoration to attract more tourists according officials. The monastery features Jesus Christ in the arms of the Virgin Mary, as well as a cross carved on rocks and various figures. The monastery is currently a protected site as designated by the Cultural and Natural Heritage Preservation Board, said Şenkaya District Gov. Ahmet Özkan said. Information about the Solomon Monastery's establishment is not certain, but it is believed to date back 1,000 years ago, Özkan said. Georgians lived here for a long time. This place was constructed on steep rocks. Water was brought to the monastery by carving the rocks. Pictures of the Virgin Mary and Jesus Christ are in the monastery. There are rooms and various sections. Unfortunately, it was plundered and damaged in recent years by treasure hunters. Gülle said the monastery was believed to have served as a seminary for nuns."We have learned from Georgian tourists that this was a seminary. Sisters used to be trained here. One of the most important reasons why it was constructed on steep rocks was to train sisters and security. It dates back to the Byzantine era and it took the name Solomon after it was taken over by the Georgians," Gülle said.
http://www.hurriyetdailynews.com/monastery-on-rocks-needs-restoration-.aspx?pageID=238&nID=103627&NewsCatID=375
ROYAUME UNI –
Clydebank - IT was created thousands of years ago and lies buried at a farm next to a Scottish housing estate. Now the mysterious Cochno Stone is being unearthed for the first time in 50 years as archaeologists try to learn more about its purpose . Dating back 5,000 years, the Bronze Age artefact was uncovered by the Rev James Harvey in 1887 on farmland on the outskirts of Clydebank, West Dunbartonshire. Spanning 13m x 8m, the panel, which now lies next to a housing estate, is covered in around 90 carved "cup" indentations and spirals, as well as a pair of feet with four toes and a ringed cross. A scheduled monument, it was reburied under several feet of earth on the recommendation of Glasgow University experts in the 1960s over fears that the ancient markings would be damaged by vandals. Now a team from the city university is clearing the soil for a project which will use 3D imaging to make a detailed digital record of the site. Work began on Monday and will continue for three weeks.
http://www.thenational.scot/news/archaeologists-hope-to-unearth-secrets-of-neolithic-society.22084
FRANCE –
La Tournerie - Sur le site de la Tournerie, au dessus de Roubion, une 3ème campagne de fouille vient de s'achever. Les archéologues essayent de comprendre pourquoi les Gaulois se sont installés à cet endroit situé à 1.805 mètres d'altitude. A coups minutieux de truelles et de pinceaux, le site de la Tournerie livre petit à petit ses secrets. Pas tous et pour cause, c'est le premier lieu d'occupation gauloise de cette nature, de l'âge du fer et à une aussi haute altitude à être mis au jour. Les archéologues ont retrouvé des armes brisées, un crâne humain planté sur une lance, ainsi que des restes de repas. Des indices qui permettent de penser qu'il s'agirait d'un site cultuel héroïque. Sur ce site les gaulois célébraient leurs valeureux guerriers après les batailles. En l'état des connaissances, le site de la Tournerie n'a pas d'équivalent dans les Alpes-du-Sud et si sa vocation est bien confirmée, ce serait le premier sanctuaire de haute-montagne de l'âge du Fer. Ce lieu exceptionnel a été découvert en 2011, à l'occasion de repérages aériens en vue de travaux, avait été découvert un site gaulois dans le parc du Mercantour, au-dessus de Roubion. Le chantier de fouilles a été démonté à la fin du mois d'août. Elles reprendront l'été prochain.
VIDEO =http://france3-regions.francetvinfo.fr/cote-d-azur/alpes-maritimes/le-site-gaulois-de-la-tournerie-livre-peu-peu-ses-secrets-1078427.html
CHINE –
Yangzhou - Chinese archaeologists have restored a 1,400-year-old royal crown, which belonged to the wife of Yang Guang, or Emperor Yang of Sui, the second and last monarch of the short-lived Sui Dynasty (581-618). The crown was unearthed in the tomb of the queen, known as Empress Xiao, in 2012 in Yangzhou, eastern China's Jiangsu Province. It is the oldest official crown of a queen ever found in China. Archaeologists dug it out of a rotten wooden box near the queen's coffin and sent it to a relic restoration lab with the Cultural Relic Protection Institute in northwest China's Shaanxi Province. Yang Junchang, a professor with Northwest Industrial University, who led the restoration project, said his team carefully cleared fragile copper wires from the crown, inch by inch, to restore 13 flower decorations. The flowers made of gilded bronze wires are very delicate with clear shapes of stalks, petals and stamen. The decorations are gold colored, and flicker with movement. The crown was made with a variety of materials, including bronze wire, gold, pearls, cotton and silk. Shu Jiaping, head of the Yangzhou Institute of Archeology, said that lab research had helped rediscover the materials and ancient techniques used for making a royal crown.
http://news.xinhuanet.com/english/2016-09/06/c_135666950.htm?