INSTITUT SUPERIEUR D'ANTHROPOLOGIE
INSTITUTE OF ANTHROPOLOGY
ONLINE COURSES / COURS A DISTANCE
FALL TERM : OCTOBER 2015
REGISTER NOW
MADAGASCAR –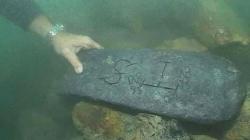 Sainte Marie - A team of American explorers have claimed to have discovered silver treasure from the infamous 17th-century Scottish pirate William Kidd in a shipwreck off the coast of Madagascar.Marine archaeologist Barry Clifford told reporters he had found a 50kg silver bar in the wreck of Kidd's ship the "Adventure Gallery", close to the small island of Sainte Marie. Captain Kidd, who was born in Scotland in about 1645, was first employed by British authorities to hunt pirates, but he turned himself into a ruthless criminal of the high seas. After looting a treasure-laden ship in 1698, he was caught, imprisoned and questioned in front of the British parliament before being executed in Wapping, close to the River Thames in 1701. The fate of much of his booty, however, has remained a mystery, sparking intrigue and excitement for generations of treasure-hunters. "We discovered 13 ships in the bay," Clifford said. "We've been working on two of them over the last 10 weeks. "One of them is the Fire Dragon, the other is Captain Kidd's ship, the 'Adventure Galley'."
http://www.9news.com.au/world/2015/05/08/00/54/explorers-say-pirate-captain-kidd-s-treasure-found-in-madagascar#zRSk460jlw2EmJPe.99
BULGARIE –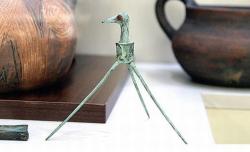 Yagnevo - An Ancient Thracian bronze artifact in the shape of a stork's head described as "the oldest children's toy in Europe" has been identified by Bulgarian archaeologists among archaeological items found by local residents in the area of the southern town of Zlatograd in the Rhodope Mountains. The Thracian toy is made of bronze mixed with some silver, and is dated to the Late Bronze age, about 1500-1200 BC, the period of Ancient Troy and the Civilization of Mycenae. It consists of a tripod holding what appears to be a stork's head which can move and "drink water"; it weighs 30 grams. The stork's eyes are made of carnelian – a semi-precious gemstone found in theRhodope Mountains in Southern BulgariaThe 3,500-year-old bronze children's toy has been discovered by locals near the town of Yagnevo,KirkovoMunicipality.
http://archaeologyinbulgaria.com/2015/05/05/bulgarian-archaeologists-stumble-upon-oldest-childrens-toy-in-europe-late-bronze-age-thracian-toy-stork/
ISLANDE –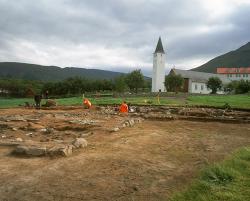 Álftaver -It is believed the remains of the much-searched-for Þykkvabær cloister may have been found. Icelandic and British archaeologists saw the remains of a very large building yesterday, using ultrasound techniques, at Álftaver in South Iceland. Þykkvabæjarklaustur, east of Mýrdalur, was a monastery of Augustine monks and its location has been lost to archaeologists until now. This week, ten Icelandic and British archaeologists have been searching for the remains with high tech instruments. The remains of an unusually big building were discovered under the ground yesterday, measuring around 40 x 45 meters."It is very big compared to the buildings of the time – as it is from the Middle Ages – and the footprint is around 1,500 square meters," Steinunn says. The cloister was in use from 1168 until 1550. Until recently it was assumed that Þykkvabæjarklaustur must have stood near the present-day Þykkvabæjarkirkja church, but searches revealed nothing; and this leads Steinunn to strongly believe yesterday's find to be the lost cloisters. It is still possible, however, the remains are of a cow shed—but in that case it would be the cloister's own cow shed and still therefore relevant.
http://icelandreview.com/news/2015/05/07/archaeologists-believe-they-have-found-lost-cloister
ROYAUME UNI –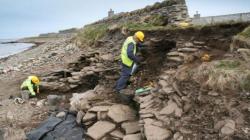 Orkney - Archaeologists in Orkney are in a race against time to document a Bronze Age discovery in danger of being washed away by the sea. The burnt mound structure has emerged out of the shoreline on the island of Sanday, and is said to be one of only four in Scotland. They contain a chamber where stones were heated before being rolled along a passageway into a tank of water. Theories on use range from boat building and textile work to saunas. The structure has been dated to more than 3,500 years old. A team from the charity Scottish Coastal Archaeology and the Problem of Erosion (Scape) is working at the site at Meur for a fortnight.
http://www.bbc.co.uk/news/uk-scotland-north-east-orkney-shetland-32623118
ROYAUME UNI –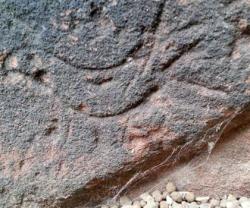 Liverpool - Trays of ancient pottery, cups and a bird-shaped neolithic carving found by a schoolboy have been among the discoveries during a wide-ranging archaeological excavation at the site of an early 19th century mansion in a Liverpool park.Some of the marks on the stones, unearthed by a local pupil, are thought to have been made 5,000 years ago, including patterns of spirals, ring marks and arcs. "What's so amazing is that the marking has never been recorded in any of the professional papers written about the Calderstones – as far as we know, he is the first person to have ever come across it in the 5,000 years since. "Calderstones Park is home to the oldest human monument in Liverpool – The Calder Stones, which are 5,000 years old and are thought to be the remains of a stone-age passage grave. "It has been a private estate for wealthy Liverpool merchants and has been a public park for over 100 years. "As the park has never been built on, this is the perfect opportunity to see if there is anything else beneath the ground to tell us more of the history of this park."A trench behind the mansion house has produced the most finds during an excavation running until the end of the week, including a "lovely" OXO cup, a glass bottle decorated with a "LIV" inscription, pottery and glass flowerpots dumped as waste by former gardeners.
http://www.culture24.org.uk/history-and-heritage/archaeology/art525928-long-johns-magnetometers-and-a-5000-year-old-stone-archaeological-dig-progresses-in-liverpool-park
ROYAUME UNI –
 Abergavenny - Established in the late eleventh century, the Benedictine Priory of St Mary's Abergavenny has undergone a number of major architectural and structural changes, most recently in the early 1990s. The original church is believed to stand over Roman remains and a small number of Roman artefacts including pottery were found during excavations in 1999 and 2000.  It was extended in the late fifteenth century when a series of elaborate chest tombs were erected along with the Jesse Tree, an ornately sculpted piece of oak regarded as one of Europe's finest medieval carvings, used as part of a rood screen separating the nave from the choir.  The church was damaged during the Reformation of 1543 and also suffered much superficial vandalism, including the destruction of the medieval stained glass windows, when soldiers of Cromwell's Commonwealth were quartered in Abergavenny during the Civil War.  In 1828-9, the nave and north aisle of the medieval church were converted into a single preaching space and a gallery fitted around the north, west and south walls.  During this restoration, fragments of tombs found lying around the church were fitted together, not always correctly, and displayed. The nave and north aisle were re-ordered in 1881-2 and there were further subsequent alterations, many replacing the medieval fabric, especially within the nave area.  Various roof coverings were renewed in the early and mid-twentieth century, along with a revamp of the bell tower.
http://www.bristol.ac.uk/news/2015/may/anatomy-of-a-priory-church.html
PEROU –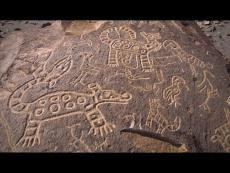 Toro Muerto - Toro Muerto is located in the Majes valley in the Uraca district; the valley's capital, Corire, is 163 km. northeast of Arequipa.For many, it could be the area richest in rock art in the world. Toro Muerto is an open book, silenced over time, filled with figures that represent plants, animals, anthropomorphic beings as well as geometric shapes, all extending some 5 kilometers. The ancient carvers used various tools to give impression to the stones, with a variety of techniques; hitting, scratching, chipping and percussion. The magic of the desert and its mystical messages engraved on the stones, remain as if time stood still. These date back further than 800 years, with the oldest figures attributed to the Huari and Chuquibamba cultures (800 to 1000 A.D.). The Toro Muerto boulders broke off from rocky ridges in geological ages, rolling until landing on the gentle slopes, located at altitudes between 400 and 800.
http://www.peruthisweek.com/travel-arequipa-and-the-famous-toro-muerto-petroglyphs-106086
INDE –
 Taj Mahal -  A 40 kg block of red sandstone fell off Saheli Burj at the Taj Mahal, close to the entrance. No one was hurt, officials said.Bhuvan Vikram, superintending archaeologist of the Archaeological Survey of India (ASI), blamed the Wednesday mishap on monkeys. He said a plan was being drawn up to contain the simian nuisance.
http://www.newindianexpress.com/nation/40-Kg-Redstone-Slab-Falls-at-Taj-Mahal-Due-to-Monkeys/2015/05/07/article2802265.ece?