INSTITUT SUPERIEUR D'ANTHROPOLOGIE
INSTITUTE OF ANTHROPOLOGY
ONLINE COURSES / COURS A DISTANCE
SPRING TERM : APRIL 2015
REGISTER NOW
INDE –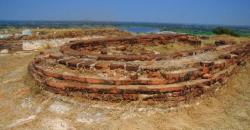 Nalgonda - The Department of Archaeology and Museums officials found the relic casket of a chief monk or an important person of Buddhism during the excavation of the Phanigiri Monastic Buddhist site in Nalgonda district on Tuesday. Speaking to The Hindu, Deputy Director J. Vijay Kumar said that they had been excavating the site since last February under the guidance of Director B. Srinivas. During the excavation they found a Mahastupa in which they found the relic casket. A valuable dull red ware earthen pot with silver container consisting of 11 miniatures beads, three silver and three thin flower petals were discovered at the north eastern corner of the Mahastupa at base of drum portion. He said the Mahastupas are called Sariraka Stupa (buried bodily remains of the Buddha), Paribhogika stupa (buried belongings of Lord Buddha and Uddeshika Stupa, but they identified it as Phari Bogika Stupa since they found belongings of the Buddha. Mr. Vijay Kumar said after the death of Buddha his remains were kept at eight places in stupas in the world by his disciples, but the Mauryan Emperor Ashoka, who embraced Buddhism after the great Kalinga war in 3rd century BC, had removed the relics and believed to have kept the remains at 84,000 places in the world to spread Buddhism across the globe. Highlighting the importance of finding the relic casket, Mr.Vijay Kumar said in undivided Andhra Pradesh, archaeologists had found the relic caskets only at two places one at Nagarjunasagar and another at Bojjannakonda, another Buddhist site about 45 km from Vishakhapatnam. According to their observation, the Deputy Director has said the Stupa, in which the relic casket was found, was renovated thrice -- during the Mauryan, Satavahana and Ikshvaku periods. The fall of Buddhism in Phanigiri had started during the Vishnukundins period, but surprisingly the relic casket remained intact.
http://www.thehindu.com/news/national/telangana/major-archaeological-find-in-nalgonda/article6764568.ece
ROYAUME UNI – Norwich - Fresh light has been shone on Norwich's grisly medieval history, after archaeologists uncovered evidence suggesting the site of a proposed £7m car park was once a 13th Century leather workshop.And, from animal bones discovered at the city centre site, it seems our medieval ancestors knew of at least one way to skin a cat - possibly so they could make hats or gloves. Archaeologists have been studying the site between Rose Lane and Mountergate, ahead of a decision on whether a 595-space multi-storey car park should be given planning permission. They found so many goat horncores - the bones at the centre of horns - that archaeologists think the site may have been a high-quality leather tanning works, with animal corpses brought to the area to be processed. The archeologists' report states: "The cat bones in the assemblage are of interest, especially the cut juvenile bone. It is quite possible that cats were also providing skins and fur at this site – a common practice in medieval Britain and one that has been seen in Norwich.
http://www.edp24.co.uk/news/archaeological_dig_at_7m_car_park_suggests_hats_were_made_from_cats_in_medieval_norwich_1_3898598
PEROU –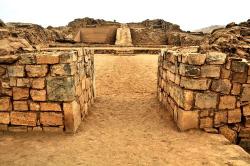 Pachacamac - Peru's Ministry of Culture has announced plans to construct and launch a national museum, with work to start this year and the new facility to be open by May 2016.  To be built in the Pachacamac Sanctuary, which is situated around 40km (25m) south of the Peruvian capital of Lima, the National Museum of Peru will break ground as soon as archaeological studies taking place in the area are completed.  The Pachacamac Sanctuary is a religious and administrative centre that houses historic palaces, squares and temples. It was constructed over centuries by several different cultures, including the Huari and Ichma with the oldest structures dating back to around 800 BC.
http://www.leisuremanagement.co.uk/detail.cfm?pagetype=detail&subject=news&codeID=313342
GRECE –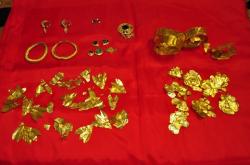 Imathia -Archaeologists on Thursday were assessing a collection of gold jewelry discovered by police in a hidden compartment in the ceiling of a home in Imathia, northern Greece, to ascertain whether they are of historical value.Among the items found stuffed into a hollowed-out compartment in a foam ceiling tile are gold necklaces and earrings, as well as leaf-shaped fragments that resemble the ornamentation used in Alexander-era crowns and ceremonial wreaths. They also found five small bundles containing semi-precious stones.
http://www.ekathimerini.com/4dcgi/_w_articles_wsite1_1_08/01/2015_546035?
CHINE –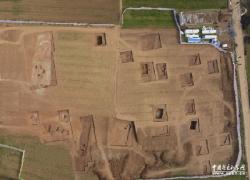 Hubei - Chinese archaeologists have unearthed at least 28 chariots and 49 pairs of horse skeletons while excavating a group of ancient tombs in central China's Hubei Province.Liu Xu is a professor from the School of Archaeology at Peking University. "This chariot and horse pit is different from those discovered previously along the Yangtze River. The chariots and horses were densely buried. Many of the wheels were taken off and the rest parts of the chariots were placed one by one." The 2,800-year-old group of tombs dates back to the Spring and Autumn Period, with at least 30 tombs of various sizes discovered. Preliminary studies show that the tombs belong to high-ranking nobles.
http://www.china.org.cn/china/2015-01/07/content_34498345.htm?
INDE –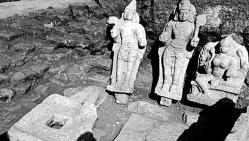 Arathipura  -  A Jain temple was discovered by the Archeological Survey of India (ASI) at Arathipura near Chandragiri Shravanappa Betta in K M Doddi hobli in Maddur taluk on Tuesday. The discovery was made during an excavation near a hillock. The structure which is 100 foot long and 40 foot wide is believed to have been built during the eighth century with bricks and stones. There are 10 pillars, peethas, pots and idols. The officials also found stone inscriptions on Bahubali, Talakadu Cholas and Hoysala at the site. A team of 25 people has been conducting the excavation since last September. It also found 'shilabalikes' (stone sculpture of young women) and dwarapalakas and a Bahubali statue which is 3 foot wide and 3.5 foot tall. ASI Bengaluru divisional superintendent D M Keshava said the Jain Basadi seems to be older than the statue of Bahubali in Shravanabelagola. The area which is near Kokkare Bellur bird sanctuary, was once a destination of Jain travellers, he added..
http://www.newindianexpress.com/states/karnataka/Eighth-Century-Jain-Temple-Discovered-in-Maddur/2015/01/07/article2607640.ece?
AZERBAIDJAN –
 Agdam  - The Department of Archaeology of the National Museum of History of the Azerbaijani National Academy of Sciences has recently obtained new archaeological finds, the academy told Trend Jan. 7. Around 73 findings were discovered during archaeological excavations in Ismayilbeytepe and Fermantepe settlements near the villages of Khyndyrstan and Ayaq Garvend of the Agdam district. The excavations were conducted by the Karabakh Neolithic-Chalcolithic Expedition of the Institute of Archaeology and Ethnography in 2013-2014, the statement says. These findings relate to V-IV millennium BC.