08 AOÛT 2016 NEWS: Ogden - George Town - Xunantunich - Stratonikeia -
08 AOÛT 2016 NEWS: Ogden - George Town - Xunantunich - Stratonikeia -
INSTITUT SUPERIEUR D'ANTHROPOLOGIE
INSTITUTE OF ANTHROPOLOGY
ONLINE COURSES / COURS A DISTANCE
FALL TERM : OCTOBER 2016
REGISTER NOW
USA –
Ogden - Archaeologists have discovered an ancient tribal pit with tools, a spear tip and tobacco seeds on a military testing range in northern Utah and claim it to be 12,300 years old. An archaeological team this month uncovered the hearth at Hill Air Force Base's Utah Test and Training Range, which is south of Ogden. The artifacts will be curated through the Natural History Museum of Utah in Salt Lake City, Hill archaeologist and Cultural Resource Manager Anya Kitterman worked with Far Western Anthropological Research Group to uncover charcoal, animal bone fragments and other remnants from the cooking pit. Far Western Senior Archaeologist Daron Duke said the age of the hearth and the items within it are remnants from some of the Great Basin's earliest inhabitants. The Great Basin is a huge region of watersheds that encompasses much of Nevada and parts of Utah, Oregon, Idaho, Wyoming and California.
http://www.indiatvnews.com/news/world-archaeologists-discover-12-300-year-old-fire-pit-in-northern-utah-342750
MALAISIE –
George Town - Sia Boey, which is also the Prangin canal market site, is state-owned land under PDC and archaeological excavation works have been ongoing on the site since March. The archaeological digs started after an old canal built by the British was uncovered and in the recent public site visit, it was revealed that remnants of an old police station or barrack, believed to have been built in the early 19th century, were also found. Other findings include ceramic shards, red bricks of various sizes, old coins, tiles, wooden artefacts and metal objects, all of which have been sent to CGAR's laboratory for further analysis. Some of the samples were also sent for carbon dating.
http://www.themalaymailonline.com/malaysia/article/sia-boey-site-now-secured-area-pending-archaeological-findings-guan-eng-say#sthash.2HIkXGDK.dpuf
BELIZE –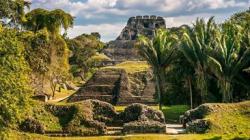 Xunantunich - Archaeologists have uncovered what may be the largest royal tomb found in more than a century of work on Maya ruins in Belize, along with a puzzling set of hieroglyphic panels that provide clues to a "snake dynasty" that conquered many of its neighbors some 1,300 years ago, the Guardian (London) reports. The tomb was unearthed at the ruins of Xunantunich, a city on the Mopan River in western Belize that served as a ceremonial center in the final centuries of Maya dominance around 600 to 800AD. Archaeologists found the chamber 16 to 26 feet below ground, where it had been hidden under more than a millennium of dirt and debris. Researchers found the tomb as they excavated a central stairway of a large structure: within were the remains of a male adult, somewhere between 20 and 30 years old, lying supine with his head to the south. Archaeologist Jaime Awe, former director of the Belize Institute of Archaeology, said preliminary analysis by osteologists found the man was athletic and "quite muscular" at his death, and that more analysis should provide clues about his identity, health and cause of death. In the grave, archaeologists also found jaguar and deer bones, six jade beads, possibly from a necklace, 13 obsidian blades and 36 ceramic vessels. At the base of the stairway, they found two offering caches that had nine obsidian and 28 chert flints and eccentrics – chipped artefacts that resemble flints but are carved into the shapes of animals, leaves or other symbols.
http://www.breakingbelizenews.com/2016/08/06/dr-jaime-awe-finds-clues-snake-dynasty-xunantunich/
TURQUIE –
Stratonikeia - A 1,300-year- old skeleton of a young woman has been unearthed in the ancient city of Stratonikeia in the southwestern province of Muğla's Yatağan district. Excavation head and Pamukkale University Archaeology Department academic Prof. Bilal Söğüt said work had been carried out in the ancient city's Western Street and they had found many pieces from the Hellenistic, Roman, Byzantine and Beylik periods. "We are also working in the city's graveyard and found the graves of adults and children. Recently we found a 120-centimeter-tall skeleton in one of the graves. We believe it belongs to a young woman who died some 1,300 years ago," he said. Söğüt said the grave was a Byzantine structure, adding the skeleton would be taken under protection after cleaning. He also noted they were working in the ruins of a church in the ancient city, saying its floor was covered with marble-made geometric designs. "The church's floor coverings from the Hellenistic era to the Turkish era have survived," he said. Söğüt also said that a 2,400-year-old sarcophagus which was found in the ancient city has been put on display. Experts worked for a month to rebuild the sarcophagus from 18 pieces before it was put on display for visitors, he said.
http://www.hurriyetdailynews.com/skeleton-of-ancient-woman-unearthed-in-turkeys-southwest.aspx?pageID=238&nid=102560