07 OCTOBRE 2015 NEWS: Al Zahir - Dandong - Sliven -
07 OCTOBRE 2015 NEWS: Al Zahir - Dandong - Sliven -
INSTITUT SUPERIEUR D'ANTHROPOLOGIE
INSTITUTE OF ANTHROPOLOGY
ONLINE COURSES / COURS A DISTANCE
WINTER TERM : JANUARY 2016
REGISTER NOW
ABU DHABI –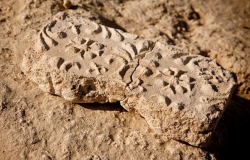 Al Zahir - Abu Dhabi's Sir Bani Yas Island will welcome a team of archaeologists from October 13 to 28 to begin the excavation of a historic house in the now abandoned Al Zahir Village on the northern coast of the island. "Investigations of Al Zahir Village, which was already in ruins by 1932, will provide a unique insight for us into the life on the coast of Abu Dhabi during the height of the pearling industry," says Dr Beech. Sir Bani Yas Island has been inhabited for over 7,500 years and more than 36 archaeological sites have been found on the island since surveys and excavations began.
http://www.khaleejtimes.com/citytimes/in-the-city/history-meets-luxury
CHINE -
Dandong - Archaeologists have discovered the remains of at least seven bodies from a sunken warship that has been sitting at the bottom of the ocean for over 100 years. The bodies were found aboard the sunken Zhiyuan warship − a Chinese military vessel that was downed by the Japanese navy during a Sino-Japanese war 121 years ago. Underwater archaeologists have been excavating the ship – which is now located around 10 nautical miles southwest of the Dandong Port in China – for the past two months and have recovered more than 100 items, including a shell and drinking glasses, along with seven bodies. It is thought that 252 officers and soldiers were aboard the Zhiyuan, but only seven survived. The Zhiyuan was a 50-metre (164ft) ship that weighed about 1,600 tonnes. It was shot down in 1894 by the Japanese during the Yellow Sea battle. Its captain, Deng Shichang, stayed with the ship as it sunk. It was one of four ships that were deployed at the time, all bigger and more sophisticated than the Japanese arsenal, yet they were slower and carried less ammunition. Zhou added that further excavations will be carried out on the wreckage that was found in 2014.
http://www.ibtimes.co.uk/seven-bodies-found-120-year-old-chinese-warship-wreckage-1522679?
BULGARIE –
Sliven - A mysterious archaeological site dubbed "The Rock Herd" which consists of rock carvings of animal heads made by an unknown sculptor in an unknown time period has been found near the eastern Bulgarian city of Sliven. Most of them appear to be cattle, goat and capricorn heads but there are also reliefs of wild animalsand water animals. For the time being not just the origin, but also the function of the "Rock Heard" facility remains a mystery pending further examination by archaeologists. The report urges an immediate reaction with respect to the exploration and security of the mysterious rock carvings "while they are still around".
http://archaeologyinbulgaria.com/2015/10/05/mysterious-archaeological-site-with-rock-carved-animal-heads-found-near-bulgarias-sliven/