INSTITUT SUPERIEUR D'ANTHROPOLOGIE
INSTITUTE OF ANTHROPOLOGY
ONLINE COURSES / COURS A DISTANCE
FALL TERM : OCTOBER 2015
REGISTER NOW
ROYAUME UNI –
Kendal - New evidence has shed fascinating new light on the origins of one of Kendal's most historic buildings. The results of tree-ring dating of roof timbers at Castle Dairy on Wildman Street has revealed that the current form of the building is at least late medieval in date – and that the original structure may date back even earlier. This contradicts some earlier theories that significant sections of the building were added much later and the new evidence is being described as a 'hugely significant' by archaeologists. Recent re-roofing work at the Grade I listed Castle Dairy allowed experts to carry out the tree-ring dating – known as dendrochronological dating – of the roof timbers, which are otherwise very difficult to access. As the rings in a tree (typically oak) grow they form a pattern, similar to a barcode, which is created by the variations in the year's climate. This can then be matched to other sequences that have already been dated, allowing the precise date at which the timber was felled to be calculated. The roof timbers at Castle Dairy gave very good samples, all of which gave a felling date in the late 1480s, showing that the building must have taken approximately its current form by that date. Dan Elsworth, Director at Ulverston-based Greenlane Archaeology Ltd, who managed the tree-ring dating project, said: "This is hugely significant in understanding the history of the structure. "It confirms that the building is at least late medieval in date. In addition, it suggests that it may have even earlier origins as it is likely that the roof of the 1480s replaced an earlier one.
http://www.cumbriacrack.com/2015/07/06/tree-ring-dating-confirms-origins-of-ancient-building/
TURQUIE –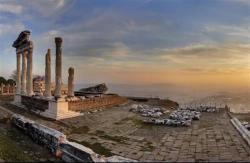 Ephese - The ancient city of Ephesus in western Turkey has been added to UNESCO's World Heritage List following a vote in Bonn on July 5. Turkish Culture and Tourism Minister Ömer Çelik said Ephesus had always been a key port city, as well as a cultural and commercial center, throughout history. "A principal city of science, culture and art of its era, Ephesus had been a residential area starting from the pre-historic era and through the Hellenistic, Roman, Eastern Roman periods and also under the Ottoman Empire for about nine millennia without interruption," he said. Describing Ephesus, UNESCO said: "The Temple of Artemis, which was considered to be one of the Seven Wonders of the World, is situated on the edge of this small town. The city which was situated at the beginning of the Persian Royal Road has survived sufficiently enough to enable us to understand the ancient way of life in Ephesus. It is one of the cities which played an impressive role in the beginnings of Christianity and during the period of its proliferation (St. John Church and the shrine of the Virgin Mary). It contains one of the most spectacular examples of religious architecture of the Seljuk Period."
http://www.hurriyetdailynews.com/turkeys-ephesus-added-to-unesco-world-heritage-list------.aspx?pageID=238&nid=85012&NewsCatID=375
PAKISTAN –
Peshawar - Kotla Mohsin Khan is a historic 'gate' located on Kohat Road towards south-west of Peshawar city. Kotla means a small fortified residence. According to one legend, it was founded over a high mound in second half of 16th century by the noted Mughal Mansabdar Arbab Mustajab Khan Momand in the presence of two renowned spiritual figures -- Hazrat Kaka Sahib Rahmkar and Akhund Dirwaiza Baba. Originally it was spread over 10 hectares of land. It is a three-storey structure. The second floor comprises small rooms and a compound while its third floor contains security posts along with two rooms. Arbab Mustajab used to settle tribal disputes especially of Ghori Khel tribes living around Peshawar city while sitting in this fortified residence. Later, the residence was renamed after Arbab Mohsin Khan Momand, one of the Mustajab's descendants. Another legend says when Mughal King Aurangzeb Alamgir arrested Khushhal Khan Khattak, Arbab Mustajab Khan secured his release and kept him as guest in his Kotla on his own risk and later accompanied Khushhal Khan to Delhi. When Sikhs occupied Peshawar in 1823, they set ablaze the historic Kotla gateway. But Abdul Karim Khan, another descendant of Mustajab, rebuilt it. Arbab Haleem Khan, owner of the property housing Kotla gateway, told this scribe that last Mughal governor, Nawab Nasir Khan, welcomed the Afghan King Nadir Shah Durrani and gifted him the key to Peshawar in 1741 when he visited the city. This signalled the end of the Mughal Empire in Peshawar. "We want this gateway to be restored as a heritage site. The remains of the original Kotla residence remained intact till 1970, now only the gate stands in shamble," he added.
http://www.dawn.com/news/1192664
VIET NAM –
Hoi An - Viet Nam plans to build the country's first Centre for Underwater Archaeological Research in Hoi An . Viet Nam has a 3,200km coastline. Many shipwrecks are yet to be discovered. Seafaring has been a way of life in Viet Nam for more than 2,000 years. According to Hai, local people had stolen precious antiques from sunken ships, and 130,000 objects had been stolen in Ca Mau Province alone. In 2013, two shipwrecks were found off the central coast of Quang Ngai Province, and fragments of ceramic ware and stone statues were also found near Ly Son Island. Shipwrecks with antiquities were also discovered in the sea off Cham Island in Quang Nam, Ba Ria-Vung Tau, Ca Mau, Binh Dinh and Thanh Hoa. According to some historians, central Vietnamese ports were among the busiest in Asia in the 13th century and one or two thousand years BC, as artwork on the ancient bronze drums shows.
http://english.vietnamnet.vn/fms/art-entertainment/135154/vn-to-set-up-centre-for-underwater-archaeology.html