07 FEVRIER 2023 NEWS
INSTITUT SUPERIEUR D'ANTHROPOLOGIE
INSTITUTE OF ANTHROPOLOGY
ONLINE COURSES / COURS A DISTANCE
DEBUT COURS : AVRIL 2023
REGISTER NOW
INDONESIE - Studies suggest that Chinese migrations to the Indonesian Archipelago are among the earliest in human history. A study by Hugh McColl and colleagues found that Chinese farmers began migrating south during the Neolithic transition, between 9000-5500 years Before the Present when rice and other cereals were domesticated. These migrants were divided into two groups, those who migrated by land and those who migrated by sea. The study found that the Chinese migrants shared an ancestral lineage with people in the Peninsular Malaysia region and contributed to the spread of Austroasiatic and Austronesian languages. Those who migrated by land are believed to have contributed to the expansion of the Austroasiatic languages, while those who migrated by sea are linked to the spread of the Austronesian languages.
https://jakartaglobe.id/lifestyle/tracing-the-roots-a-journey-of-chinese-migration-to-indonesia
ANGLETERRE –
Catsfield - A 3400-year-old Bronze Age hoard has been found in the village of Catsfield, near Bexhill, by a local metal detectorist. The hoard, which features numerous items from the Bronze Age, consists of three palstave axes and a Sussex Loop Bracelet. The expert found the hoard to include Sussex Loops and a copper-alloy armlet or bracelet associated with the Brighton/Lewes Area. All finds are believed to be from the Bronze Age, which began more than 5,000 years ago and came to an end around 1200 BC.
https://www.sussexlive.co.uk/news/sussex-news/3500-year-old-bronze-age-8113416
ANGLETERRE –
Sherford - Archaeological investigators have found evidence of an ancient road, Bronze Age homes and Roman farmsteads on the site of a new town in Devon. Last year, the team at Sherford found "Ice Age megafauna " including mammoth, rhino and wolf remains. Now experts have discovered the area was also a "key route" for human communities thousands of years ago. The "probable Roman road" runs across the site of Sherford Business Park. Other uncovered artefacts shine a light on different periods of history. These include roundhouse postholes, which are circular family homes made of natural materials, indicating the area was a "thriving place of activity" in the Bronze Age (2700 - 700 BC). Pottery, dating back to 1500 BC, was also uncovered. Meanwhile square enclosures were once home to farmsteads during the Roman period and there is evidence of flint tools.
https://www.bbc.com/news/uk-england-devon-64512968
IRLANDE du NORD –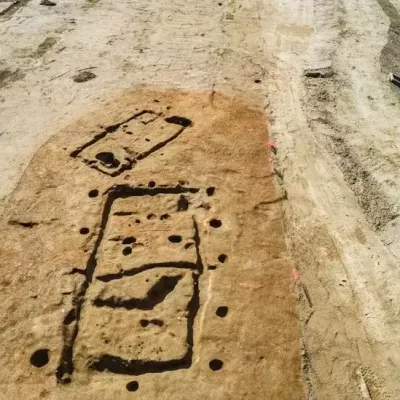 Londonderry - The discovery of a Neolithic era settlement is helping shed new light on how people lived on the shores of Lough Foyle some 5,000 years ago. Archaeologists uncovered evidence of two large rectangular houses dating back to around 3,800BC during a 2021 dig at Clooney Road, Londonderry. Neolithic tools, pottery and cooking utensils have also been unearthed. Experts say that dwellings like those found in Derry have rarely been excavated before. Rectangular homes from the period are seldom found outside of Scotland and Ireland. Around Lough Foyle specifically there are quite a few - it has a high density of settlement dated to the early Neolithic - that shows around Lough Foyle there are lots and lots of Neolithic people living. There is evidence of dividing walls, foundations that may have supported oak planks and structures covered by a large peaked roof. The tools and utensils found are also evidence of the advances being made in the Neolithic period on the island of Ireland. A grinding stone was found, showing the inhabitants knew how to work grain, how to cultivate the land they inhabited. It is not the first time evidence of Neolithic period settlement has been uncovered on the banks of the Foyle. A 6,000-year-old village was unearthed in 2000 during an excavation ahead of the construction of Thornhill College's new school in the Culmore area of Derry.
https://www.bbc.com/news/uk-northern-ireland-64505669
Kazakhstan –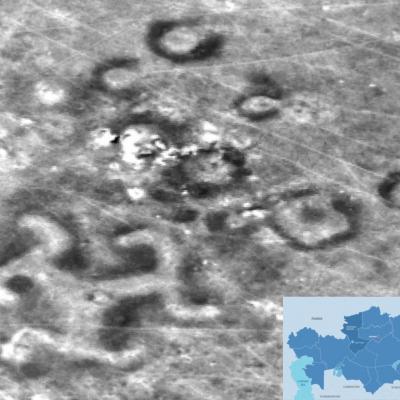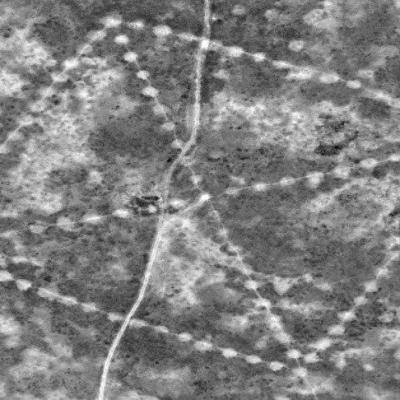 Turgai - The Turgai geoglyphs, a number of massive earth constructions arranged in geometric shapes the size of several football fields located in the Turgai Trough in northern Kazakhstan, once captured global attention and became one of the most sensational discoveries in the country's history. The mysterious earthworks dating back approximately 8,000 years ago have seized scientists' minds since they were found 16 years ago. Since 2007, Dey and a team of archaeologists and scientists have carried out nearly 80 expeditions. To date, 127 giant structures have been found and registered in the Turgay Discovery database. The majority of them lie within the Turgai Trough, and only a few of them are on the western and eastern parts of the trough. Some of the extensive earthworks have been given names such as Ushtogay Square or Turgai Triquetra. Ushtogai Square, represented by a geometric figure consisting of 101 mounds, was found first. It occupies an area of eight hectares, which is equal to nearly 11 football fields, while the length of the square's side is 284 meters. The square's diagonals are formed by two rows of same-sized mounds, some of which were excavated. No artifacts were found under the mounds during the excavations. "A large circular mound with autopsy signs was found near the square. According to locals, one man tried to find valuable belongings in it with the help of an excavator as early as the 1990s, but he did not succeed," said Dey. The Turgai Triquetra is a mound shaped like a three-radial swastika with a diameter of 94 meters. Seven embankments in the form of low mounds with different diameters from 15 to 33 meters are located to its right and several embankments in the form of dumbbells are to its left. The triquetra covers an area of 512 meters with swastikas, lines, and embankments that differ from other geoglyphs in its construction and patterns. The mound looks like a natural hillock. Turgay Discovery project researchers and scientists working at the center for research, restoration and protection of historical and cultural heritage at Kostanai Region's Culture Department will carry out archaeological research in the vicinity of eight Turgai geoglyphs located in the Turgai Trough in the summer of 2023. Dey said that they will strive to discover ancient sites and settlements and test a working hypothesis that the earliest geoglyphs actually appeared approximately 9,000 years ago.
https://astanatimes.com/2023/02/kazakh-scientists-continue-to-explore-steppes-mysterious-miracle-turgai-geoglyphs/
ANGLETERRE –
York - Analysis of a skeleton from the York Barbican Collection at the University of Sheffield has revealed a new and unique perspective on the life of a medieval anchoress. The new study suggests the skeleton could belong to that of Lady Isabel German, who lived a life of solitude in York in the 15th Century. New radiocarbon dating and isotopic analysis of the bones has provided a new insight into the life of Lady German.
https://www.sheffield.ac.uk/news/mysterious-skeleton-revealed-be-unusual-lady-anchoress-york-barbican
INDE –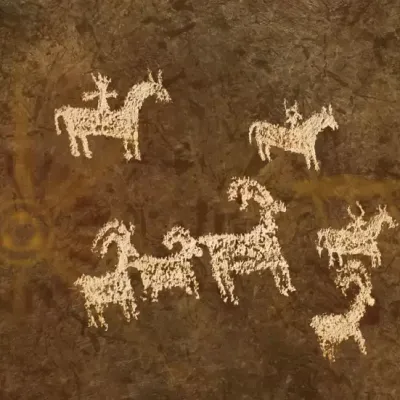 Aravalli - The Aravalli mountains spanning roughly 700 km between Gujarat and Delhi, house a ton of heritage in the form of ancient forts. But it is only in the recent past that archaeologists discovered that these ranges have also been safeguarding the footprints our Stone Age ancestors left behind. Not long ago, Palaeolithic paintings were found adorning the walls of a cave nestled amid a maze of quartzite rocks in the Mangar village of the Aravallis. And now, a bunch of graffiti, human hand and footprints and engravings of some animals have been found atop a hillock just 6 km away in Badshahpur Tethar village of Sohna, Gurugram. On Sunday, a team of archaeologists confirmed that the rocks with the carvings dated back to the Palaeolithic period (which ended 10,000 years ago). "Several tools and equipment used to make them were found at the site as well. Though the rocks have withered away with time and because of exposure to harsh weather conditions, the carvings are clearly visible," Harsana told TOI. Excerpts suspect that the carvings are over 10,000 years old, but an extensive survey is in order to estimate the actual age more accurately. The findings are remarkable examples of Indian prehistory and mark the progress of human civilisation. It gives us a chance to see how early humans developed tools. Most of the carvings are of animal paws and human footprints. There are some basic symbols which had presumably been kept for some particular purpose. Divay Gupta, an adviser to the Indian National Trust for Art and Cultural Heritage (INTACH), thinks these petroglyphs could be territorial or were used for ancient games or record-keeping.
https://weather.com/en-IN/india/news/news/2023-02-06-stone-age-cave-art-footprints-found-in-gurugram
USA - Lake Superior - Copper's allure has endured for millennia. Both ancient and modern mines for the extremely useful metal abound in North America's Lake Superior region; long before modern miners extracted the ore from deep underground, local Indigenous communities dug it from shallow pit mines. These prehistoric mines' ages were a "long-standing mystery," says David Pompeani, a geologist at the University of Hawaii at Mānoa. Previous research used archaeological remnants to evaluate when mine sites were active, but later mining at the same sites often obliterated ancient artifacts, Pompeani says. For a recent study in Anthropocene, the researchers examined sediments from two small inland lakes near ancient mines on Lake Superior's isolated Isle Royale in Michigan. Such sediments are affected by annual changes and thus act a little like tree rings. Each layer is a snapshot of what happened in a given year, including weather events, wildfires—and pollution. Even preindustrial copper mining produced pollution, mainly from lead impurities in copper deposits. "Lead is a good proxy to record human impact … it's not a metal we can get in a natural way," says Francisca Martínez-Ruiz, a geochemist at Instituto Andaluz de Ciencias de la Tierra in Spain, who was not involved in the study. Before modern machinery, extracting copper was labor-intensive. Native Americans hammered it out of the rock—hard, dusty work that lofted fine particles of stone and metals into the air. Pompeani says they probably also used bonfires to warm this rock, softening the copper and liquefying the easily meltable lead. These fires volatilized the lead and wafted it over the surrounding area, sprinkling particles onto the land and lakes. Analyzing lake sediments, the researchers found evidence of a peak in lead pollution around 6,000 years ago during the Archaic period. This suggested a simultaneous peak in large-scale copper mining—and matched archaeological evidence from the same period.
https://www.scientificamerican.com/article/native-americans-conducted-large-scale-copper-mining-6-000-years-ago/