07 - 08 FEVRIER 2013 NEWS: Kezilesu - Périgueux - Exeter - Abou Dhabi - Nay Pyi Taw -
07 - 08 FEVRIER 2013 NEWS: Kezilesu - Périgueux - Exeter - Abou Dhabi - Nay Pyi Taw -
INSTITUT SUPERIEUR D'ANTHROPOLOGIE
 INSTITUTE OF ANTHROPOLOGY
ONLINE COURSES / COURS A DISTANCE
OPEN COURSE : FEBRUARY 2013
HRM 104 : INTRODUCTION TO INTANGIBLE CULTURAL HERITAGE
REGISTER NOW
CHINE –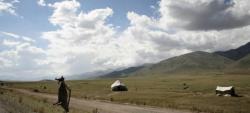 Kezilesu - A cluster of 102 unidentified tombs have been unearthed by Chinese archaeologists who date these tombs to 1,300 years old. Out of the 102 tombs that have been found on the Pamirs plateau in the westernmost part of the country, nearly 40 percent of them were made for infants. The tombs were discovered last year during the construction of a local hydropower project. What is astonishing about this discovery is that it dates back to the Tang Dynasty (618 to 907) during which exchanges took place between China and the West via the ancient Silk Road. They had an economic and cultural exchange. Inside the tombs, the archaeologists also found some wooden caskets with dried out corpses, a few collections of stoneware, pottery, and a large number of well-preserved utensils made from gourds, some of which were placed inside the caskets and copperware. The tombs were found in the Kezilesu Kirgiz Autonomous Prefecture of Xinjiang Uygur Autonomous Region. According to Ai Tao from the Xinjiang Archaeological Institute, these items were buried as sacrificial items. The tombs were present at a very unusual location. The cluster was spread out over an area of 1,500 square meters on a 20-meter high cliff.  The archaeologists found a number of infant corpses from the same site. They plan on initiating a research to uncover the mystery tied to the death of so many young people from the tribe. "The burial custom is the first of its kind to be found in Xinjiang," said Ai. "The shape of the felt-covered caskets show that sinic culture had a great influence on the lives of local people's some 1,300 years ago," said Yu Zhiyong, head of the Xinjiang Archaeological Institute.
http://www.scienceworldreport.com/articles/4808/20130207/cluster-ancient-tombs-discovered-china.htm
FRANCE – Périgueux - Les diagnostics archéologiques se suivent... en attendant les travaux. Ainsi, après les fouilles préventives réalisées devant la cathédrale Saint-Front en avril dernier, l'Institut national de recherches archéologiques préventives (Inrap) creusera ses tranchées sur la place et l'avenue Daumesnil, mais pas rue Denfert-Rochereau (exclue "pour des raisons de sécurité et d'encombrement en réseaux du sous-sol", dixit la mairie) du 18 au 22 février. Si ce diagnostic archéologique n'oblige pas la collectivité à réaliser des fouilles du plus grande ampleur, en cas de découverte majeure, les travaux d'aménagement urbain débuteraient donc en septembre 2013. En fin d'année dernière, le maire a annoncé qu'il renonçait à aménager la place de la Clautre, où l'Inrap a fait de belles trouvailles, dont des sarcophages du IVe au XIVe siècles, qui nécessitaient de longues fouilles, très chères.
http://www.sudouest.fr/2013/02/08/perigueux-attend-encore-son-greffe-pour-2014-960803-1980.php
ROYAUME UNI –
 Exeter  - Work to repair a collapsed sewer close to a buried medieval bridge in Exeter has finished today. A section of the 300mm pipe beneath Holloway Street collapsed in January but the repair was complicated by its proximity to the Larkbeare Bridge, a scheduled ancient monument, which lies 2.4 metres beneath the road. "Holloway Street is one of the main commuter routes in and out of Exeter city centre so we knew we needed to repair the pipe as soon as possible, but at the same time our priority had to be to ensure the medieval bridge was protected. "It's an amazing structure and it has been a privilege to catch glimpses of this fantastic example of medieval engineering.
http://www.thisisexeter.co.uk/Work-completed-collapsed-Exeter-sewer-close/story-18090380-detail/story.html#axzz2KL27xs6Y
DANEMARK –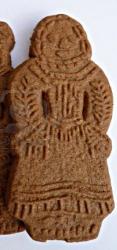 Zealand - Another one of the rare production dies for 6/7/8th century gold foil figures has come to light, again on Zealand! This is an unusual design depicting a lady from the front. She's wearing a long dress, a cloak and two bead strings. She seems to be cupping her hands around a ring at her abdomen. The rings on her dress hem are quite odd. Parallels to the general motif and design are known from Eketorp on Öland (a foil) and Sättuna in Östergötland (a die). Congratulations to detectorist Hans, and thanks for doing other folks with an interest in the past a big favour! Aard regular Kevin points out that this Vendel Period lady looks just like a Dutch Christmas cookie! Image from 123RF.
http://scienceblogs.com/aardvarchaeology/2013/02/01/another-gold-foil-figure-die-from-zealand/
UAE – Abou Dhabi - ABU DHABI // UAE University and the Paris Sorbonne University in Abu Dhabi are preparing for their first joint research project, in the new field of geoarchaeology. The field applies earth-science techniques to archaeology, in a first for the UAE. Work on the project is due to start in September.
http://www.thenational.ae/news/uae-news/education/paris-sorbonne-joins-forces-with-uae-university-for-archaeology-project
MYANMAR –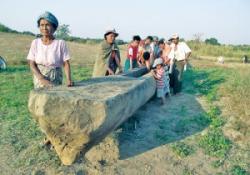 Nay Pyi Taw - A 65-foot carved wooden boat has been salvaged from a creek in Nay Pyi Taw, residents said last month. The boat, which is 8 feet wide, was raised from Pa Lwal Creek, just north of Thit Taw village in Lewe township, on January 15, said U Thit Lwin, a National League for Democracy member who serves as the local administrator. He said the boat had been salvaged with the financial help of a retired army major, U Khin Maung Win.
http://www.southeastasianarchaeology.com/2013/02/07/wooden-boat-salvaged-in-myanmar/?utm_source=feedburner&utm_medium=feed&utm_campaign=Feed%3A+seaarch+%28SEAArch+-+Archaeology+in+Southeast+Asia%29