INSTITUT SUPERIEUR D'ANTHROPOLOGIE
 INSTITUTE OF ANTHROPOLOGY
ONLINE COURSES / COURS A DISTANCE
NEW OPEN COURSE : JANUARY 2013
HRM 104 : INTRODUCTION TO INTANGIBLE CULTURAL HERITAGE
REGISTER NOW
ANGOLA –
 Mbanza Kongo - The archaeological diggings for the registration of the historic city of Mbanza Kongo, northern Zaire province, as a world heritage by the Unesco, will finish in 2013. This was said to Angop on Thursday by the Minister of Culture, Rosa Cruz e Silva, during a 24-hour visit that she paid to Zaire province. According to her, the digging actions under Mbanza Kongo project are in a very advanced phase, aiming for its preservation and classification as world heritage. In addition, the official said that only with conclusion of archaelogical diggings and laboratory analysis of traces of the old city that will determine the registration in the future of the historic city of Mbanza Kongo as ther world heritage. During her stay in Mbanza Kongo, Rosa Cruz e Silva and her delegation visited various historic sites.
http://www.portalangop.co.ao/motix/en_us/noticias/lazer-e-cultura/2012/11/49/Archaeological-diggings-Mbanza-Kongo-end-2013,edabdbc9-8bb9-4978-a61d-1a4b262fa949.html 
TURQUIE –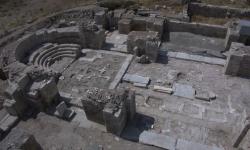 Amorium - The Amorium Excavation Project in Asia Minor, and the construction of a mobile museum for children across Greece are some of the activities of the Stavros Niarchos Foundation. The city of Amorium, in central Asia Minor, was one of the most important Byzantine cities. It fourished during the 7th-11th centuries AD. In historical sources it is often mentioned as the second most important city after Istanbul. Due to its well-preserved state, the city offers irrefutable evidence of life in Byzantine time. The fact that Amorium remained uninhabited since the 12 century AD is one of the reasons for its extraordinarily well-preserved monuments and the unhindered continuation of excavations. Apart from significant monuments, archaeological surveys of the city have brought to life rare organic finds, such as fabrics and leather parts of clothes and shoes. The finds have been preserved due to the special climate conditions of the area, mostly because of the dry climate.
http://www.archaiologia.gr/en/
GRECE –
 Vergina - A small part of Philip II's skeletal material, found inside the golden larnax, one of the most valuable objects of antiquity, will be transported to the NCSR Demokritos and to the Thessaloniki Archaeological Museum's Laboratory. The transportation's aim is to submit under microscopic photography and investigation through special methods of analysis the unknown material that has been deposited on the bones. The bones have been located together with the larnax in the main chamber of tomb II of Vergina's Great Tumulus. This material has also been found in other tombs in Macedonia but this is the first time that an exhaustive research about its chemical and mineralogical composition is taking place. The material's detection will offer invaluable information on the larnax's corrosion processes, as well as on the ritual materials of the time.
http://www.archaiologia.gr/en/blog/2012/12/07/part-of-philip-ii%E2%80%99s-skeletal-material-is-heading-to-the-ncsr-demokritos/
FRANCE –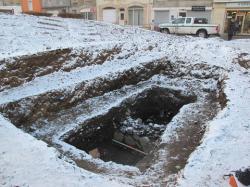 Yssingeaux -  Quatre jours de travail auront finalement été suffisants pour que l'Institut national de recherches en archéologie (INRAP) termine les fouilles archéologiques préventives sur l'Esplanade du Garde-Temps. Et le travail n'a pas été vain puisque ce qui semble être le mur d'enceinte de la ville a été retrouvé.  C'était l'un des éléments qu'il était possible de mettre à jour dans cette zone de fouilles estimée sensible.  Les premiers mètres carrés de terre retournée contenaient des ossements humains.  Rien d'exceptionnel toutefois puisqu'ils se trouvaient mélangés au remblai.  Des tombes ont été découvertes du côté de l'église, mais ne présenteraient que peu d'intérêt.  En revanche, une partie d'un mur a été découverte dans le sondage situé sous le parking du Garde-Temps.  Ce mur de pierres est un mur d'enceinte qui pourrait composer les fortifications de la ville. C'est un très gros mur Est-Ouest, parallèle à l'actuel mur de soutènement du Garde-Temps, qui est enfoui à 2,5 mètres de profondeur.
http://www.leveil.fr/haute-loire/Yssingeaux-un-mur-d-enceinte-retrouve-101781
AUSTRALIE – Bundaberg - Hidden under an old cane plantation outside the Queensland sugar city of Bundaberg lies an awful secret. Beyond the weeping fig trees the bodies of 29 South Sea Islanders are buried in an unmarked grave. Thousands of Pacific islanders were shipped in to toil in the state's cane fields and fruit plantations between 1863 and 1904. Officially called indentured labourers, their descendants claim many were kidnapped by European slave traders and forced into a life of bondage.
http://www.theaustralian.com.au/news/breaking-news/slavery-buried-in-qld-mass-graveislanders/story-fn3dxiwe-1226532367679