INSTITUT SUPERIEUR D'ANTHROPOLOGIE
 INSTITUTE OF ANTHROPOLOGY
ONLINE COURSES / COURS A DISTANCE
 INSCRIPTION  2012 /  Session III : Juillet 2012
   REGISTRATION 2012 /  Term III : July 2012
CHINE –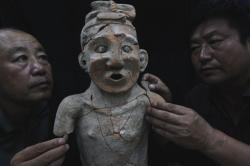 Chifeng -Archaeologists of the Chinese Academy of Social Sciences have finishedreconstituting a 5,300-year old pottery statue from fragments unearthed in North China's InnerMongolia autonomous region . The debris of the pottery statue was found at the Xinglonggou relics site in Aohan banner ofChifeng city in May. Experts began to excavate the debris on June 30, and finished restoring the statue on Friday,said Liu Guoxiang, leader of the first archaeology team of Inner Mongolia.The restored seated figure is 55-cm high with big bulging eyes, a high nose and vivid facialexpression. It was pieced together from 65 fragments. "The statue may be of a wizard or leader in the famous Hongshan Culture period (a Neolithicculture dating back 5,000-6,000 years)," added Liu.
http://www.chinadaily.com.cn/china/2012-07/07/content_15557524.htm
ISRAEL –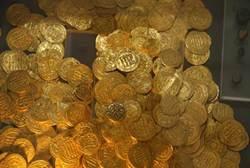 Apollonia-Arsuf - One of the largest gold treasures ever to be discovered in Israel was uncovered last week at an archaeological dig near Herzliya. The treasure, more than 100 gold pieces and weighing approximately 400 grams (nearly one pound), is estimated at a worth of more than $100,000. The coins were found hidden in a partly broken pottery vessel at the Appollonia National Park, where archaeologists say the former Crusader town of Apollonia-Arsuf once thrived. The dig is being carried out under the joint auspices of Tel Aviv University and the Nature and Parks Authority. Included among the items found were 108 gold coins, including 93 that weighed four grams each, and 15 that weighed 1 gram each. The gold was not new and clearly was part of someone's family treasure or business investment. The coins were minted in Egypt approximately 250 years prior to their burial under the floor tiles of the 13th century CE fortress that has been under excavation for more than 30 years. A large cache of arrowheads – hundreds, in fact – and other weaponry, including stones used in catapults, also was found. Archaeologists said the find indicated a fierce battle had taken place at the time the Mameluks seized the area from the Crusaders. According to the website of the Biblical Archaeological Society, the clash has been identified as the Battle of Arsuf, between Saladin and Richard the Lionheart. The Crusader fortress had been uncovered at the site some time ago, along with remains of a port city dating back to the time of the Phoenicians. Archaeologists have also found the remains of a Roman villa, a well-preserved market street from the Early Islamic period and a massive gate complex.
http://www.israelnationalnews.com/News/News.aspx/157609#.T_nIpGukd8E
USA –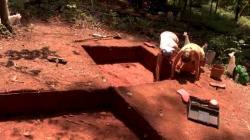 Monticello - The Monticello-UVA Archaeological Field School is on the verge of discovering two slave dwellings that Thomas Jefferson excluded from his maps of Monticello. Artifacts they've scraped up prove they're getting closer to finding the slaves' homes that date back to the early 1800s.  Excavators refer to the piece of land they're digging on as "site six." Monticello's Director of Archaeology Fraser Neiman said, "The idea is to pinpoint artifact concentrations, where there are lots of artifacts, those locations are going to be roughly where there were once houses." Each piece of plate, window, or brick has weathered the years since hundreds of slaves lived on Jefferson's Plantation.  All of which inspire excavators to keep digging. Bon-Harper explained, "We could find a sub-floor pit which is a storage box cut into the house or we could find a chimney base that was probably made with cobbles and bricks." Until they do, it's more hard work to better understand a lost part of Monticello's history.
VIDEO = http://www.nbc29.com/story/18969238/archaeological-field-school-digging-for-historical-landmarks
IRLANDE - Bere Island - Archaeologists have made a landmark discovery that could help answer the question that has puzzled Irish historians for over 200 years. Could an invasion of Ireland by Napoleon's French forces have succeeded and triggered Irish independence more than century earlier than it was actually won? A team of experts – led by Rubicon Archaeology -  has discovered a near pristine gun emplacement on Bere Island in west Cork. They have also revealed tantalising hints that Britain's coastal defensive network was much more formidable than first thought -- and would have left the French facing their own 19th Century version of D-Day and Germany's Atlantic Wall. Until now, it had been presumed that only bad weather, poor planning and luck had kept crack French troops away from the Irish coast. Rubicon's Damian Shiels said that, over the next month, they hope to be able to piece-together the precise defensive network that the British put in place to foil a feared French landing. The closest Ireland came to a major French invasion was in December 1796 when United Irish leader Wolfe Tone arrived in Bantry Bay with 15,000 French troops. However, bad weather and poor leadership meant the landing didn't happen and the fleet sailed back to France. A furious Wolfe Tone said they were close enough to Bantry to have thrown a biscuit ashore. A French army did land in Mayo in 1798 under General Jean Joseph Humbert. However, the force included only 1,000 French troops and, after surprising initial success, was defeated by a much larger British force in Leitrim.
http://www.independent.ie/national-news/archaeologists-dig-up-clue-to-early-independence-bid-3161620.html
TURQUIE –
  Antalya - Diving school trainer Hakan Gulec came across more than fish and flotsam during a recent trip to the bottom of the ocean near Antalya off the coast of southern Turkey. An object protruding through the sand on the sea bed caught Gulec's attention, prompting the intrepid explorer to dislodge and photograph the mystery find. According to Hürriyet Daily News, he then showed his images to officials at Alanya museum who were taken aback by the discovery: a striking, well-preserved sarcophagus adorned with Medusa heads, cupids holding up garlands and dancing women at the corners."The Alanya museum has gained a new piece of art," said its director Yasar Yildiz. "The figures on it show that it dates from the Roman period." But where has it come from? Perhaps it was made in the famous sculpture school at Aphrodisias further up the coast, which produced sculptural works for the Roman empire.
http://www.theartnewspaper.com/articles/Sea+surrenders+pristine+Roman+sarcophagus+/26909