INSTITUT SUPERIEUR D'ANTHROPOLOGIE
INSTITUTE OF ANTHROPOLOGY
ONLINE COURSES / COURS A DISTANCE
WINTER TERM : JANUARY 2014 
REGISTER NOW
COLOMBIE –
 Medellin - A second culturally significant ancient tomb was accidentally uncovered in Medellin, Colombia last Friday. Municipal workers uncovered the indigenous tomb while repairing water lines in Colombia's second largest city.  The discovery was made in the residential neighbor of La Colinita de Guayabal according to El Colombiano. The tomb held numerous ornate burial gifts, including gold jewelry and ceramics, leading archaeologist to believe the ancient tomb belonged to the 'Aburraes" indigenous tribe.  Medellin sits in a narrow valley originally inhabited by the Aburraes Indians.  The Aburra Valley was home to the indigenous tribe from 940-to-1540 A.D. The tribe lived from weaving, goldsmithing and agriculture.  The name "Aburrá" comes from the ancient language spoken by the Aburreans before the Spanish arrived. The tribe became almost extinct when the Spanish brought disease and forced them into hard labor. Thus far over ten weaving wheels, several gold nose-ring, ceramics, and coal have been unearthed.  Colombia's culture ministry has confirmed they will excavate the site further and will work with archaeologists from the University of Paris. The first ancient tomb found accidentally in Medellin was uncovered in September by transit workers. In that instance the tomb is thought to be pre-Columbian occupied during the 12th and 17th centuries by ancient tribes people. 
http://www.hispanicallyspeakingnews.com/latino-daily-news/details/municipal-workers-accidentally-stumble-upon-ancient-tomb-in-medellin-colomb/27859/
ROYAUME UNI:
 Newborough - Roman pottery, evidence of a Roman settlement and "possibly Saxon" artefacts have been found at a proposed solar farm site near Peterborough. The land at Newborough is being excavated ahead of a city council decision about the solar farm plan. Richard O'Neill, from Wessex Archaeology, described the finds as "locally and regionally significant". "We've got a number of fragments of pottery dating from between the 1st and 3rd Centuries AD, and one potential Romano-British settlement. "It's quite a small farmstead with perhaps a number of roundhouses," he said. "We've also identified a couple of sites that may be late prehistoric, possibly settlements or funerary sites which we still need to look at."Mr O'Neill confirmed experts were examining artefacts believed to date from the Saxon era. Archaeologist Dr Francis Pryor discovered the nearby Bronze Age settlement of Flag Fen in 1982 which comprises thousands of timbers connecting Whittlesey Island with Peterborough and was used for ritual and worship for 1,000 years. He believes the three sites could be historically significant. "The edges of the Fen are where people have stayed and settled in prehistory, and there's absolutely no reason why there shouldn't be another Flag Fen out there, or a site that we can't imagine," he said. Mr O'Neill said the discoveries made so far were "not a Flag Fen, but of local and regional significance".
http://www.bbc.co.uk/news/uk-england-cambridgeshire-24835569 
USA –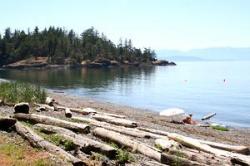 Shelter Point - An archaeological impact assessment of Shelter Point Park on Texada Island has found that the site contains some of the best-preserved habitation features from large villages currently known on the central or south northwest coast.The park is a known archaeological site, originally recorded in 1971. At that time, it was estimated that the site was 50 by 20 metres. After the assessment, the area of the site was increased to 442 by 175 metres.The report indicates the site is a large permanent village location likely dating to and in use for at least the last 3,300 years.Over 50 per cent of the subsurface shovel tests and 40 per cent of the backhoe tests were positive for subsurface cultural material. A total of 279 stone tools, 195 remains of animals and 15 historic artifacts were collected during the study. One culturally modified tree was positively identified and two additional trees with modifications of unknown age were noted.The report also indicates that there is "rare evidence of an estimated six to 12 well-developed house depressions and mounds, representing former habitation structures," in the northern section of the park. "Results from this assessment study show the Shelter Point site is a large village site with large intact habitation features and with varying cultural deposits occurring throughout the site," the report states. As well, study results of the site "provide the basis for assigning the highest scientific significance to this archaeological site."
http://www.prpeak.com/articles/2013/11/05/news/doc5279939fd823d496878032.txt
ITALIE –

 Pompéi - Another crumbling wall spotted in a Pompeian house last Monday is triggering discussions about the site's condition and future. According to Antonio Pepe, secretary for the local union CISL (Confederazione Italiana Sindacati Lavoratori) at the excavation site, a wall of the upper portion of a house located in the Via dell' Abbondanza was crumbling. The situation was reported to the union by guards, who spotted it during a tour on Monday morning. The crumbling piece is estimated to be around 80 cm (2.7 ft). Unfortunately, this is only the last of a series of damages reported taking place in the site of Pompeii, which, according to critics, has been plagued by accusations of mismanagement and neglect.
http://www.archaiologia.gr/en/blog/2013/11/06/pompeii-workers-say-wall-of-ancient-house-crumbling/
TURQUIE –
 Kultepe - A four and half-thousand year-old dwelling belonging to an important ruler is the latest find from an archeological dig referred to as the Kultepe mound, in a district of Kayseri, in central Turkey. "There is no such a huge building like this in Anatolia and Middle East. We are only at the certain part of the building right now. We will see an enormous structure once we discover it all. This is not a private house. It is most probably an administrative body. We believe that this is a building where Kanis King lives or governs his kingdom," Prof. Fikri Kuloglu, Ankara University archaeologist and head of the Kultepe archaeological excavation, told an AA reporter. The archeologist says the thousands of seals found (probably from Northern Syria) tell that there was "international and systematical trade" in those times and the archaeological excavations in coming years will give further evidence of those trade activities. Kultepe, ancient mound covering the Bronze Age city of Kanesh, is in central Turkey. Kultepe was known to archaeologists during the 19th century, but it began to attract particular attention as the reputed source of so-called Cappadocian tablets in Old Assyrian cuneiform writing and language.
http://www.worldbulletin.net/?aType=haber&ArticleID=122174
USA –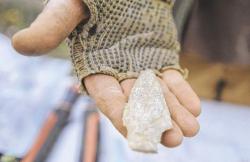 Taylor Bray - Pairs of volunteers hunkered over large screens in a back pasture at Taylor-Bray Farm one recent morning, sifting through piles of dirt in search of treasure thousands of years old. Tucked in small plastic bags nearby were the fruits of that day's efforts: roughly chipped stone spear points, flaky debris from the spear-making process, an assortment of animal bone fragments, and burned rocks indicating hearths used by Native Americans as far back as 4,000 years ago. Since the initial dig in 2010, archaeological explorations have been conducted at the farm each October. Since 2010, more than 30,000 artifacts have been recovered. Chartier and Duggan are caring for the bulk of that collection, although a small number are on display at the Cape Cod Museum of Natural History. The artifacts also have been considerably older than Chartier expected. "We thought all the Native American material out here would be about 1,000 years old, but it's been 3,600 to 3,800," he said. The back field has yielded three hearth sites that may have been used by three or four Native American families. "We're still trying to figure out if it was contemporaneous or at different times," Chartier said. The farm was probably used seasonally by the Native Americans. "The north side is a very exposed area," Duggan said. "Their villages were likely to be farther inland along Bass River."
http://www.capecodonline.com/apps/pbcs.dll/article?AID=/20131104/NEWS/311040311