06 MARS 2012 NEWS : Vergina-Aegae - Ljubljana - Thessalonique - Alford - Sorigny - Hyderabad - Roxas -
06 MARS 2012 NEWS : Vergina-Aegae - Ljubljana - Thessalonique - Alford - Sorigny - Hyderabad - Roxas -
INSTITUT SUPERIEUR D'ANTHROPOLOGIE 
INSTITUTE OF ANTHROPOLOGY
ONLINE COURSES / COURS A DISTANCE
INSCRIPTION  2012 /  Session II : Avril 2012
REGISTRATION 2012 /  Term II : April 2012
GRECE –
 - Vergina-Aegae - The palace of Vergina-Aegae has been preserved and reconstructed since 2010. Despite the fact that the reconstruction works concern the ground level of the palace, architectural parts of the first floor of the palace were found. The findings of the excavation at the palace of Vergina-Aegae will be presented at the ΚΕ' meeting concerning the archaelogical work of Macedonia and Thrace by the director of the ΙΖ' Ephorate of Antiquities, Aggeliki Kotaridi, and the archaeologist Phelekidou. Mrs. Kotaridi explains that 6 windows from the palace have been found in excellent condition, mainting all the details on their external side. The dimensions and the interesting construction details of the windows indicate their origin. This unique architectural treasure is an invaluable cultural asset, providing information and giving a realistic impression of the first floor of the palace. These findings are of great importance, since up until now, assumptions about the first floor of the building have been proven to match the reality. Mrs. Kotaridi concluded that through these findings, Hellenistic scenography has come to light and is being presented with real dimensions.
http://greece.greekreporter.com/2012/03/03/architectural-treasure-found-at-archaeological-site-of-vergina/  
SLOVENIE –
  Ljubljana - The recent excavation in Kongresni Square was one of the biggest archaeological projects in Slovenia's history, according to Matjaž Nošak of the Museum and Galleries of Ljubljana (MGML), the institute that oversees excavation projects. The finds from the square are remnants of a rich settlement history in the area dating as far back as prehistory. Here, archaeologists headed by Nošak found the remains of a late Bronze Age grave and burial mounds, the first of this kind found in Ljubljana. Artefacts from the Roman period were also unearthed in Kongresni Square and part of a suburban settlement of the city of Emona (Roman Ljubljana) with its own graveyard. Excavations at Kongresni Square were launched before the construction of an underground car park between 2009 and 2011. Another interesting project was the excavation works in Krojaška Street near the Ljubljanica river, where the archaeologists uncovered what are believed to be the remains of a river port from Antiquity. Excavations under the capital's central market place, which will continue this year, revealed remnants of Ljubljana's defensive wall from the Middle Ages. Martin Horvat, MGML's Middle Ages curator, pointed to another interesting find under the market place: a bronze urn holding the heart of a member of the Austrian princely family of Auersperg, Ferdinand II (1655-1706), which shows that his were one of five sets of human remains uncovered under what used to be a chapel. Another excavation site situated between Slovenska and Kersnikova streets uncovered 60 graves from between 1st and 4th centuries. Works at this site will continue, as the archaeologists still have 600 square metres to examine. Source: Republic of Slovenia Government Communication Office 
http://www.pasthorizonspr.com/index.php/archives/03/2012/numerous-archaeological-discoveries-in-ljubljana  
GRECE –
  Thessalonique - Archaeologists have unearthed an ancient marble paved Byzantine road during excavation work for a new metro in the northern Greek port city of Thessaloniki. Dating from the third century BC, the marble paved road, known as the Via Egnatia, runs across much of modern day Thessaloniki at a depth of three meters. Other finds range from hundreds of graves and tombs spanning an 800-year period from the fourth century BC, marble sarcophagi, stone tombs and more than 2,500 square meters of ancient buildings. Many of the burial sites contained offerings, including 1,500 pieces of jewellry made of gold, silver and copper, Roman-era gold coins from Persia, clay vessels, glass perfume-holders and eight golden wreaths. Founded in the fourth century BC by King Cassander of Macedonia, Thessaloniki emerged to become a major city through Hellenistic and Roman times. The metro also runs beneath the city's historic Jewish cemetery, which was one of the largest in Europe and is believed to hold more than 300,000 graves. The 9.6-kilometre network is expected to be completed in 2012.
http://www.iol.co.za/scitech/science/discovery/ancient-byzantine-road-unearthed-in-greece-1.1248617
 ROYAUME UNI –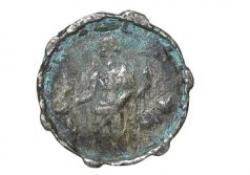 – Alford - A rare Second Century silver Roman ring has been discovered by a metal detectorist in a farmer's field near Alford, a treasure inquest heard. The ring, which has been reworked from a silver denarius coin featuring an image of the Roman Emperor Julia Maesa, is thought to be one of only two ever found in the UK. Although Roman denarii are fairly common finds in Lincolnshire, finger rings reworked from the coins are usually only found on the continent. Only one other similar coin-bezel is listed in the Portable Antiquities Scheme database, having been discovered in Chirton Wiltshire several years ago. This latest find was considered to be of interest to the North Lincolnshire Museum and, being at least 300 years old and composed of more than 10 per cent gold or silver, has been confirmed as treasure by Coroner Fisher.
http://www.louthleader.co.uk/news/local/rare-roman-ring-found-near-alford-1-3584673
FRANCE –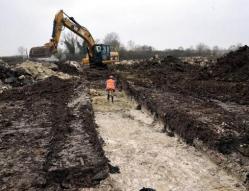 Sorigny - Après une première tranche débutée en mars l'an dernier, sur l'emprise SNCF du futur tracé de la ligne LGV, les archéologues explorent le terrain sur l'emprise Cosea.  Les fouilles ont lieu à la pelleteuse, après des carottages préalables, selon la nature du terrain et ses antécédents archéologiques. A Sorigny, la zone est déjà bien connue des archéologues. « Dans une parcelle déjà explorée près du péage, il y a un site du Moyen Age repéré, indique Jérôme Bouillon, archéologue de l'Inrap. Actuellement, nous avons aussi une petite occupation gallo-romaine diffuse. » Pour l'heure, difficile pour le profane de se faire une idée : les terres grises excavées ressemblent plutôt au stock d'argile d'un potier géant ! Le secteur de Sorigny sera fouillé jusqu'au 13 mars. 
http://www.lanouvellerepublique.fr/Indre-et-Loire/Actualite/Economie-social/n/Contenus/Articles/2012/03/06/Les-archeologues-tatent-le-terrain
INDE – Hyderabad - The state archaeology department officials on Monday heaved a collective sigh of relief as the much-awaited report by NMDC seemed to bring the elusive treasure under the Naubat Pahad within grasp. The report by the National Mineral Development Corporation does not vouch for a treasure but confirmed the presence of "some construction or cavity" beneath the site. The report, based on various geophysical surveys conducted on the hill at the Vidyaranya High School premises over the last couple of weeks, also talks of certain "anomalies" under the hill. "Topographic survey, magnetic profiles and technical studies reveal linear magnetic anomalies which could be due to the presence of a shallow magnetic object or construction or an iron sheet cavity. These anomalies could be situated at a depth of approximately 20 feet," Prof Chenna Reddy, director of archaeology department told reporters here Monday. NMDC, according to him, has been able to detect anomalies at two points at the site where the treasure is supposedly hidden.
http://ibnlive.in.com/news/theres-something-under-naubat-pahad/236468-60-121.html
PHILIPPINES – Roxas - The Philippine National Museum had validated the recovery of an 18th century Chinese Merchant Vessel in the Roxas City sea in Central Philippines, the Philippine Coast Guard (PCG) said Saturday. Junior Grade Jimmy Oliver Gingno, station commander of PCG- Roxas told local media Saturday that he received the report of the National Museum. "Personnel from the National Museum conducted an exploration in the sea in February. They validated the findings on the broken porcelains found inside the vessel as antique," said Gingno. The PCG however expressed disappointment since there were no artifacts found in the said vessel when it was discovered. PCG officials believed the artifacts may have already been taken away by divers who discovered the existence of the vessel earlier. "We only document the said vessel and we hope to preserve it," Vingno said.
http://www.kaogu.cn/en/detail.asp?ProductID=3345