06 JANVIER 2012 NEWS : Jinan - Craig Rhos y Felin - Jaipur - Deguesch - Agrigente - Xiaoshan -
06 JANVIER 2012 NEWS : Jinan - Craig Rhos y Felin - Jaipur - Deguesch - Agrigente - Xiaoshan -
06 JANVIER
INDI-UNI : ANTHROPOLOGY - ARCHAEOLOGY
INSCRIPTION 2012 COURS A DISTANCE
REGISTRATION 2012 ONLINE COURSES
CHINE –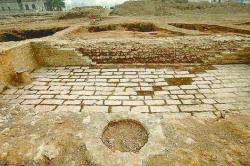 Jinan - The palaces of two noblemen were found this year in downtown area of Jinan in Shandong Province. After 5 months of excavation, the Jinan Archaeological Institute has identified the Ningyang and Ninghai palaces that date back to the Ming dynasty over 400 years ago. The two sites lie in parallel and are 70 meters apart. Ningyang palace is located to the east. The courtyards, wing-rooms, and cloisters in the palace have a clear structure and preserved unusually well. Eight drainage channels protected the palaces by precisely utilizing the natural topography. Knowledge about what the palace was like in its day is limited, but researchers expect this study to provide valuable historic background.
http://www.kaogu.cn/en/detail.asp?ProductID=3244
ROYAUME UNI –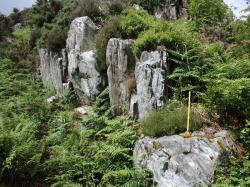 - Craig Rhos-y-Felin - Some of the volcanic bluestones in the inner ring of Stonehenge officially match an outcrop in Wales that's 160 miles (257 kilometers) from the world-famous site, geologists announced this week. The discovery leaves two big ideas standing about how the massive pieces of the monument arrived at Salisbury Plain: entirely by human hand, or partly by glacier. As it looks today, 5,000-year-old Stonehenge has an outer ring of 20- to 30-ton sandstone blocks and an inner ring and horseshoe of 3- to 5-ton volcanic bluestone blocks. The monument's larger outer blocks, called the Sarsen stones, were likely quarried some 20 to 30 miles (32 to 48 kilometers) away in what's now England, where sandstone is a common material. Pinpointing the stones' origins is crucial to understanding how so many heavy hunks of rock made their way to the open plain where Stonehenge now stands. The rocky outcrop fingered by the duo's analysis is called Craig Rhos-y-Felin, which is now located on private land near a sheep farm. The site is a long, bush-covered set of crags the size of four double-decker buses.
http://news.nationalgeographic.com/news/2011/12/111222-stonehenge-bluestones-wales-match-glacier-ixer-ancient-science/
INDE –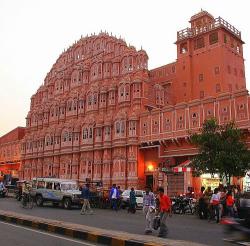 Jaipur - 213-yr-old Hawa Mahal loses colour after wash! Jaipur's historic landmark Hawa Mahal has turned a shade lighter in some corners after enthusiastic civic authorities used water pressure hoses to clean the 18th century monument ahead of Parvasi Bhartiya Divas. Built of red and pink sandstone in 1799, the "Palace of Breeze" was washed with water thrown by fire tenders but it resulted in fading of its traditional colour on several lattices, according to historians and heritage lovers.
http://www.rediff.com/news/slide-show/slide-show-1-hawa-mahal-loses-shade-after-1st-shower-in-213-years/20120106.htm
TUNISIE –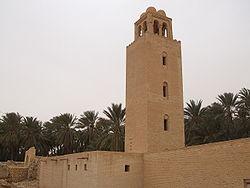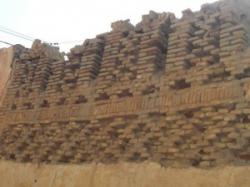 Deguesch - UNESCO has recently collaborated with a Tunisian association, Atlel, to set up an action program for the protection and preservation of neglected Roman sites in Deguech, Tozeur. Deguech is located in southwestern Tunisia on the edge of Chott el Jerid, an endorheic salt lake in the middle of the Sahara desert. It is an oasis town surrounded by mountains, with a population just over 26,000 people. Atlel association is starting excavation works in collaboration with UNESCO and the National Institute of Heritage in Tunis to draw attention to these ruins. The monuments that will be protected include Castilia - an entrance to a Roman city that excavations might unveil, and Seven Wells - a Roman site consisting of wells used for irrigation and agriculture. Atlel will try to integrate the Roman sites in M'hassen and Deguech to the touristic and cultural tours of the region to aid in job creation. Atlel is also attempting to protect Islamic monuments, such as Ezzarkane Mosque – one of the oldest mausoleums in the region of Djerid, built in the eighth century during the Arab conquest of North Africa.
http://www.tunisia-live.net/2012/01/06/unesco-to-preserve-tunisian-archaeological-site-of-deguech/
ITALIE –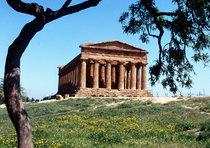 Agrigente - The mayor of the Sicilian city of Agrigento said Thursday that he would not sell one of Italy's prime archaeological treasures even for 40 billion euros after it reportedly attracted the interest of Russian industrialist Mikhail Prokhorov. The precious-metals billionaire, who plans to run in this year's presidential elections in Russia as an independent candidate, has set his sights on buying the ruins of the Temple of Zeus in Agrigento's famed Valley of the Temples, according to media reports
http://www.ansa.it/web/notizie/rubriche/english/2012/01/05/visualizza_new.html_40598954.html
CHINE – Xiaoshan -Archaeologists in east China's Zhejiang provinceunearthed 708 cultural relics from a cluster of tombs dating back to the Shang andZhou dynasties as of the end of last year, sources with the provincial archaeologicalinstitution said Thursday. Located in the Xiaoshan district of the provincial capital of Hangzhou, the tombs werefound last March when evidence of graverobbers led local authorities to the tombs. The relics retrieved from the 45 tombs include pottery and porcelain, according to ShiJianong, curator of Xiaoshan Museum in Hangzhou. The relics will provide vital research material for scientists who are studying the originand craftsmanship of ancient Chinese porcelain, Shi said.
The tombs will also play an important role in research concerning funeral customs fromthe Shang and Zhou dynasties, Shi said.
http://english.people.com.cn/202936/7698412.html