INSTITUT SUPERIEUR D'ANTHROPOLOGIE
INSTITUTE OF ANTHROPOLOGY
ONLINE COURSES / COURS A DISTANCE
SPRING TERM : APRIL 2017
REGISTER NOW
ISRAEL –
Masada - For the first time in over a decade, archaeologists are commencing new excavations atop Masada, studying previously untouched areas of the legendary desert mountain fortress, including the residences of Jewish rebels who met their doom in 74 CE. A Tel Aviv University team, headed by Roman-period archaeologist Guy Stiebel, will conduct a month-long excavation at the UNESCO World Heritage Site starting on February 5. Stiebel's team said the plans for its first season at Masada will involve the excavation of new sections of the Jewish rebel dwellings, as well as a garden constructed by Herod. "Our intention is to further explore a mysterious underground structure that was detected in the earliest aerial photographs of the site" in 1924, Stiebel said in a statement. "The building has remained hitherto unexplored."
http://www.timesofisrael.com/archaeologists-get-set-to-dig-at-masada-after-11-year-hiatus/
INDE -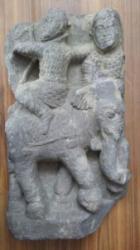 Semthon - Quick on the heels of recovery of the statue of Lord Vishnu Ji from the 12 BC archaeological site of Semthon, Bijbehara in Anantnag district of South Kashmir recently, the State Archives, Archaeology and Museums Department has recovered two more sculptures from this site some days back. The sculptures were recovered during the digging by locals who later informed the police and the Department of Archives and Archaeological of the State and handed over the same to them official sources said. The sculptures are in the custody of the Department which has placed them in Sri Partap Singh (SPS) Museum, Srinagar for preservation to posterity, sources added. Sources said the two fragmentary sculptures one of Lord Vishnu is in 13 inch in height, four inch in width and 2.5 inch in depth is without legs and arms and another sculpture wearing war dresses riding on elephant is 2-4 inch height, 13 inch width and 4-6 inch depth.
http://www.dailyexcelsior.com/2-more-artifacts-recovered-from-ancient-archaeological-site/
ROYAUME UNI –
Ben Lawers - A landmark archaeological project has revealed new insights into the history and inhabitants of the highest mountain in the central Highlands. Archaeologists working on Ben Lawers have uncovered evidence of human activities dating back 9,000 years to the Stone Age – and virtually every period since. Relics unearthed include everything from standing stones, burial cairns and prehistoric flint tools to the remains of Iron Age settlements, ruined Jacobite-era croft houses and even brass-rimmed spectacles. Derek Alexander, head of archaeology for the National Trust for Scotland said: "The earliest evidence we found at Ben Lawers was from the Mesolithic period, when people weren't even farming, they were hunter-gatherers.They were out in the landscape, taking advantage of good places to settle for a period of time, before moving on to make the most of seasonal resources. "There is a whole series of shielings from medieval times onwards. Underneath these we found traces of fires and pieces of flint and quartz. Radiocarbon dating came back at 7,000 BC. "We reckon it was a sort of temporary campsite, where people might go to hunt. They would perhaps have chased deer across the hills and trapped them at the pinch points and gullies, which would have made it a bit easier to hit them with arrows or by throwing a spear.
http://www.scotsman.com/news/environment/perthshire-hills-were-inhabited-in-the-stone-age-archaeological-diggers-reveal-1-4358155
INDE –
Bhadradri-Kothagudem - Traces of human life existed thousands of years ago have been found in several areas of the Bhadradri-Kothagudem district following excavation taken up by the Archaeology department in Bhupalapalli and other areas. Several prehistoric rocks have been unearthed on a hillock in the forest area on the border of Charla and Venkatapuram mandals, about eight km from Suraveedu Colony close to the Kamini Cheruvu. Two new prehistoric painting sites were found in the district.
http://www.thehansindia.com/posts/index/Khammam-Tab/2017-02-04/Stone-Age-structures-unearthed-in-Kothagudem/278159
USA –
Riverfront Park - Dovetail, which has its office in the Battlefield Industrial Park, has done three digs at Riverfront Park for the city. This last one completed the archaeological excavations that it was asked to do after Prince Hall Lodge 61 at 609 Sophia St. was demolished in the fall of 2015 to make way for the park. The earlier digs turned up the foundations of the Rowe–Goolrick house, its outbuildings and other artifacts, including bone fragments thought to be those of Union soldiers because an X-ray showed some of the buttons found near them bore the logo of the 14th Regiment, Connecticut Volunteer Infantry. The bones were found in what may have been slave quarters of the Rowe–Goolrick house, along with pieces of a haversack and a vial of mercury mixed with turpentine and possibly animal fat. It was likely a patent medicine of the kind Civil War soldiers carried to treat such ailments as syphilis, smallpox and scurvy.
http://www.fredericksburg.com/news/local/fredericksburg/riverfront-park-dig-uncovers-burnside-carbine-cartridges/article_94a6a290-6e85-5f12-b068-ba9ff8271b26.html