INSTITUT SUPERIEUR D'ANTHROPOLOGIE
INSTITUTE OF ANTHROPOLOGY
ONLINE COURSES / COURS A DISTANCE
SPRING TERM : APRIL 2015
REGISTER NOW
INDE –
 Pachamta - Artefacts such as perforated jars, shell bangles, terracotta beads, shells and the semi-precious stone lapis lazuli, different types of pottery and two hearths have been found during excavation under way at Pachamta, a village 100 km from Udaipur in Rajasthan. Pachamta belongs to the Ahar-Banas culture in the Mewar region, which was contemporaneous with the early and mature Harappan culture. The Ahar culture, datable to 3,000-1,700 BCE, was chalcolithic (the Bronze Age), and its people had trade links with the Harappans. Prabodh Shirvalkar of the Deccan College Postgraduate and Research Institute, a deemed-to-be university in Pune; Lalit Pandey of Rajasthan Vidyapeeth University, Udaipur; and Teresa P. Raczek of Kennesaw State University, U.S., are leading the excavation under a project called the Mewar Plains Archaeological Assessment. The National Geographic Society is funding the project. The village is close to Gilund, an important Ahar-Banas culture site. Dr. Vasant Shinde, Vice-Chancellor and Director, Deccan College, who had earlier excavated Gilund, said: "Gilund provided important information about the transformation of life from hunting-gathering to agriculture in the Mewar region around 4,000 BCE. We found very early pottery and bricks structures at Pachamta."

http://www.thehindu.com/
CHINE - Tashkurgan - Chinese archaeologists have identified a cliff cave burial site in Tashkurgan Tajik Autonomous County on the Pamirs Plateau in farwest Xinjiang Uygur Autonomous Region. Three cave tombs were found in high cliffs in the county after a region-wide heritage survey in 2014, said Ai Tao from the Xinjiang Archaeological Institute. Besides human bones, infant corpses were found sealed inside niches in the walls and covered by rocks or earth. Ai said such a custom was rare in China, but local Tashkurgans did bury stillborn babies in this way until a few decades ago. A cluster of 102 tombs, 40 percent of which were made for infants, were unearthed in nearby Kezilesu Kirgiz Autonomous Prefecture in 2013. It is believed that cave burial, which can also be found in China's southwestern provinces of Yunnan and Guizhou, was practiced as far back as 4,000 years ago.
http://news.xinhuanet.com/english/sci/2015-02/05/c_133972166.htm?
ROYAUME UNI - Berwick - Archaeological digs are set to start on site at Berwick Infirmary next week. The site lies within the Edwardian town walls constructed around 1296, however, the nature of the layout of this part of the medieval town is not well understood. The existing Berwick Infirmary, which opened in 1874 and has been expanded in several phases during the 20th century, was constructed on either small fields or gardens, however, the earlier history of the area is unclear. The site does, however, lie outside the later Elizabethan walls which were constructed in the 16th century.
http://www.berwick-advertiser.co.uk/news/local-news/all-news/archaeological-dig-at-site-of-new-hospital-1-3678641
INDE –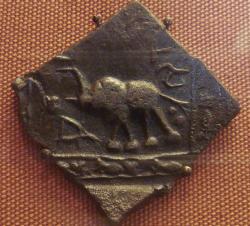 Satavahana - In a bid to establish the missing cultural sequences after and during the Satvahana dynasty, which ruled the large part of Central India in second century B.C., the Directorate of Archaeology and Museums, Maharashtra will begin excavating the site near Ter in Osmanabad district."We are excited to begin our work on such an important site. This was an important place on the trade route with the then Roman Empire. We hope that new discoveries await us in next two months, as we start working," said Dr. Maya Patil, Deputy Director, Directorate of Archaeology and Museums.Though the site first discovered by British researchers in early 1900, an illiterate villager called Ramlingappa Lamture played a crucial role in preserving a number of terracotta figurines, pendants and several artefacts. Today, the village hosts a museum exclusively of objects collected by late Lamture, which is looked after by the next generation of his family.Prominent researchers like Dr. S.B. Deo worked in Ter till 1975 in excavating several important artefacts from the surrounding area. "Today's Paithan (then Prathisthan) was the capital of Satvahana Empire. The trade route with Rome was established after the researchers in Italy found similar terracotta figurines that can be found in Ter," said Dr. Patil.
http://barbaricum.net/news/6419528228658564581
INDE –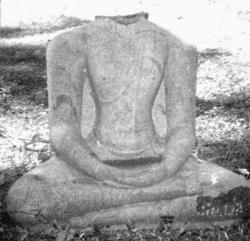 Manalur - A headless sculpture of Buddha, dating back to 10th century AD, has been found at Manalur village in Thanjavur district. It was found based on information given by a school teacher. Buddhist scholar B Jambulingam and heritage enthusiast Mani Maaran conducted a search in the region which led to the excavation of a three-foot sculpture of Buddha in a sugarcane field in Manalur, six km from Ayyampet. The head and right hand of the sculpture were missing. "The iconographical features of the sculpture show similarity to those found in the region earlier, mostly belonging to 10th-11th century AD. The findings of Buddha sculptures in and around the area show the existence of a Buddhist temple here," said Jambulingam, superintendent of Tamil University, Thanjavur. Buddhism came to Tamil Nadu during the 3rd century BC and prevailed in the Chola country up to the 16th century AD. In Thanjavur, Buddha sculptures were found in various places and the prominent among them are those in Vayyacheri, Cholanmaligai, Kumbakonam, Madagaram, Manganallur, Pattiswaram, Perandakottai and Vikramam. "Of these, only the head of the Buddha were found in Vayyacheri and Perandakottai. A couple of decades ago, a friend told me about a Buddha head he found near a tank in Vayyacheri.
http://timesofindia.indiatimes.com/india/10th-century-sculpture-of-Buddha-found-in-Thanjavur/articleshow/46082643.cms
TURQUIE –
 Horoztepe - Works have been initiated to start archaeological excavations in the northern province of Tokat's Horoztepe mound, which has turned into a tobacco farm despite being declared a first-degree archaeological area.  The mound, located in the eastern part of the Erbaa district and is claimed to be home to the Anatolian civilization of the Hatti between 2500 and 1700 B.C., has been covered with earth over time and become a hill with an altitude of 325 meters. The first excavations were carried out on the mound in 1940. Many artifacts from the Hittite and Phrygian eras have been unearthed during past excavations.  It was also reported that the region had characteristics of the best known Alacahöyük mound in the Central Anatolian province of Çorum, although work has since ceased in the area. The excavations are set to start in the necropolis (graveyard) area, owned by the Erbaa Municipality. After the Sivas Cultural Heritage Protection Board gives permission to the excavation, 40 graves will be unearthed before the excavations begin. 
http://www.hurriyetdailynews.com/tobacco-planted-on-archaeological-area-in-northern-turkey.aspx?pageID=238&nID=77939&NewsCatID=375