INSTITUT SUPERIEUR D'ANTHROPOLOGIE
INSTITUTE OF ANTHROPOLOGY
ONLINE COURSES / COURS A DISTANCE
FALL TERM : OCTOBER 2016
REGISTER NOW
TURQUIE –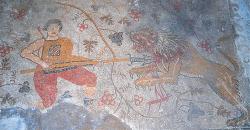 Beyşehir - Excavations are continuing in a clover field in the Central Anatolian province of Konya's Beyşehir district, where a 1,400 year-old floor mosaic with human and animal figures was unearthed last year. The mosaic, which was found in the Yunuslar neighborhood of Beyşehir, some 30 kilometers away from the city center, has been taken under protection. Speaking about the excavation works that started this year and which are continuing on an area of 60 square meters, Konya Museums Director Yusuf Benli said they took action in December 2015 when they were warned about an illegal excavation in the neighborhood. "This is a field in the center of the Yunuslar neighborhood between Konya and Beyşehir. We think this place was a villa. It is also mentioned in documents about the Battle of Myriokephalon at the time of the Selcuk Sultan Kılıçarslan II. Probably this field was a villa. Of course we may find other structures as works continue. There are mosaics in Konya but this is the first time such a beautiful mosaic has been found," he added. Benli said the field of mosaics featured a large scene with various human and animal figures, and it is believed to date back 1,400 years. "There is a different scene here. In the middle is a very big vase and dried tree branches in it. There are also figures of fish, pomegranate, mountain goats, gazelle, partridge, two lions and vulture. The main theme is a warrior fighting against a lion," he added. Benli said the mosaic had sustained minor damage and restoration work would be carried out in the coming days.
http://www.hurriyetdailynews.com/mosaic-in-clover-field-under-protection-in-konya.aspx?pageID=238&nID=103510&NewsCatID=375
MEXIQUE -
Lambityeco - A stone carved in the shape of a crocodile was unearthed by Field Museum archaeologists earlier this year at the site of an ancient city in Mexico, the museum announced this week. Field Museum archaeologists Gary Feinman and Linda Nicholas led the excavation team at Lambityeco, a city in the Oaxaca Valley of southern Mexico that's believed to have been populated from A.D. 500 to 850. Feinman said items found near the stone, which is about 5 and 1/2-feet long and 2 and 1/2-feet tall, indicate it may have once been used for ritualistic purposes."We found charcoal, broken pieces of human skull and some ceramic vessels that were usually used for burning incense," he said. More significantly, the stone is helping researchers learn how the population at Lambityeco may have splintered from a neighboring community. Archaeologists speculate that for Lambityeco's first 200 or 250 years, its indigenous population closely mirrored the society of Monte Alban, a much larger urban center that predated Lambityeco by several centuries and eventually existed simultaneously with it. The researchers also uncovered frescos similar to those found in Monte Alban that they believe were deliberately covered over by the people of Lambityeco. Feinman hopes the stone's discovery will shed light on the city's apparent break from Monte Alban. "They may have been declaring autonomy from Monte Alban," Feinman said. "I'd like to better understand the process of how the political system broke down in the valley of Oaxaca." Monte Alban was founded around 500 B.C. and is one of the oldest cities in Mesoamerica, a region that includes Mexico and parts of Central America where societies developed before Spanish exploration and conquest in the 15th and 16th centuries. Both Monte Alban and Lambityeco seemed to have tapered off around the same time. Judging by the artifacts discovered at the sites of both ancient civilizations, Feinman doesn't think they fell by way of a natural disaster or other rapid event.
http://chicagotonight.wttw.com/2016/09/02/field-museum-archaeologists-find-centuries-old-crocodile-stone
ROYAUME UNI –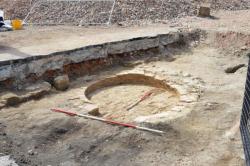 Salisbury - Medieval building foundations, a Tudor kiln and silver coins are among items that have been unearthed at a development site in the city centre. Developers discovered the objects on the site of the old bus station in Endless Street. A Tudor kiln was discovered, that was most likely used for pottery or tile production, as well as a 16th century well and the foundations of medieval buildings. Smaller objects such as silver coins, and what appears to be a clasp/pin made of polished bone were also discovered.
http://www.salisburyjournal.co.uk/news/14718189.Medieval_artefacts_found_on_city_centre_development_site/