05 SEPTEMBRE 2013 NEWS: Dovrefjell - Bitargarh - Champagne Springs - Virginia City -
05 SEPTEMBRE 2013 NEWS: Dovrefjell - Bitargarh - Champagne Springs - Virginia City -
INSTITUT SUPERIEUR D'ANTHROPOLOGIE
INSTITUTE OF ANTHROPOLOGY
ONLINE COURSES / COURS A DISTANCE
FALL TERM : OCTOBER 2013
REGISTER NOW
NORVEGE - Dovrefjell mountain range - Tord Bretten and Line B. Aukrust found the fragments of the five Neolithic arrowshafts and a Neolithic longbow in August 2011 in the central Norway's Dovrefjell mountain range. Their discoveries are estimated to be around 5,400 years old. "These discoveries are the oldest in Scandinavia as far as we know," Martin Callanan at NTNU's (Norwegian University of Science and Technology) Department of Archaeology and Religious Studies tells The Foreigner. "The people who found them are collectors who work in cooperation with the museum. One of them has been collecting things for over 30 years." Calling the "a lovely piece of work", Mr Callanan explains, "We don't often get to see the wooden parts of Stone Age artefacts. We often find arrowheads but the way the shaft is preserved is rather unique. That's what makes snow patch archaeology so exciting." According to him, those who used the discovered weapons were hunters. "It appears to be reindeer that was the main prey at that time. In Norway, these animals gather on snow patches." At the same time, Mr Callanan believes something could be happening to the climate for these items to have been found. "This may indicate that there has not been the same amount of melting the last 5000 years", he remarked to NRK, adding, "something new is happening."
http://theforeigner.no/pages/news/scandinavias-oldest-snow-patch-find-discovered-in-norway/ 
BANGLADESH –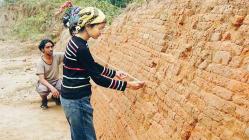 Bitargarh - The recent excavation at country's biggest fort city 'Bitargarh' under the Panchagarh district, has uncovered diversified material of archaeological significance from the period between the sixth to tenth centuries. The team revealed that the site of Bhitargarh was an urban settlement enclosed within four concentric quadrangles made of earth and brick and discovered lower parts of eight forts that were constructed at the site. Dr Jahan said the team had discovered ten ancient ponds of which 'Maharajar Dighi' was the largest. "There used to be three embankments in three areas. The embankments were made of stone to retain water throughout the year for cultivation. Furthermore, some ancient pottery has been discovered as well," she added. AKM Zakaria, archaeologist and former secretary to the Ministry of Cultural Affairs said, "The area was named as 'Bhitargarh' or 'inner fort' because of several forts located inside the area." Emphasising on the historical significance of the site Dr Jahan said, "The fort was built between the sixth and tenth centuries. However, no signs of Muslim settlements were found here." She also said, "The importance of Bhitargarh lay primarily in trade, due to its strategic location on the ancient overland and riverine routes connecting to Tibet, Sikkjm, Nepal, Bhutan, Assam, Koch Bihar and regions of the middle and lower Ganga valleys." "However, the archaeological site is on the verge of collapse as locals are building structures within the site violating the High Court's order imposing a suspension on all kinds of constructional work at the area," she said with despair.
http://www.dhakatribune.com/bangladesh/2013/sep/05/6th-century-city-state-relics-discovered-bhitargarh
USA -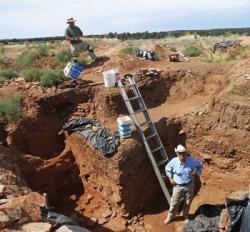 Champagne Springs - In October, the Verde Valley Archaeology Center celebrates its third anniversary. In this short history, a consortium of VVAC personnel has participated in 11 excavations - 10 at the Champagne Springs site in Dove Creek, Colo. This summer, the VVAC went to the Champagne Springs site three times. "This site in southwestern Colorado, called Champagne Springs, because of sweet water coming from a nearby spring, has everything any avocational or professional archaeologist could want," Jeanne explains. "Great kivas, blocks of rooms, pit houserooms, and just to top it off, there are two separate cities within shouting distance of each other. But here is the problem, and it is a big one. Tons of dirt have drifted in over the centuries, and in order to really know what is under those intriguing mounds, all those tons of dirt have to be moved. I don't see any dirt movers. So, that is where we come in." "It took us two years to finally reach the floor of the pit houseroom, bucket by bucket, that had by this time become our second home," Jeanne says. "In those two years we found many things that were beginning to give as an idea of how this room was used and information about the people who lived here as long as 1,000 years ago. Needless to say, many other wonderful things have been found and documented by our group. All remain stored close to where they were found, and probably will be available some day for research." Henderson says that research is one of the two reasons for an excavation. The other is to salvage a damaged site.
http://www.cvbugle.com/main.asp?SectionID=1&SubSectionID=1&ArticleID=39618
USA –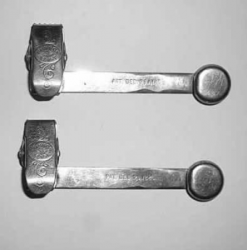 Virginia City - In the 1860s, Virginia City, Montana, was at the hard, frayed fringes of American civilization. The first capital of Montana Territory, it was the birthplace of the Vigilantes, self-appointed police who became the law by taking it into their own hands. It was the site of public hangings and rough trade conducted in the open. And in 1865 it was the venue for one of the longest fist-fights ever recorded, when a slim blacksmith fought a barrel-chested heavyweight for 185 rounds. But none of this is any cause to mess up your mustache. Archaeology students from Montana State University conducting field work in Virginia City have unearthed artifacts from these storied days that would be the envy of any Hollywood prop master. One student has discovered a Victorian mustache cup, a coffee cup equipped with a ceramic rim to keep a gentleman's neatly waxed mustache from melting. Another archaeologist in training uncovered so-called cheater's cufflinks, equipped with a clip that ran up the sleeve to hold a spare playing card or two. A bottle of snake oil, some boot leather, and toy guns are also among the artifacts. Beneath the stone walls and the detritus of frontier life, the students also found the remains of wood structures that may be evidence of some of the earliest buildings constructed in Montana's first capital.
http://westerndigs.org/fancy-mustache-cup-card-cheaters-cufflinks-unearthed-in-montanas-first-capital/