05 MAI 2015 NEWS: Hatay - Bobbio - Jussarö - Piprahwa - Tjaru - Sofia - Zominthos - Le Caire -
05 MAI 2015 NEWS: Hatay - Bobbio - Jussarö - Piprahwa - Tjaru - Sofia - Zominthos - Le Caire -
INSTITUT SUPERIEUR D'ANTHROPOLOGIE
INSTITUTE OF ANTHROPOLOGY
ONLINE COURSES / COURS A DISTANCE
FALL TERM : OCTOBER 2015
REGISTER NOW
TURQUIE –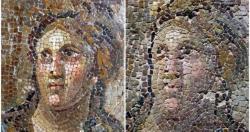 Hatay - At least 10 mosaics, held in the world's second largest mosaic museum in Turkey's southern city of Antakya, were seriously damaged during restoration, a local newspaper has reported.The scandal erupted after local mosaic craftsman Mehmet Daşkapan brought the issue to the attention of a local newspaper in Antakya.  "Valuable pieces from the Roman period have been ruined. They have become caricatures of their former selves. Some are in an especially poor condition and have lost their originality and value," Daşkapan said. Among the damaged mosaics are world-famous panels including a mosaic depicting the sacrifice of Isaac and a mosaic of Narcissus, he added. "The panel that I saw could not have been the original mosaic from the 2nd century A.D. Some of its stones are missing, while others have been misplaced, creating a discordant look," Daşkapan stated.
http://www.hurriyetdailynews.com/ancient-mosaics-seriously-damaged-during-restoration-in-turkeys-hatay.aspx?pageID=238&nID=81921&NewsCatID=375
ITALIE –
 Bobbio - Archaeology students from NUI Galway (NUIG) have discovered a 1,000-year-old church linked to the Italian monastery founded by Ireland's St Columbanus. The students, who were working with international colleagues, uncovered the Romanesque remains within the basilica dedicated to the Irish missionary at Bobbio in northern Italy. The charismatic Columbanus, who died 1,400 years ago, has long been regarded as Ireland's "first European", and attracted controversy over his criticism of Pope Gregory the Great. The students located the threshold stone and door jambs of the Romanesque church about 1.5m below the existing floor of the basilica. NUIG archaeology lecturer Dr Conor Newman described how steps descend to the original nave, which occurs at the same level as a 12th century mosaic floor identified a century ago. "Fragments of stucco, wall-paintings and dressed stone suggest that the early church was an impressive and ornamented structure," he said, and plans were afoot to extend the excavation. The church would have been built in the same location as Columbanus's original monastery, he explained. The practice to build over existing structures was common,and aimed to preserve the "sanctity of the ground", he pointed out. Columbanus famously described Pope Gregory's method of calculating Easter as "worthy of ridicule and pity", Dr Newman said, and his monasteries were among the most important in early medieval Europe. One of the peripatetic missionary's biographers, the late Archbishop of Armagh Cardinal Tomás Ó Fiaich, described how he set out with a group of 12 monks and reached Brittany, France, when already 50 years of age. From there, he headed for the Vosges mountains, founding three monasteries. After he fell out with the Merovingian dynasty ruling the "Franks" or Germanic tribes of the Rhine area, he took a boat down the river into Switzerland and travelled over the Alps into Italy. Many locations in Europe bearing his name testified to his "cult status". A century ago, a small wooden box was found in the crypt at Bobbio with the remains of a small Irish reliquary dating from the 7th century. A close match to it was found in Clonmore, Co Armagh, in 1990 – suggesting that the Bobbio reliquary may have been made there.
http://www.irishtimes.com/news/ireland/irish-news/nuig-students-discover-church-linked-to-st-columbanus-in-italy-1.2198790
FINLANDE -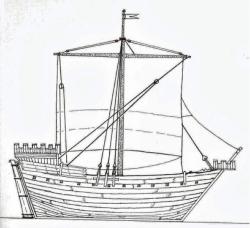 Jussarö -An archaeological diving team in Finland said they have found the wreck of the Hanneke Wrome, which sank with valuable cargo and some 200 passengers and crew on November 20, 1468.  Historic documents record the ship as carrying 10,000 gold coins.
VIDEO = http://www.hs.fi/kotimaa/a1430370715237
INDE – Piprahwa - Where is Buddha's hometown Kapilvastu -- India or Nepal? While popular belief and early historical findings associate him with Tilaura Kot in Kapilvastu district of Nepal, some Indian archaeologists claim that Kapilvastu was at present day Piprahwa in UP's Siddharthnagar district. Now, a new research suggests that human settlement existed in Piprahwa 1,400 years before Buddha's birth besides hinting that the place could be the one where Prince Gautam spent the first 29 years of his life."We based our conclusion on outcomes of radio-carbon dating of charcoal blocks excavated from Piprahwa between January and June 2013. The samples were sent for assessment to Birbal Sahni Institute of Paleobotany and their reports have just arrived," said BR Mani, former additional director general of Archaeological Survey of India, who conducted the study.Co-author Praveen Kumar Mishra said, "We have found that the site of Piprahwa, which is believed to be Buddha's Kapilvastu, dates back to 2000 BC and it was at its prime around 1000 BC. This is almost 1,400 years before the birth of Buddha."Mani added that the findings also throws light on the time of Hindu sage Kapil. "Chances are that his ashram was in Piprahwa. Since it is known that Shakyas raised their capital on the site of Kapil Muni's ashram, chances that Buddha spent his childhood and early life here are stronger," he said. Piprahwa and Nepal's Kapilvastu are just 30 km apart.Prince Siddhartha or Gautam Buddha, son of Shakya king Suddhodana, was born at Lumbini in Rupandehi district of Nepal - adjacent to Kapilvastu -- and spent the first 29 years of his life in Shakya capital before setting out in search of truth and enlightenment. There has been raging debate over the identity of the 'real' Kapilvastu.In a finding that strengthens Piprahwa's claim, Mani and Mishra have excavated 80-odd samples including artifacts and naturally occurring charcoal from the site. "Seven charcoal blocks were sent for assessment and some reports have arrived," they said. Radio-carbon dating of 40-odd artifacts was still under way. Refuting Nepal government's claim of Tilaura Kot being the original Kapilvastu, Mani stated, "Their oldest antiquity belongs to 2nd century BC which means that it is not as old as Piprahwa."DP Tiwari, head of ancient Indian history department, Lucknow University, approves of the findings. "Human settlement existed at that time in the Ganga plain. It turned into a city around 700 BC and got glory as the capital of the Shakyas. To my understanding, the current work suggests that there may have been a rural settlement prior to the Shakyas."About the debate over Kapilvastu, Tewari said, "the biggest argument Nepali researchers give is that there is no palace structure in Piprahwa and see it as a monastic settlement. However, Ganwari, a site adjacent to Piprahwa, has a palace complex. Also, in the present day, we see Piprahwa and Ganwari as two separate sites but in ancient times, they could have been one."
http://timesofindia.indiatimes.com/city/lucknow/UPs-Piprahwa-is-Buddhas-Kapilvastu/articleshow/47143085.cms
EGYPTE –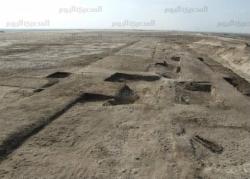 Tjaru Fortress - Antiquities Minister Mamdouh al-Damaty has announced the discovery of an ancient Egyptian army camp in the Tjaru Fortress in North Sinai.A number of storage sites, dating back to Thutmose III and Ramses II, seals bearing the name of King Thutmose III, as well as mass graves of soldiers who died in battles during the 26th Dynasty have also been discovered. According to the minister, the limestone fragments of the eastern gate of Tjaru fortress, bearing inscriptions mentioning King Ramses II, are 15 meters long and one meter wide, indicating the large size of the gate, used to secure the Way of Horus between Egypt and Palestine. The artifacts will be displayed at the Military History Museum, which will be built on the eastern bank of the Suez Canal. Mohamed Abdel Maksoud, the supervisor of the Egyptian archeological mission, said Tuthmosis III and Ramses II led the Egyptian army in the battles of Megiddo and Kadesh, securig Egypt's eastern border.
http://www.egyptindependent.com//news/ancient-egyptian-army-camp-discovered-north-sinai
BULGARIE – Sofia - A team of  archaeologists is going to excavate the parking lot of a five-star hotel in downtown Sofia in search for the Roman forum of the Ancient Thracian and Roman city of Serdica. The excavations, which will take place between June 15 and August 31, 2015,The archaeologists have hypothesized that the ground below the St. Nedelya Square might hide the palace of Roman Emperor Constantine the Great (r. 306-337 AD) who is known to have said,"Serdica is my Rome". Emperor Constantine, who was a native of Nis in today's Serbia, is known to have considered Serdica, today's Bulgarian capital Sofia, as a possible place for relocating the capital of the Roman Empirebefore he chose Constantinople. It is possible that in addition to the Roman Forum, the ground under the St. Nedelya Square might also harbor the ruins of the Roman praetorium and mint of Serdica.
http://archaeologyinbulgaria.com/2015/05/04/bulgarian-archaeologists-to-search-for-roman-forum-of-ancient-serdica-in-sofias-downtown/
GRECE –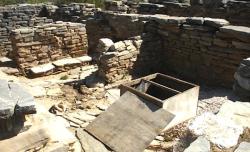 Zominthos - Greece's culture ministry has announced that work will begin on Monday to restore damage caused by illegal digging carried out by looters at the Zominthos archaeological site, on Mount Psiloritis on Crete. According to experts, there are signs that the site was vandalized and disturbed. In an announcement issued on Sunday, the ministry reported damage in three of the 42 rooms uncovered by the official archaeological excavation. It said the illegal diggers had gone through the floor and destroyed a section of the southern wall of one room, that the base of a pillar found on the site had been moved and broken, while in rooms 35 and 26 there were signs of disturbance and illegal digging.
http://greece.greekreporter.com/2015/05/03/work-to-repair-damage-at-looted-zominthos-dig-to-begin-on-monday/#sthash.7r6kRZZ8.dpuf
EGYPTE –
 Le Caire - The 14th century mosque of the Amir Aqsunqur, better known as the Blue Mosque, has been opened to the public Saturday after the completion of a six-year renovation project. The mosque had been closed since 1992 due to damage it had suffered from an earthquake in the same year. The blue tiles at the mosque's interior eastern wall lend this mosque its alternative name, Islamic history professor at Minya University Fathy Khourshid told The Cairo Post Sunday. "Covering the Qibla wall from the floor to the ceiling, these tiles are in the style of ceramics manufactured in the Turkish town of Iznik which is famous for blue tiles," said Khourshid. Located in Islamic Cairo's modern district of Al-Darb al-Ahmar between Bab Zuweila and the Citadel of Saladin, "the mosque was a part of a funerary complex, containing the mausoleums of its founder Shams El-Din Aqsunqur, his sons, a number of children of the Mamluk sultan Nasir Mohamed and that of its principal restorer, Ibrahim Agha al-Mustahfizan," according to Khourshid.
http://www.thecairopost.com/news/148730/culture/cairos-blue-mosque-inaugurated-after-6-year-restoration