05 MAI 2011 NEWS - Jubail - Ketavaram - Bury St Edmunds - Madinet Madi - Espagne - Caen - Le Caire - Cave Creek - Thetford -
05 MAI 2011 NEWS - Jubail - Ketavaram - Bury St Edmunds - Madinet Madi - Espagne - Caen - Le Caire - Cave Creek - Thetford -
- 05 MAI
- ARABIE SAOUDITE –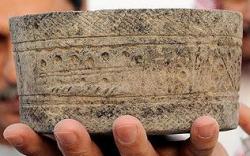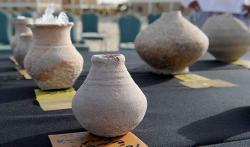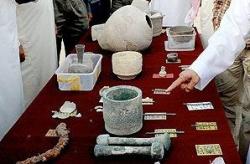 Jubail - The Saudi Commission for Tourism and Antiquities on Tuesday announced the excavation of two new archaeological sites; one dating back to 300 BC while the other 500H. The first site is located inside Jubail Industrial College, about 14 kms from Jubail city, adding that the area is surrounded by a wall. The site is part of the Jarha Kingdom that lived east of the Arabian Peninsula before the advent of Islam.
http://arabnews.com/saudiarabia/article381390.ece
- INDE –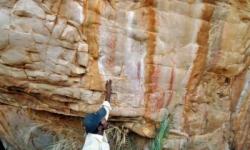 Ketavaram - The pre-historic rock paintings at Ketavaram near Kurnool have been under stress due to weathering. People visiting the place at regular intervals have been noticing loss of shine and visibility year after year. The rainwater washing down over paintings caused erosion. Over 100 figures were drawn on the flat surface of basalt rocks, possibly with acidic pen or iron red oxide. Several archaeologists who visited the site grouped them as the art of Mesolithic to megalithic period ranging from 6,000 BC to 200 AD. Ketavaram rock site is considered one of the important prehistoric sites in the country. Experts who visited the site causally collected a huge number of stone tools which were just visible to the naked eye. Ketavaram site is believed to be contemporary to Indus Valley civilization. Many of the figures found at the Indus site have also been spotted at Ketavaram. The group of pictures depicted the lifestyle of pre-historic man. The animals which found prominently among the figures are deer, stag, antelope, hyena, rabbit, reptile and frog. The hunting dance is painted visibly at many places which is considered the source of early belief system. Tribal head performed various rituals before going for hunting praying the tribal gods for a good catch.
http://www.hindu.com/2011/05/04/stories/2011050451670200.htm
- ROYAUME-UNI –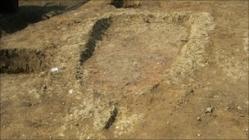 - Bury St Edmunds - Archaeologists have uncovered evidence of medieval industry on the outskirts of Bury St Edmunds town centre. The clay ovens and leather tanneries appear to date from the 12th-16th Centuries. Housing developers called county historians after they found mortar and flint footings for wooden buildings. The Warren Map of 1740 showed the area to be fields - so this is the first evidence of previous development. Alongside the clay ovens, the archaeologists have found a series of sunken barrels. They think these were to store lime putty which was used to create mortar, plaster and lime-wash for building. Around 50 cattle horns have been found. They were probably a waste product of the leather industry, although they were used as drinking vessels and as an alternative to glass in lamps when cut thinly. Most big houses would have had an oven for malting barley for brewing. Water was less appetising whereas beer is naturally sterilised
http://www.bbc.co.uk/news/uk-england-suffolk-13295735
- EGYPTE –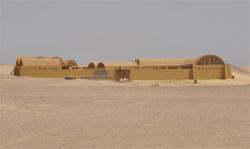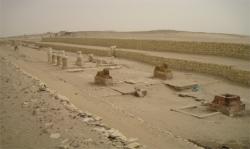 Madinet Madi - Madinet Madi is one of the most important archaeological sites in the Fayoum region. It was founded during the reigns of Amenemhat III (c 1981-1952 BC) and Amenemhat IV (c 1814-1805 BC) of the 12th Dynasty (c 1981-1802 BC). It contains the ruins of the only Middle Kingdom (c 2030-1802 BC) temple in Egypt. This temple was dedicated to the cobra-headed goddess, Renenutet, and the crocodile-headed god, Sobek of Scedet, patron god of the region and its capitol, Scedet. During the Ptolemaic period (332-30 BC), the temple was enlarged and the city enhanced. Since 1978, the University of Pisa has carried out exploration work at Medinet Madi. Ten Coptic churches dating to the 5th-7th centuries AD have been discovered, as have a Ptolemaic temple dedicated to two crocodiles, which incorporated a unique barrel-vaulted structure used for the incubation of crocodile eggs, and a Roman period fortified camp dating to the reign of Diocletian (284-305 AD). In 2004, with support from the Ministry of Foreign Affairs in Italy, the university restored blocks bearing four hymns to the goddess Isis, written in ancient Greek. This new development project aims to preserve the monuments of the city of Madi and make it a more tourist friendly destination. So far, the project has successfully cleared the archaeological site of intrusive sand and restored its monuments. Comprehensive archaeological survey and mapping of the site has also been undertaken, as has the building of a visitor centre and eco-lodge. Hawass has heralded the project as a successful example of cooperation between Egypt and Italy.
http://english.ahram.org.eg/~/NewsContent/9/40/11462/Heritage/Ancient-Egypt/Madinet-Madi-now-on-the-Egypt-tourism-map.aspx
- ESPAGNE - Paintings depicting horses and human hands made by prehistoric humans around 25,000 years ago have been discovered in a cave in northern Spain, regional officials said on Wednesday. The red paintings, found by chance by archaeologists looking for signs of ancient settlements, were made around the same time as the Altamira Cave paintings -- some of the world's best prehistoric paintings discovered in northern Spain in 1879. "It was a chance finding," archaeologist Diego Garate told Reuters. "Although they were difficult to spot because they are badly deteriorated, our experienced eye helped us to identify them." Experts will further explore the caves for evidence of prehistoric utensils or tools, officials said. The first homo sapiens arrived in small groups in northern Spain around 35,000 years ago. They cohabited for a time with the last of the Neanderthals and then developed a significant culture known as the Upper Palaeolithic, producing stone blade tools and decorating cave walls.
http://www.reuters.com/article/2011/05/04/us-spain-caves-idUSTRE7436P520110504
- FRANCE – Caen - C'est lundi 2 mai qu'une équipe dirigée par l'Inrap (Institut national de recherches archéologiques préventives) a démarré la deuxième campagne de fouilles, à la recherche de nouveaux éléments sur l'histoire de la ville de Caen. Dix archéologues, un anthropologue et un pathologiste y participent. Deux secteurs de 200 et 400 m2 de part et d'autre de la statue de Louis XIV seront d'abord investigués pendant deux à trois semaines. Ils devraient permettre de mieux connaître le passé de la place, utilisée depuis le XIe siècle comme une place de marché. La prochaine étape verra l'équipe s'attaquer à une zone de 750 m2 entourant le parvis du Vieux Saint-Sauveur, qui avait révélé il y a un an un ancien cimetière des XVIe et XVIIe siècles. Les ossements retrouvés appartenaient à des enfants victimes de pathologies graves qui ont été soignées, ce qui pose de nombreuses questions sur leur origine.
http://www.lamanchelibre.fr/Place-Saint-Sauveur--les-fouilles-changent-le-147decor148,1032.media?a=18214
- EGYPTE –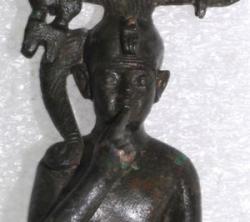 Le Caire - Some bronze statues recovered this week in Egypt during a police action, have turned to be a little mystery -- well in keeping with the Egyptian deity, the god of silence and secrecy, they represent. Dating to the Late Period of Egyptian history (around 688-332 B.C.), the four recovered statues were initially believed to have been stolen from the Egyptian Museum in Cairo during the January revolution that brought down President Hosni Mubarak. But according to a statement by the Ministry of State for Antiquities, a committee of archaeologists who verified the identity and authenticity of the artifacts, discovered that only two of them are actually pieces missing from the museum. Not much is yet known about the other two. One of identified statues, referred as JE 22040 in the Egyptian museum database, is a 37.5-centimeter-tall (14.8-inch-tall) "bronze standing statue of Osiris," god of the afterlife. The other, catalogued as JE 67925, is an 18-centimeter-tall (seven-inch-tall) "inscribed bronze striding statue of Harpocrates wearing the Andjety diadem." Known in Egyptian mythology as Horus, the child of Isis and Osiris, the deity is shown with his finger in his mouth. It was a symbol of childhood, but the Greeks who conquered Egypt under Alexander the Great, misinterpreted the gesture and adopted him as Harpocrates, the god of silence and secrecy.
http://news.discovery.com/archaeology/egypt-god-silence-stolen-statues-110504.html
- USA – Cave Creek - A long term research project to evaluate the possibility of a development of alliances between the prehistoric peoples of the Verde Valley, Perry Mesa and the Cave Creek area. The Verde Confederacy is the name given to this alliance model, and it is believed to have formed in the early 14th century as a protective response to the larger and more highly organized Hohokam population in the Phoenix Basin. Using ceramic analysis, architectural evidence and paleoclimatic data, these archaeologists seek to document the scale of such cooperation between these relatively distant groups. The development of such an alliance would seem to be compelling evidence for wide scale hostilities and warfare during the late prehistoric era. As part of this research project, the DFC Chapter has been directly involved in the collection of ceramics on Perry Mesa and at Seven Springs. Under the supervision of J. Scott Wood, members have collected sherds at three different sites near Brooklyn Basin on Perry Mesa and at two different sites near Seven Springs. These sherds will be sorted and then analyzed by electron microprobe using a special procedure developed by Dr. Abbott. The analysis will focus on examining the temper—the filler added to the clay to improve its texture or workability. Some tempers, such as the mineral phyllite, which is abundant in the Wingfield Plain pottery found on Perry Mesa and in Cave Creek, are easier to chemically identify and can be traced to a specific area. Microscopic analysis of phyllite temper will show whether or not the ceramics were traded to another village or made and used in the location that the phyllite was gathered. It will also show whether the kind of tempers used remained consistent throughout the areas studied or whether there were changes in temper that might indicate different sources or techniques.
http://www.sonorannews.com/archives/2011/110504/communitynews-Archaeologists.html
- ROYAUME-UNI –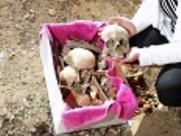 Thetford – A manager at a shop in Thetford, found a whole pile of bones near the shop in an area which was being excavated. The builders just left them in a pile of dirt and rubble- An archaeologist who told her the bones were likely to be those of four or five different people and were more than 800 years old. The bones, which include two skulls, one of which is thought to be female, a leg bone thought to be from a male, and numerous others, are now in a box-
http://www.edp24.co.uk/news/the_mystery_of_old_shakey_s_bones_1_884052