INSTITUT SUPERIEUR D'ANTHROPOLOGIE
INSTITUTE OF ANTHROPOLOGY
ONLINE COURSES / COURS A DISTANCE
WINTER TERM : JANUARY 2018
REGISTER NOW
VIET NAM –
Linh Son pagoda - About 20,000 artefacts were unearthed in Linh Son pagoda, which is located within the Oc Eo archaeological site in the Mekong Delta province of An Giang, between August and December 2017, according to an archaeologist. Dr. Pham Van Trieu from the Institute of Archaeology under the Vietnam Academy of Social Sciences (VASS) said at a conference in An Giang province on January 3 that the objects, including construction materials, household utensils and pieces of stones, were found in two holes, each measuring 300 sq.m. Such artefacts may date back from the 1st century BC to the 12th century AD, the archaeologist said. He added the excavations also uncovered five layers of culture belonging to five periods which lasted from the 2nd-12th century AD. Dr. Le Dinh Phung, also from the institute, said that Oc Eo culture was formed 2,000 years ago in the southwestern region. Prof. Dr. Nguyen Quang Thuan, President of the VASS, said Oc Eo culture was associated with the Phu Nam Kingdom, which flourished between the first and the seventh century. Excavation findings reveal that Oc Eo-Ba The was an urban area and a big economic-cultural centre of the Oc Eo-Phu Nam culture. Nen Chua was an important port which handled exports and imports of the Oc Eo urban area and other localities in the Long Xuyen Quadrilateral Region in particular and the southwestern region in general. In 1944, French archaeologist Louis Mallecet carried out excavations at the site, along with his colleagues from the French School of the Far East. They unearthed objects offering proof of a flourishing civilization and well-developed trade with other areas in Southeast Asia.People in the Phu Nam civilization produced many handicrafts, including ceramics, and had the ability to refine copper, iron and tin, along with creating silver and gold jewellery.-
http://english.vietnamnet.vn/fms/art-entertainment/193214/more-artefacts-belonging-to-oc-eo-culture-found.html
Rép. TCHEQUE – Brno - Archaeologists have found evidence that Roman soldiers were present on the site of the Czech city of Brno. Evidence of a temporary Roman camp has been found in the city. It dates from the second century and probably a Roman offensive against the German tribes then inhabiting the area.Some of the finds from excavations including dishes used for eating food. Other Roman camps were also present in Moravia and as far north as Olomouc during the wars. The normal border of the Roman Empire was normally much further south along the Danube river.
http://www.radio.cz/en/section/news/archaeologists-find-former-roman-presence-in-brno
USA –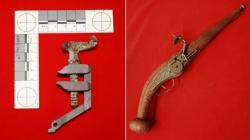 Redoubt Site - The discovery of centuries-old pistol parts in Colorado is shedding new light on the state's Spanish Colonial history. The spring-loaded arm, known as a "dog" and trigger guard were once part of a wheellock pistol, according to the Museums of Western Colorado, which has released details of the fascinating find."The dog was found as part of an archaeological excavation conducted by the Western Investigations Team (Museums of Western Colorado) of a site, known as the Redoubt Site, which included bits of Spanish Armor and other Spanish Colonial memorabilia found near a small fortification, a few years back south of Grand Junction, Colorado," explained David Bailey, curator of history at Museums of Western Colorado, in an email to Fox News. "After analyzing the material, we discovered there was a dog and a trigger guard [that] were from a very early Spanish pistol known as a wheellock." The pistols, which could be almost two-feet long, first emerged in Europe around 1500. Metallurgic tests indicate that the pistol parts found near Grand Junction are from the sixteenth or seventeenth centuries, making the discovery particularly unusual.
http://www.foxnews.com/science/2018/01/04/discovery-600-year-old-pistol-parts-sheds-new-light-on-colorados-spanish-colonial-history.html