05 JANVIER 2017 NEWS: Trellech - Brunswick Town/Fort Anderson - Jiahu - Irlande - Bannockburn - Gela - Allemagne -
05 JANVIER 2017 NEWS: Trellech - Brunswick Town/Fort Anderson - Jiahu - Irlande - Bannockburn - Gela - Allemagne -
INSTITUT SUPERIEUR D'ANTHROPOLOGIE
INSTITUTE OF ANTHROPOLOGY
ONLINE COURSES / COURS A DISTANCE
WINTER TERM : JANUARY 2017
REGISTER NOW
ROYAUME UNI –
Trellech - An archaeologist has discovered a lost medieval city on the border between England and Wales. Stuart Wilson was working in a toll bridge booth when he decided to buy the land 13 years ago on a hunch that it could be the lost city of Trellech. After years of being dismissed by the archaeological community, the hard work has now paid off and the 37-year-old's find is now being recognised. He was recently invited to speak by the Cardiff Archaeological Society. The team will also, weather permitting, continue to excavate the site and will focus on what Mr Wilson believes is the remains of a moated manor house. Mr Wilson believes the town was founded by the De Clare family in the 13th century to make arms. It attracted people from the surrounding countryside but it did not last as a regional centre after it was attacked by the family's enemies and was later targeted by Welsh rebel Owain Glyndŵr.
VIDEO = http://www.independent.co.uk/news/science/archaeology/trellech-ancient-medieval-city-found-discover-stuart-wilson-england-wales-border-monmouthshire-a7508591.html
USA -
Brunswick Town/Fort Anderson - A piece of history and a bit of a mystery has been pulled from the Cape Fear River at the Brunswick Town/Fort Anderson State Historic Site. The historic site announced Tuesday that a Colonial-era cannon was pulled from the river in late December. Little is known about the cannon, which has no visible markings, measures 93-inches long and "appears to have burst, possibly caused by a casting flaw," the release states. The bore is 80-inches and 4-inches in diameter, which could equate to a 6- to 9-pound gun, according to McKee. It appears to have been in use prior to 1756. The gun was also found empty, which is another indicator that the cannon could have burst while being fired.
VIDEO = https://portcitydaily.com/2017/01/03/pre-colonial-cannon-pulled-from-the-cape-fear-at-brunswick-townfort-anderson/
CHINE –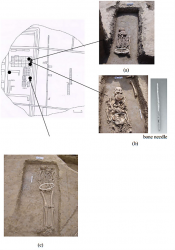 Jiahu - Scientists have found evidence of silk dating back 8,500 years after testing soil samples from a Neolithic site in Henan province. Gong Decai, a professor with the college's scientific archaeology department, spent almost six years completing the research, which he also included in a recent article for Plos One, an international academic journal. He said his team found evidence of prehistoric fibroin, an insoluble protein found in silk, in soil samples collected from three tombs at Jiahu, a Neolithic site in Henan's Wuyang county that had settlers as early as 7,000 BC. Compared with other ancient relics such as pottery and bone or stone tools, which are often found in archaeological digs, textiles are highly susceptible to degradation, meaning it's rare they are preserved for thousands of years. Gong said earlier studies had found proof of weaving skills and tools in the Neolithic period, such as spinning wheels, but until now, there had been a lack of direct evidence proving the existence of silk. "The direct biomolecular evidence shows the existence of prehistoric silk fibroin, which was found in 8,500-year-old tombs," he said, adding that rough weaving tools and bone needles were also excavated, supporting the theory that Jiahu settlers possessed basic weaving and sewing skills. The site is famous for the discovery of the earliest playable musical instrument, the bone flute; the earliest mixed fermented beverage of rice, honey and fruit; and the earliest domesticated rice in northern China.
http://www.china.org.cn/china/2016-12/28/content_39996881.htm
IRLANDE –
- The potato blight that killed about a million people in Ireland in the 1840s originated in South America, a new genetic analysis finds. Until now, the origin of the fungus-like blight that devastated potato crops in Ireland and throughout Europe had not been pinned down. Now researchers at North Carolina State University and the Norwegian University of Science and Technology Museum say the blight was caused by a pathogen with a particular genetic lineage, dubbed FAM-1. The researchers conducted a new analysis of 183 samples of this pathogen, the oldest dating back as far as 1941. They found that the genetic strain that caused the European blight likely made its way from South America to the United States and then to Europe via potato shipments and the seed trade, they reported Dec. 28 in the journal PLOS ONE.
ROYAUME UNI –
Bannockburn - A pair of "ancient" standing stones situated near a police headquarters were actually erected to mark the first major victory of the Battle of Bannockburn, new evidence suggests. Radiocarbon dating has revealed the two stones near the entrance to Police Scotland Central Division's Randolphfield HQ, in Stirling, were erected around the time of the battle in 1314. It is now thought they mark the spot where Sir Thomas Randolph – Earl of Moray and a commander in Robert the Bruce's army – routed around 300 English cavalry on the first day of the battle. It was previously believed that the stones were positioned more than 3,000 years ago in alignment with an ancient burial ground nearby, and possibly used as landmarks in the battle. Dr Murray Cook, Stirling Council's archaeologist, first excavated the site ahead of the 700th anniversary of the battle two years ago, and this year obtained further funding to obtain a radiocarbon date of one of the stones' foundations. He said: "These stones have been linked to Randolph's skirmish, though I thought they were more likely to be prehistoric and possibly incorporated into the battle.
http://www.heraldscotland.com/news/14994252.___Ancient____standing_stones_are_linked_to_1314_battle/
ITALIE –
Gela - Archaeologists have found a Stonehenge-like "calendar rock" in Gela, on the southern coast of Sicily, that they say was used as a prehistoric sundial to measure seasons and years during the Bronze Age. The man-made megalith was found eight kilometres from Gela, near the prehistoric Grotticelle necropolis. An experiment was conducted in December at the winter solstice with the help of a compass, cameras, and a video camera mounted to a GPS-equipped drone, which confirmed the discovery was a calendar stone.
http://www.ansa.it/english/news/2017/01/04/stonehenge-like-calendar-rock-found-in-gela_e7c74825-90ad-40c9-8480-86adcca15090.html
ALLEMAGNE - Archeologists have discovered that a clay fragment, found in southern Germany decades ago, is part of a 6000-year-old Neolithic mask. The mask finally sheds light on the religious beliefs and rituals of the era.
VIDEO = http://www.dw.com/en/archaeologists-identify-6000-year-old-mask/av-36870712