05 JANVIER 2012 NEWS : Jérusalem - Xi'an - Kerynia - Russie - Vinh Loc - Itkhori - Beijing -
05 JANVIER 2012 NEWS : Jérusalem - Xi'an - Kerynia - Russie - Vinh Loc - Itkhori - Beijing -
05 JANVIER
INDI-UNI : ANTHROPOLOGY - ARCHAEOLOGY
INSCRIPTION 2012 COURS A DISTANCE
REGISTRATION 2012 ONLINE COURSES
ISRAEL –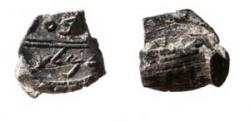 Jérusalem - Jerusalem archaeologist Gabriel Barkay announced this week that the Temple Mount Sifting Project has discovered a fragment of a seventh-century B.C.E. clay bulla impressed with the ancient Hebrew inscription [g]b'n lmlk, or "Gibeon, for the king." According to Barkay, the bulla is evidence for royal taxation of different Judahite cities, in this case the town of Gibeon. More than 50 other such "fiscal bullae" are already known, but most lack contextual information. "All the fiscal bullae known until now come from the antiquities market, and our bulla is the first one to come from a controlled archaeological project," wrote Barkay on the project's Web site. "This bulla enables us to fully illuminate and discuss the entire phenomenon of the fiscal bullae."
http://www.biblicalarchaeology.org/daily/news/sifting-project-reveals-first-temple-bulla/
CHINE –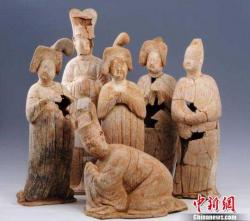 X'ian - Recently the Xi'an Cultural Relics Protection Institute excavated a tomb complex in a western suburb of Xi'an, capital of Shaanxi Province, and ancient capital of China. The 18 tombs date back to the Tang Dynasty, some 1200 years ago. According to researchers, the tombs belong to a prince from a Turkic clan, which was a minority group located in the area during the Western Tang Dynasty. Archaeologists have unearthed many funerary objects such as figurines, including a rare kneeling eunuch figurine. The reason this Turkic prince was buried in Xi'an is because during that period the prince was held hostage in the central Tang territory in order to keep the peace.
http://www.kaogu.cn/en/detail.asp?ProductID=3243
GRECE –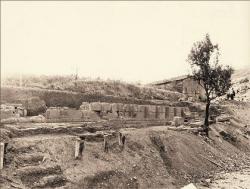 Kerynia - Localisation de l'antique cité de Kerynia : mentionnée par de nombreux auteurs antiques (Strabon, Pausanias...) la cité de Kerynia en Achaïe semble devoir être localisée près du village actuel de Mamousia.
http://www.enet.gr/?i=news.el.texnes&id=331390
RUSSIE –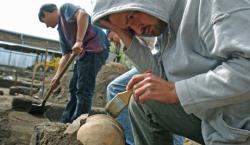 Archaeology 2011 - A 400-year-old metallurgical furnace and irons for printing cylinder seals, discovered in Russia for the first time, are unique finds of Russian archaeologists in 2011. Archaeologists are convinced that these artefacts which help us to understand life in Russia in the olden days are interesting to everyone and not only to experts. About 40 large archaeological expeditions were organised last year. Archaeologists were traditionally interested in Antiquity and the Middle Ages. Archaeologists have found an ancient burial ground near the city of Suzdal. Experts say that this is the first burial mound in the last 160 years which lent itself to opening because practically nothing has remained from old burial grounds. In the mound archaeologists found encrusted battle-axes which were parade weapons of 11th century warriors. Only about a dozen of such axes have been found on the territory of Russia, Scandinavia and the Baltic region. So this is a very rare find. There has been more good luck, Nikolay Makarov says. "These are crosses with rough images of the Crucifixion, they belong to the first generation of Russian Christian artefacts. They appeared in the late 10th century and were used in the 11th century, the very beginning of Christianity in Russia. All in all, eight such crosses have been found in the north-east of Russia. Our collection has been replenished by two more of them. They are precious items of 11th century Christian culture." An absolutely unique artefact was found In Novgorod which experts call an archaeological wonder of the world. It is a bullotirium, irons for printing lead cylinder seals, archaeologist Pyotr Gaidukov, a corresponding member of the Russian Academy of Sciences, says. "Russia took many things from the Byzantine Empire, for example, the tradition of sealing documents with hanging metal seals. Over 6,000 seals of the 11th -15th centuries have been found but never an instrument with which they were printed. Now we have a very good idea of how it was done in 14th century Russia." The archaeologist says that this is the most sensational find of this season and one of the most outstanding discoveries of Russian and world archaeology. There is another artefact which is archaeologists' special pride. A metallurgical furnace was found in the New Jerusalem Monastery near Moscow. It was used for casting bells when the founder of the monastery Patriarch Nikon lived there. It is a brick furnace dug in the ground with a round stand for a bell mould. Similar items have been found in Europe but this is the first artefact of this kind discovered in Russia and it is definitely of paramount importance.
http://english.ruvr.ru/2012/01/05/63394145.html
VIET NAM - Vinh Loc - An ancient bronze drum was recently unearthed by Trinh Van Trung, a farmer working the land near Ru Than Mountain in Thanh Hoa Province's Vinh Loc District. Circles consisting of 12-pointed stars and drawings of people involved in daily activities such as hunting, rice pounding and rowing decorate the surface of the drum. Archaeologist Vu The Long from the Viet Nam Archaeological Institute estimated that the drum dated back from between 2,000 to 3,000 years to the Dong Son Civilisation.
http://vietnamnews.vnagency.com.vn/Life-Style/219351/ancient-bronze-drum-found-excavated-by-local-farmer.html
INDE –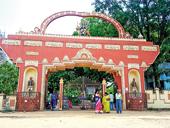 Itkhori - The temple village of Itkhori in Chatra district, 63km from Hazaribagh, is buzzing with excitement. In a day or two, chosen sites on its famed Ma Bhadrakali temple premises will be dug up for the first time by a team from the Archaeological Survey of India (ASI). The temple, dating circa 7th century AD, is unique as it is a confluence of three religions —Hinduism, Buddhism and Jainism. Besides Bhadrakali, seen as a propitious form of Kali, Shiva and Hanuman idols complete the Hindu influence. Besides these, there is a stupa with 1,008 figurines of Buddha and the charan paduka (slippers) of Jain Tirthankar Sheetalnath. All are made of black stone, with similar aesthetic styles, suggesting religious co-existence in close proximity in the Middle Ages."This place must have been the Patliputra of Jharkhand. The temple was built between 7th and 10th centuries, AD," said Vinoba Bhave University history professor Iftikhar Alam.
http://www.telegraphindia.com/1120103/jsp/jharkhand/story_14955240.jsp
CHINE – Beijing - China's third national survey into cultural relics, which lasted more than four years, saw the registration of over 766,700 fixed cultural relics, of which, 536,000 were newly registered and over 1,200 were newly found in Beijing, according to statistics released at a video conference on Dec. 29. The survey began in April 2007 and ended in December 2011, and involved six categories of fixed cultural relics, including ancient heritage sites, ancient tombs, ancient buildings, Buddhist grottoes and stone inscriptions, and historic sites and buildings in modern times. These cultural relics can be further divided into 59 subcategories. In addition, more than 230,000 fixed cultural relics were already registered during previous surveys.
http://www.kaogu.cn/en/detail.asp?ProductID=3245