05 EVRIER 2016 NEWS: Sohag - Derawar Fort -
05 EVRIER 2016 NEWS: Sohag - Derawar Fort -
INSTITUT SUPERIEUR D'ANTHROPOLOGIE
INSTITUTE OF ANTHROPOLOGY
ONLINE COURSES / COURS A DISTANCE
SPRING TERM : APRIL 2016
REGISTER NOW
EGYPTE –
Sohag - A large temple with rare archaeological pieces has been discovered, Alaa al-Sebaei, Tourism and Antiquities Police directorate official in Upper Egypt's Sohag, told Youm7 Wednesday. Sebaei was notified that a citizen excavated beneath his house in Sakulta, a small Upper Egyptian city near Akhmim; the security forces stormed the citizen's house and arrested him. The security forces found a big hole leading to a crypt then to a big temple that dates back to the Roman Empire.
http://thecairopost.youm7.com/news/192521/news/roman-empire-era-temple-unearthed-in-upper-egypts-sohag?
PAKISTAN –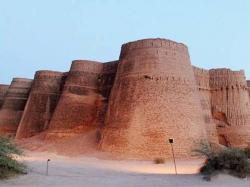 Derawar Fort - Work on repair and conservation of a broken down segment of Derawar Fort will begin this month. Ghulam Muhammad said that he had visited the site last week and had monitored the preparation of special bricks that would be used in the conservation work. "These bricks will be fixed with lime and red-brick powder and the inner portion of the wide wall will be buttressed with sun-dried bricks," he said. Officials of the Archaeology Department explained that a portion of Derawar Fort had been damaged by rain and natural wear and tear. Three bastions and two segments of the fort's 75-feet high and five-foot thick boundary wall had been damaged a while back. "We had told the government about it when the damage occurred but the funds were only recently approved and released." They said that a bastion on the south-eastern part of the fort and a 23-foot long, five-foot thick and 75-feet high portion of the wall would be conserved. Derawar Fort lies on the border of Cholistan desert and to the south-east of Dera Nawab in Bahawalpur district. According to a report by the Archaeology Department, there has been a fort at this site for almost 5,000 years as part of a chain that provided security to travellers along an ancient trade route from Central Asia to the Indian subcontinent. The report says that the fort was captured by the Abbassi family from Raja Rawal Singh of Jaisalmir in 1733. The fort, in its present form was built circa 1733, the report says.
http://tribune.com.pk/story/1039936/heritage-site-derawar-fort-conservation-work-from-this-month/