INSTITUT SUPERIEUR D'ANTHROPOLOGIE
 INSTITUTE OF ANTHROPOLOGY
ONLINE COURSES / COURS A DISTANCE
NEW OPEN COURSE : JANUARY 2013
HRM 104 : INTRODUCTION TO INTANGIBLE CULTURAL HERITAGE
REGISTER NOW
CANADA  –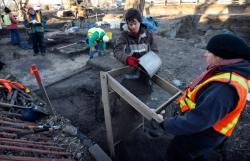 Puce River bridge - An archeological excavation is well underway on the banks of the Puce River after aboriginal items that may be 1,000 years old were found in preparation for the expansion of County Road 22.  The items, including arrowheads and pieces of pottery, were discovered last December on the banks of the Puce River near the County Road 22 bridge. "The artifacts that initially were found were projectile heads, or arrowheads, as well as clay pottery," said Essex County's engineering contracts manager Peter Bziuk. "There were fragments of pottery that date back to the late woodland period. There's a wide range for that period, but it's approximately 1,000 years old." Exactly what indigenous tribe left the items may be difficult to determine, according to the Ontario Archaeological Society. On their website the society says that Western Basin Algonquin tribes were occupying Southwestern Ontario around 1000 A.D., the end of the late woodland stage. "It is by the late woodland stage that ethnic identities are known for some of the people who created the prehistoric archaeological sites," the society says on its website. "The indigenous inhabitants of Southwestern Ontario, however, had disappeared by the time European explorers entered the area. Because of the absence of a native population by the contact period, archaeologists can never be absolutely certain who actually lived in Southwestern Ontario."
http://blogs.windsorstar.com/2012/12/03/archeological-dig-underway-at-road-expansion-site/
CANADA –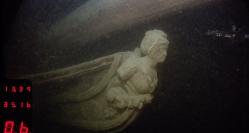 Lake Ontario - The Hamilton and the Scourge — two wooden ships from the War of 1812 — are aging well at the bottom of Lake Ontario, according to surveyors who have been studying the wrecks. The American schooners, which sank in 1813, lie 90 metres below the surface of the lake, about 10.5 kilometres off Port Dalhousie. The ships have been owned by the City of Hamilton since 1980, but a partnership with Parks Canada allows surveyors to map out every inch of the boats. Using the latest technology, the entire site was mapped out over the course of several years, allowing experts to better determine how risky it would be to take next steps, like recovering artifacts. The team also wanted to get detailed images of the wrecks because they're being colonized by a relative of the zebra mussel. A layer of mussels could eventually cover the ships. The results of the mapping survey were presented last week at the Canadian War Museum in Ottawa by Jonathan Moore, senior underwater archaeologist for Parks Canada. He said the mapping process gave researchers a precise understanding of the positioning, size and details of the ships. Pushed into service for the U.S. Navy during the War of 1812, the Hamilton and the Scourge were originally merchant ships. When a sudden squall struck just after midnight on Aug. 8, 1813, the ships went down and have remained at the bottom of Lake Ontario ever since. When first discovered in the 1970s, the ships were upright, intact and had many of the original instruments still in the same positions they would have been in when the ships sank. All of these elements remain in good condition today according to the latest survey results.
http://www.cbc.ca/hamilton/news/story/2012/12/04/hamilton-1812-ships-great-lakes.html
TURQUIE –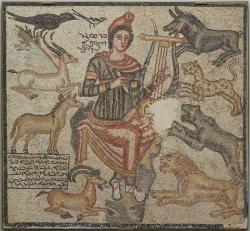 Edessa - The Dallas Museum of Art has returned an ancient piece of artwork to Turkish officials after learning that the piece was likely looted from an archeological site. The museum "deplores the illegal trade in antiquities" and officials said they have made it a priority to identify and return looted treasures from other countries. The artwork returned to Turkey is a ceramic mosaic of the mythic poet Orpheus playing a lyre as he sits on a rock surrounded by wild animals, which he tames with the soothing music. The museum bought the piece at public auction in 1999, officials said. Museum director Maxwell Anderson discovered evidence that the piece might have been stolen from an archeological site and contacted Turkish officials. Turkish officials provided scholarly opinions as well as photographs indicating that the ceramic was stolen from the site of ancient Edessa, now part of Turkey. The piece dates from 194 A.D. and measures approximately 64 inches by 60 inches. It was part of a floor in a Roman building, museum officials said.
http://articles.chicagotribune.com/2012-12-04/entertainment/sns-rt-us-usa-turkey-mosaicbre8b31ar-20121204_1_cultural-heritage-and-museums-museum-officials-turkish-officials