05 - 06 NOVEMBRE 2011 NEWS
05 - 06 NOVEMBRE 2011 NEWS
05 - 06 NOVEMBRE
INDI-UNI : ANTHROPOLOGY - ARCHAEOLOGY
INSCRIPTION 2011 – 2012 COURS A DISTANCE
REGISTRATION 2011 – 2012 ONLINE COURSES
NEPAL –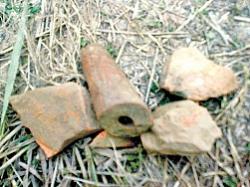 Lumbini - Archaeological objects dating back to Gautam Buddha's time have been found at Devdaha in Lumbini (eastern Nepal). The palace of Lord Buddha's maternal uncle is located in Devdaha. Local people found the remains of a hukka (smoking pot made of clay), bricks, diyo (a small earthen lamp) and a pond under a peepal tree at Bhaluhi's Buddhapath . According to elderly people in the area, Lord Buddha used to take bath in the area and it has a small temple too. Buddha Idols, a temple and rooms, diyos and bricks were uncovered during excavation in Devdaha's Kanyamai last year also. An excavation team, which resumed work in the area on October 13 this year, said there are many such areas where objects dating back to the Buddha's time can be found. The team said it will start excavation at places including Bairimai, Khayardanda, Pakaribriksha and Mayadevi temple after work at Kanyamai is completed.
http://www.asianewsnet.net/home/news.php?id=23514&sec=10
VIET NAM –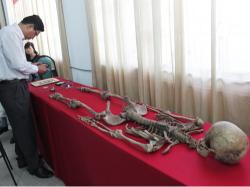 Cau Xeo - The Department of Culture, Sports and Tourism in the southern province of Dong Nai on Friday revealed conclusive findings of an excavated mummified woman in an ancient tomb in Cau Xeo commune in Long Thanh district. The 200-year-old mummy was discovered two months ago when workers were clearing the site to facilitate construction of the Ho Chi Minh City-Long Thanh-Dau Giay highway road. The archaeologists revealed that the mummy was of a woman between the ages of 50-60 during the 17-18 century. The mummified woman is 1.5m in length, with dyed black teeth. It can be assumed that she must have been of noble descent as some of her personal belongings buried with her such as a nut grinder, small brocade pouch, 20 gold buttons, a black leather cushion and a pair of brocade shoes were items that only the rich could have used. Some rice seeds and a strange variety of fruit were also found buried with her.
http://www.saigon-gpdaily.com.vn/Culture_Art/2011/11/97927/
UAE –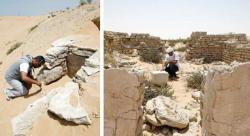 - In June 2011, the cultural sites in the City of Al Ain became the first and only entry from the UAE to the list of World Heritage Sites. A preliminary list of six more sites including the historic parts of Dubai will be submitted to the UN body by December. Also the Director of Architectural Heritage Department of Dubai Municipality, Bukhash said heritage areas along the Creek, surrounding Bastakiya and Shindagha, in Dubai will be among the six sites. The traditional forts, houses, souqs and mosques in these sites are expected to earn international repute once UNESCO recognises the cultural importance of the areas. Archaeological sites in Sharjah's Maleeha area and Umm Al Quwain's Al Dour, where evidence of Hellenistic era has been traced, and a place with old barracks of the British army in Ras Al Khaimah are among the other sites that are likely to be short-listed from over 20 sites that may be included at later stages. A newly elected member of the UAE Federal National Council, Bukhash said officials had already held meetings with experts from the UNESCO on the registration of the sites and the preparation of a tentative list. Placing historical Dubai on the world cultural map is one of the main goals of Bukhash's department. After the historic parts of Dubai along the Creek win entry into the UNESCO list, the department plans to nominate an archaeological site in Jumeirah that dates back to the 2nd Islamic century (or 900 AD) and the Hatta village, which represents a typical traditional Arabian village with mud construction.
http://www.khaleejtimes.com/DisplayArticle08.asp?xfile=data/theuae/2011/November/theuae_November123.xml&section=theuae
INDE – Tirumala - A four-member experts' team, headed by Deputy Director of the Andhra Pradesh Archaeology Department Gayatri, reached Tirumala on Friday and began the work of cleansing ancient copper plates, (tamra patralu) which have the 'krithiks' of saint poet Tallapaka Annamacharya engraved on them. It may be mentioned here that Annamacharya had penned over 32000 kirtanas in praise of Lord Venkateswara. After his demise, they were engaved on the copper plates by his son, Tallapaka Pedda Tirumalaharyulu, and safely preserved at the Sankeerthana bhandagaram inside the temple. After a lapse of over 400 long years, 14,000 kirthanas were transcripted and work was taken on over 2500 copper plates. Ever since, the TTD had been working hard to preserve the priceless literary work. At present, the TTD has in its possession about 2,698 plates and the process of cleansing is expected to last for five days. Soon after, it plans to put them on display at its SV museum. Meanwhile, a 20-member team headed by A.V Narasimha Murthy from the South India Numismatics Society is expected to come here on November 25 to examine the ancient coins kept in the temple coffers. The coins are supposed to have been deposited in the temple hundi by devotees. According to rough statistics, there is an accumulation of about 500 kg of such coins. They were from periods of various dynasties, including the Ishawaka, Pallava, Satavahana and Vijayanagara. The experts will classify them in accordance to their ages.
http://www.thehindu.com/news/states/andhra-pradesh/article2598787.ece
ROYAUME UNI –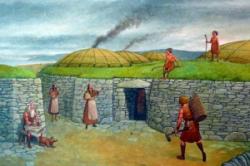 Oban - Archaeologists working on a routine survey of a Scottish hillside have uncovered a treasure chest of historic artefacts dating back 6000 years. The find was made during preparatory work for a new housing development in Oban and is the biggest of its kind in mainland Argyll in recent years. It includes a Stone Age or Neolithic axehead, dating back 5000-6000 years, three prehistoric roundhouses which are up to 3000 years old, and the remains of an 18th-century farmstead and metalwork store.
http://www.heraldscotland.com/news/home-news/haul-of-prehistoric-objects-unearthed-on-building-site-1.1133243
ROYAUME UNI – Bamburgh - For the past 15 years, the Bamburgh Research Project has been digging through the layers of settlement on top of the 'rock' of Bamburgh, which is surely one of the most imposing natural features of our north east coastline. Our ancestors have made use of it since Neolithic times, creating a depth of layers which, though not quite rivalling those of the great 'tell' of ancient Troy, challenges archaeologists with its intricacies and conjunctions. The archaeologists set out in search of the St Peter's church where, Bede tells us in the 8th century, the arm of St Oswald was preserved and venerated after the King's death at the battle of Maserfeith in 642. The team got really excited when a geophysical survey and a resistivity analysis suggested there was more going on underneath this medieval chapel building. Could this be the church which Bede recalls? To test this possibility has required years of painstaking archaeology, digging down and scraping away for clues. Now, after excavations in 2004 in 2008, the team's original idea that they were digging into a site with continuous religious use from early Anglo-Saxon times to early modern times no longer seems to stand up. Graeme Young now believes that Bede's church must be somewhere else on the castle site. Instead, what the team have found is that the 12th century church is built out beyond an earlier perimeter wall, probably of Norman date, which itself lies over the walls of a stone building of Anglo-Saxon date. The orientation of the building does not seem to be appropriate for a church and the team do not seem to think the structure they are finding was an ecclesiastical building. However, the team have yet to get beyond a building layer of around 900AD, though they have had to sift through a waste midden which contained late Roman material through which later walls were constructed. So slowly, work in this trench adds to the story of what was built on Bamburgh's castle site in its heyday as a key fortress site in Northumberland.
http://www.berwick-advertiser.co.uk/news/local-headlines/town_and_country_1_1942790
ROYAUME UNI – Pinchbeck - Investigations into the findings of an archaeological dig in Pinchbeck have uncovered much more than the group behind it were expecting. Researchers have been exploring the background to Healey's Field after a large scale dig began at the site last year. The report, commissioned by Pode Hole businessman John Lyon, has revealed the most likely building they have found remains of is Croswithand House, which was owned by Robert Cust from 1479. The report by David and Angela Hibbitt suggests Croswithand House had a large central hall and the master and mistress slept in a bedroom at the rear. Evidence suggests the house became ruinous in the 1800s.
http://www.spaldingtoday.co.uk/news/latest-news/exciting_details_unearthed_in_dig_1_3201522