INSTITUT SUPERIEUR D'ANTHROPOLOGIE
INSTITUTE OF ANTHROPOLOGY
ONLINE COURSES / COURS A DISTANCE
SUMMER TERM : JULY 2014
REGISTER NOW
GRECE –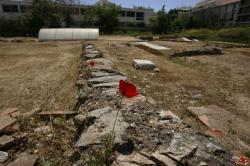 Athènes - The 4th century BC Lyceum of Aristotle, located between the Officers Club, the Athens Conservatory and the Byzantine Museum, has opened to the public and comes to give residents and visitors of Athens a very important lesson in archaeology. The Lyceum was one of the three oldest Gymnasia of Athens, along with that of Plato's Academy and Cynosarges, used for the physical exercise of the city's young boys and men. The Lyceum Area in ancient Athens was a suburb named after a temple dedicated to Apollo Lyceus. Aristotle's Lyceum was established in this area in 335 BC to function as a school of philosophy. This was the place where Aristotle taught rhetoric, mathematics and philosophy to its students and it was also called the "Peripatec School" because students and teachers would stroll ('peripatos' in Greek means walk) the grounds during the course of the lectures. The remains of Aristotle's Lyceum were unearthed in 1996 by archaeologist Effi Lygoyri during construction in Rigillis Street.
http://www.ansamed.info/ansamed/en/news/sections/culture/2014/06/06/archaeology-greece-aristotles-lyceum-site-opens-in-athens_bac9c809-8204-49ee-9c1c-4eecdb95df21.html
CANADA - Gwaii Haanas - Parks Canada and the Haida First Nation will plumb the depths of time and tide for archeological treasures off the northern British Columbia coast. An underwater project will search for everything from potentially millennia-old cultural sites such as fish weirs, middens and harbours to ancient shipwrecks dating back to first contact in the late 1700s. Oral and written history from the Gwaii Haanas region suggests two shipwrecks occurred in 1794 during the maritime fur trade, while another ship went down in 1851 during the gold rush. Parks Canada says an underwater team will spend about three weeks in the waters off Gwaii Haanas, along the southern tip of Haida Gwaii, southwest of Prince Rupert. They will use various diving techniques and remote sensing, such as side-scan sonars and underwater rovers, to continue to build an inventory of the area's rich archaeological heritage.
http://www.canada.com/news/national/Archeologists+launch+historic+fishing+expedition+Haida+Gwaii/9914194/story.html?
INDE – Basodi - At least 14 gold coins were recovered from a digging site at Basodi village in Baran district, about 82 kilometres from Kota, police said on Friday. One Rampratap Meena of Basodi village found a brass pot dug deep in the land, containing at least 14 gold coins when digging work of a foundation wall at his home was going on, SHO Netrapal Singh said. The coins, each weighing 10.8 grams, were recovered around a week ago but the matter was reported to the police on June 4 allegedly after a dispute broke out between one Rampratap and his two elder brothers over the distribution of recovered coins, the SHO said.
http://ibnlive.in.com/news/14-gold-coins-recovered-from-a-digging-site-at-basodi-village-in-baran/477234-3-239.html?
INDE –
 Suabarai x - A five member team of the Archaeological Survey of India (ASI) has recovered ancient artefacts reportedly dating back to around 3,000 years while conducting excavations near Suabarai village in Poparanga gram panchayat under Pipili block in Odisha's Puri district.Suabarai is located on the south of River Daya and is very close to the remains of the Sisupalgarh fort of the 3rd century B.C. and Dhauli hill, where the famous is Kalinga war between Emperor Ashoka and the Kalingan army  believed to have been fought in 261 B.C. The site,  a large mound of sizable height that stands amid green paddy fields,  may have been an ancient human settlement which may have been buried in course of time. The ASI took interest in the site after local people unearthed two stone sculptures from under a neem tree while digging a pit in April, 2013. Archaeologists from the ASI have begun excavations here on June 2 and in the first three days of excavation the team has unearthed some colour potsherds, indicating the existence of a human settlement once upon a time here. The team has also stumbled upon some broken pieces of ancient stone wares. The ASI officials at the site were reluctant to give details of the findings in view of 'security and secrecy' of the operation. According to sources, the five member ASI team will continue with its excavations for at least a week. It may be recalled here that researchers from the Anthropology department of the Utkal University had in March last year unearthed two human skeletons belonging to the Chalcolithic age from a village called Banga  under Delanga block in Puri district.
http://odishasuntimes.com/60684/3000-year-old-ancient-site-found-odisha/
LIBYE –
Tadrart Acacus  - Vandals have destroyed prehistoric rock art in lawless southern Libya, endangering a sprawling tableau of paintings and carvings classified by UNESCO as of "outstanding universal value." Located along Libya's southwestern tip bordering Algeria, the Tadrart Acacus mountain massif is famous for thousands of cave paintings and carvings going back up to 14,000 years.The art, painted or carved on rocks sandwiched by spectacular sand dunes, showcase the changing flora and fauna of the Sahara stretching over thousands of years. Highlights include a huge elephant carved on a rock face as well as giraffes, cows and ostriches rendered in caves dating back to an era when the region was not inhospitable desert. But in a visit to Libya's remote far south, Reuters found many paintings destroyed or damaged by graffiti sprayers or people carving in their initials.
http://www.chicagotribune.com/travel/sns-rt-us-libya-antiquities-20140603,0,74901.story
FINLANDE -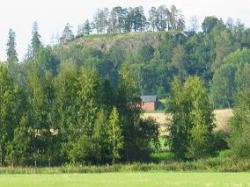 Rapola Castle /Hakoinen Castle - Evidence of illegal, clandestine excavations has been recently discovered at two of Finland's well-known prehistoric sites. Pits have been found at these separate locations, apparently the work of amateurs looking for ancient artifacts. Acting on a tip from the public, Finland's National Board of Antiquities has found a number of pits dug and then covered over in one of the graveyards associated with Rapola Castle, a prehistoric hill fortress in the municipality of Valkeakoski in Pirkanmaa. Earlier this spring, similar illicit digging was discovered at another hill fortress known as Hakoinen Castle in Janakkala. In both cases, there was damage to the archaeological integrity of the sites. Board of Antiquities archaeologist Vadim Adel told Yle that an inspection at the Rapola site revealed about half a dozen pits that had been dug and covered over. It is uncertain if there are more.
http://www.alaskadispatch.com/article/20140603/archaeological-sites-targeted-finland