INSTITUT SUPERIEUR D'ANTHROPOLOGIE
INSTITUTE OF ANTHROPOLOGY
ONLINE COURSES / COURS A DISTANCE
FALL TERM : OCTOBER 2015
REGISTER NOW
FRANCE –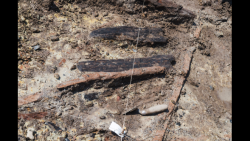 Bouchain - Depuis deux semaines, les fouilles archéologiques sur le site du Néolithique récent rue Darthois ont repris. Après la découverte d'une pirogue monoxyle en très bon état de conservation, c'est une hache de 50 cm comportant une lame en silex et un manche en bois de cerf qui a fait le bonheur des archéologues. « C'est une trouvaille inattendue et exceptionnelle de par sa qualité de conservation. Nous l'avons extraite délicatement et emmenée immédiatement pour études. Elle a dû être perdue dans les taillis par nos ancêtres, car elle n'est pas abîmée. C'est une découverte rare », déclare Gilles Leroy. L'archéologue à la Direction régionale des affaires culturelles de Lille en dit plus : « Malgré quelques jours d'intempéries, le chantier progresse petit à petit, nous permettant d'établir un plan général de la zone archéologique et de comprendre la liaison entre la zone principale et la berge. Nous n'avons encore rien trouvé en ce qui concerne la possibilité d'un habitat, mais c'est une année intéressante.
http://www.lavoixdunord.fr/region/une-nouvelle-decouverte-archeologique-exceptionnelle-ia15b36963n2921125
INDE – Uttara Kannada island - A team of like-minded individuals led by Ravi Hegde - a biologist and conservationist, and Lakshmi Murthy - an academician with a background in history and archaeology, are on a mission to study and conserve the Haigunda island. Haigunda is a small historical island surrounded by the river Sharavathi in Honnavar taluk in Uttara Kannada. It is located about 20 km from Honnavar and the artefacts here are said to date back to 345 AD. Speaking to Bangalore Mirror, Hegde said, "Haigunda is one of the earliest human settlements in southern India. The archaeological ruins of Haigunda consist of two ancient Buddha idols, a Surya statue, a colossal Yaksha (independent worship), Kubja (dwarf) Yaksha, Vishnu (Venkataramana) idol and several Shivalingas among others. There is a very ancient Durga temple on the island. Also, many earthen artefacts were recovered in the past during farming activities by the local communities.
http://www.bangaloremirror.com/news/state/Saving-historic-Uttara-Kannada-island-from-the-ravages-of-time/articleshow/47930078.cms
ROYAUME UNI –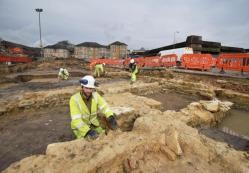 Oxford - More than 60 archaeologists worked at the site of the Westgate Shopping Centre redevelopment, where they found the remains of 19th century housing and a medieval friary. The excavations at the former sites of New Street and Friar Street were thought to be the first in the city to target 19th-century working class housing at St Ebbe's. Archaeologists said the findings could add to the national understanding of the effects of industrialisation. Also excavated were remains of the Franciscan friary formerly occupied by the Greyfriars.
http://www.oxfordmail.co.uk/news/13370488.Get_a_close_up_look_at_what_was_under_the_Westgate_car_park/
INDE –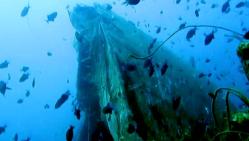 Anchuthengu - A Dutch ship that had sunk off Anchuthengu (Anjengo) in the district in January 1752 has been identified as the Wimmenum, built two years previously at the Dutch East India Company Wharf in Amsterdam. ''The ship is said to have caught fire and exploded after being attacked 'by Angrians of Malabar coast','' said Robert Panipilla, a researcher of Friends of Marine Life, a local forum, who discovered the ship with the help of fishermen and two divers in January this year. ''Angrians is apparently a German word referring to pirates,'' he said. The wreck, now rusted and home to a variety of underwater life, stands eight meters tall and is in an upright position, shows underwater footage obtained by Panipilla. According to information obtained by him from the Dutch archives, the 1150 tonne-Wimmenum was 42.25 metres long, was made of steel and had a crew of 356. The master of the ship was Captain Jean Louis Phillipi and one of the passengers had been a female slave. ''Wimmenum is the name of a place in Holland,'' Panipilla said. Although the ship belonged to the Dutch East India Company, it had nothing to do with the Battle of Colachel of 1741 between Travancore and the Dutch forces led by the Flemish captain Eustachius De Lannoy. The real credit of the discovery goes to the fishermen, said Panipilla. ''The two divers, Sreenivasu and Bheema, and I are only links in a chain. The main links are the fishermen who showed us the precise location,'' he said. With this discovery, another mystery also stands solved – the origins of the Dutch Bell at the Janardana Swamy Temple in Varkala. The brass bell is from the Wimmenum and the inscriptions on it have now been identified as that of Michael Everhardt who had been a soldier aboard the ship, and Pieter van Belson, who crafted the bell! It was always believed that a Dutch sailor had presented the bell to the temple as thanksgiving after he was saved.
http://www.newindianexpress.com/cities/thiruvananthapuram/200-year-old-Dutch-Ship-Wreck-Discovered-Off-Anchuthengu-Fort-in-Kerala/2015/07/04/article2902020.ece?
INDE –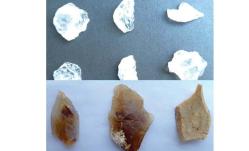 Ariyalur - Rare microliths (small stone tools) were recently discovered in Tamil Nadu's Ariyalur and Perambalur districts by a Kudavasal-based archaeological expert Kudavayir Sundaravelu. Sundaravelu told DC that the archaeological exploration had been undertaken in more than 100 villages in these districts, out of which 42 sites yielded upper Palaeolithic, Meso/Microlithic and Neolithic stone implements. A significant aspect of this main exploration is the discovery of a number of lithic tool industrial sites where once Stone Age people stayed as a small team or as a single big family for (about) a month at a single spot, he added. He said that Mesolithic people once roamed over most parts of Ariyalur distict, especially Anikurichan, Sathanaipattu, Netlakurichi, Mottutheru, Koovathur, Pudukkudi, Iravangudi, Idaikurichi, Thamaraipoondi and Kanchamalaipatti where identified as rich sites. Other sites include Adhichanoor, Anikkurichi, Koolattu Kuppam, Michaelpatti, Anaikudam, Sengunthapuram, Pilichikuli, Naduppatti and Kolakkanatham (Perambalur district), etc, he explained. Sundaravelu said that microlithic age origin was traced back to 10,000 BCE and it lasted for a few millenniums. Microlithic tools were made from special rock varieties, which are rich in glass (silica) that provides sharpness. They are chalcedony, chert, flint and crystal. Different types of implements were made for different uses and these include very rare lunates (small crescent shaped flakes), shouldered arrow tips, points. Other designs include blades, scrapers and triangles. The tools measured 1 - 3 cm, he said. The daily routine of those people was mainly hunting and gathering (fruits, nuts and cereals, etc). They were nomads in small groups who constantly moved from place to place.
http://www.deccanchronicle.com/150630/nation-current-affairs/article/tamil-nadu-rare-stone-age-tools-found-ariyalur-perambalur
BULGARIE –
Karlovo - A large Ancient Thracian shrine (which may turn out to be a necropolis) has been discovered in the town of Karlovo by the Bulgarian archaeologists excavating the 15th century Lead Mosque (Kurshum Dzhamiya), a historical monument from the period of Ottoman Yoke (1396-1878/1912) when Bulgaria was part of the Ottoman Empire. The discovery of the Thracian shrine, part of which lies below the Lead Mosque in Karlovo, has been made public by Kostadin Kisyov, Director of the Plovdiv Museum of Archaeology. He adds that the Ancient Thracian shrine lying below the Lead Mosque (Kurshum Dzhamiya) is dated to the 5th-4th century BC. It is from the time of the Odrysian Kingdom, the most powerful Thracian state ever, which thrived in the second half of the 1st millennium BC. Its dating is based on the discovery of a silver coin, a tetradrachm, from the Ancient Greek colony of Apollonia Pontica, i.e. today's Sozopol on Bulgaria's Southern Black Sea coast, and on the discoveredThracian ceramics. The Ancient Greek silver coin itself is dated to 440-400 BC. He points out that the ruins of the Thracian shrine lie at a depth of 1.7 meters, and this is the first timea structure from the Odrysian Kingdom has been found in the region of Karlovo. While the Ottoman Lead mosque was directly built on top of the ruins of the Thracian shrine, theshrine itself is larger in area than the Muslim temple, and the Bulgarian archaeologists are yet to figure out its scope.
http://archaeologyinbulgaria.com/2015/07/03/bulgarian-archaeologists-discover-thracian-shrine-from-odrysian-kingdom-underneath-lead-mosque-in-karlovo/