INSTITUT SUPERIEUR D'ANTHROPOLOGIE
 INSTITUTE OF ANTHROPOLOGY
ONLINE COURSES / COURS A DISTANCE
 INSCRIPTION : Année Universitaire 2012/2013
   REGISTRATION : Academic Year  2012 / 2013
ROYAUME UNI –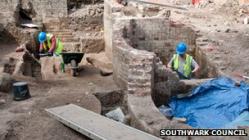 Londres - More than 500 skeletons dating back to medieval times have been unearthed at a construction site in south-east London. A leisure centre is being rebuilt as part of Elephant and Castle's £1.5 billion regeneration scheme. Archaeologists knew a graveyard dating back to the Middle Ages was originally on the site, but have been surprised by the extent of the findings, Southwark Council said. About 500 bodies were exhumed in the 1870s for roadworks. Archaeologist Chris Constable said a range of burial types have been found from stacked graves where the poor were buried in stacked coffins, to 25 crypts for use by wealthy families. He said: "The churchyard is likely to have been here since at least 1086, if not earlier." The burial ground was in use during the middle of the 1800s when the London suburb was one of the most densely populated.
http://www.bbc.co.uk/news/uk-england-london-19825878
USA –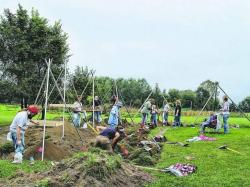 Brighton - Tim Bennett and other volunteers have dug up thousands of artifacts at an 1800s pioneer homestead in Brighton Township, and many of those items were found in the homestead's trash pit. The weekend archaeologist said he's discovered a lot about his ancestors, the Warners, who settled in 1837 in Livingston County, which was wilderness, a few prairies and had no roads. He said these were real pioneers who carved farms out of the wilderness by cutting down and burning trees, did back-breaking farmwork using only horses and plows, and struggled to survive diseases such as ague and scarlet fever. Bennett is a direct descendent of the Warner family, who lived on the site at Pleasant Valley and Buno roads for 170 years. Although he co-owns a software company, the Clio man spends most of his weekends at archaeological digs in Michigan, Ohio and Canada. Bennett didn't grow up on the property, but his mother did. Bennett said his ancestors settled here as pioneers but gradually became large-scale farmers. By 1875, they were managing 500 acres and had the second-largest farm in Brighton Township and the 11th-largest farm in the county. During the dig, he has found beads that could have been used to trade with American Indians who lived in the area. He said settlers often would exchange glass beads for venison. Other items found include pottery, ceramics, nails, bones, buttons, coins and bones from food.
http://www.livingstondaily.com/article/20121004/NEWS01/210040308
ITALIE -  Florence - Italian archaeologists searching for the remains of the real-life Mona Lisa have found two more skeletons. The two bodies were found under the basement of a former convent in Florence on Tuesday. The team believes Lisa Gherardini, said to be the model in Leonardo Da Vinci's famous piece, is buried there. A total of seven skeletons have been discovered since the excavation began in April. Even if the latest find turns out not to be the Mona Lisa, researchers have vowed to keep digging.
VIDEO = http://www.euronews.com/2012/10/03/have-italian-archaeologists-found-the-real-life-mona-lisa/
ROYAUME UNI –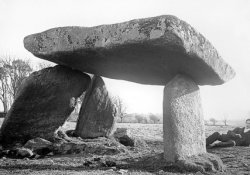 Giant's Quoit - Archaeologists are to reconstruct an ancient tomb in Troon after revealing the secrets of the collapsed stone structure. Volunteers have been working with English Heritage and Cornwall Council's historic environment officers to move the three upright stones to one side to excavate the ground which has been covered since the quoit last fell in 1966. It is thought the tomb will uncover the secrets underneath the monument including the remains of Neolithic men. The monument had fallen once before, in 1842 and was restored by Lady Pendarves. It is thought that an earthquake may have dislodged the stones again 46 years ago.
http://www.thisiscornwall.co.uk/Work-begins-uncover-tomb-Giant-s-Quoit/story-17030611-detail/story.html
INDE –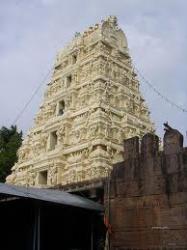 Srisailam - The gopuram of the 500-year-old Srisailam temple, nestled in the thick green hills of Nallamala forests, collapsed in the early hours of Wednesday. The gopuram on the northern side, believed to have been built by King Shivaji, served as one of the main entrances to the Sri Bhraramba Mallikharjuna Swamy temple. It developed cracks showing stress and the wood used in it had decayed long back. The state government last carried out repairs to the heritage structure almost 50 years back in 1965.
http://timesofindia.indiatimes.com/city/hyderabad/Srisailam-temple-gopuram-collapses/articleshow/16663941.cms
FRANCE – Brioude - Si l'attente a été aussi longue, c'est que la cité Saint-Julien se révèle parfois comme une véritable mine pour archéologues. Des fouilles préventives ont en effet révélé la présence d'une église juste à cinquante centimètres en dessous du bitume. Des vestiges très précieux accompagnés par la trace probable de sépultures. «Nous nous attendions à trouver la trace de tels vestiges sous la place Saint-Jean. En 1983, une étude menée par l'Institut National de Recherches Archéologiques Préventives (INRAP) avait déjà répertorié les endroits où la municipalité risquait d'être confrontée à de telles situations.
http://laruche.leveil.fr/infos-du-jour/Brioude-place-aux-travaux-100332
INDE –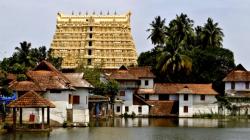 Sree Padmanabhaswamy Temple  - The most spectacular archaeological find of the 21st century -- billions in gold and jewels uncovered in the secret sanctums of a centuries-old Indian shrine -- will soon be revealed to the public. Last summer, archaeologists opened the underground chambers of the 16th century Sree Padmanabhaswamy Temple, located in Kerala province in southern India. They discovered six chambers, labeling the vaults A through F, with the help of temple priests. What they found was startling, according to initial reports: Sacks of diamonds and gold, coins dating back hundreds of years, crowns and other antique jewelry, precious gemstones wrapped in silk, and so on.  Vault B, which is guarded by serpents according to local legend, has yet to be opened. But those sepulchers that have been explored do contain gold statues, gems and other items valued anywhere from a few billion to as much as $40 billion.
http://www.foxnews.com/science/2012/10/02/results-billion-dollar-treasure-hunt-in-hindu-temple-to-be-revealed/
TURQUIE –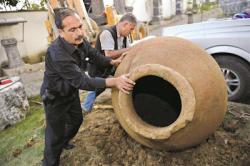 Topçular - A farmer who was picking watermelons in the northwestern province of Düzce's Çilimli district found an ancient pot thought to date back to the early Byzantine period. Farmer Servet Akyüz, who lives in the village of Topçular, noted when picking melons that the soil was soft and, after digging further, he uncovered the large pot. The local gendarmerie took security measures around the pithos to prevent any damage, before teams from the Konuralp Museum Directorate excavated the area to remove the pot, which is now at the museum for display. The museum's director, Yunus Reyhan Taşçıoğlu, said that the pot was 1.4 meters long and 1.2 meters wide, and that it would have been used to keep agricultural products during the early Byzantine period.
http://www.hurriyetdailynews.com/
KAZAKHSTAN –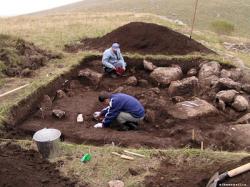 Shymkent - Archaeologists have discovered a unique find in what is now Shymkent. According to Caspionet, it is a Saka (Scythian) burial with two gold discs displaying marine life dating back presumably to the fourth and second centuries BC. Now, according to scientists, it is 100 percent clear that ancient Sakas lived in what is now Shymkent. "It is perhaps a symbiosis of Saka and Sarmatian cultures. It never happened here before as the Sarmatians lived in the West and Saks lived in the Zhetysu region in southern Kazakhstan. This is something new to our culture and perhaps it will push the limits of the Silk Road's origin," said Anatoly Shayakhmetov, employee of A. Margulan Institute of Archeology. Scientists say that two people were buried here. However, one of the skeletons has not been preserved as the bones of presumably a man were strewn by robbers. Another skeleton belongs to a woman, most likely a slave. According to scientists, it is no accident that a board and a jug were buried next to the remains. "When we opened the second burial, we found a lot of pottery fragments and sigs that they were richly buried and there was a gold foil that robbers left behind. This find will now be on display at the museum and we will open a new page in the relations of our ancestors to Europe," said Bauyrzhan Baitanayev, Director of A. Margulan Institute of Archeology. Scientists revealed only 4 out of 8 burial mounds for the time being. Archaeologists hope that the most sensational discoveries are still ahead. Works will continue in the area for another two years.