04 NOVEMBRE 2015 NEWS: Hasankeyf - Pastich -
04 NOVEMBRE 2015 NEWS: Hasankeyf - Pastich -
INSTITUT SUPERIEUR D'ANTHROPOLOGIE
INSTITUTE OF ANTHROPOLOGY
ONLINE COURSES / COURS A DISTANCE
WINTER TERM : JANUARY 2016
REGISTER NOW
TURQUIE –
Hasankeyf - The 650-year-old Zeynel Bey Tomb, located in the historical Hasankeyf district of the southeastern province of Batman, will be removed in order to protect the artifact from the ongoing Ilısu Dam Project which will eventually inundate the site. Because the tomb has cracks on its upper sections, Kusen stressed the effort to remove the structure could lead to a disaster that would represent a humiliation in the eyes of the world. The Zeynel Bey Tomb, thought to weigh around 1,100 tons, is expected to be carried in a lattice in one piece.
http://www.hurriyetdailynews.com/historical-tomb-in-hasankeyf-to-be-moved-for-protection.aspx?pageID=238&nid=90689
BULGARIE –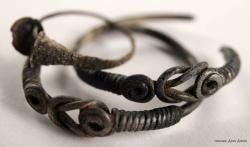 Pastich - A silver treasure of consisting of bracelets, earrings, and coins has beendiscovered by the archaeologists excavating the fortified residence of an Ancient Thracian ruler from the Asti tribe located near the town ofBrodilovo, in the area known as Pastich . The silver coins are tetradrachms from several Ancient Greek polises on the coasts of the Mediterranean and the Black Sea: Maroneia, Odessos (today'sBulgarian Black Sea city of Varna), and Thasos (located on the Island of Thasos). The silver Ancient Thracian treasure has been found at the end of the 2015 excavations of the fortified residence which most probably belonged to a local paradynast, i.e. a co-ruler or a regional ruler who was in charge of governing thenorthern parts of the Strandzha Mountain at the end of the 2nd and the beginning of the 1st century BC.It is reminded that the fortified home of the Thracian ruler near Bulgaria's Brodilovo was destroyed in a fire that has helped preserve a lot of belongings and household artifacts. The collapsed walls and roofs have essentially conserved the contents of the Ancient Thracian residence for some 2,200 years. During their excavations of the site so far the archaeologists have found over 100 well preserved ceramic vessels, tools, and armaments.
http://archaeologyinbulgaria.com/2015/11/02/archaeologists-discover-silver-treasure-in-ancient-thracian-rulers-residence-near-bulgarias-brodilovo/