INSTITUT SUPERIEUR D'ANTHROPOLOGIE
INSTITUTE OF ANTHROPOLOGY
ONLINE COURSES / COURS A DISTANCE
SPRING TERM : APRIL 2014
REGISTER NOW 
EGYPTE –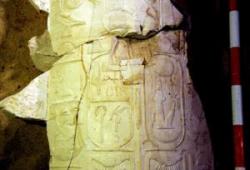 Louxor Rive ouest - Archaeologists have discovered the nearly 3,500-year-old tomb of a royal stable master from the pharaonic era in the famed temple city of Luxor, Egypt, the government said Tuesday The tomb was found by Egyptian, Italian and Spanish archaeologists while excavating another tomb on Luxor's western bank, the Egyptian ministry of antiquities said. "The tomb belongs to an important statesman from the 18th dynasty called Maai," antiquities minister Mohamed Ibrahim said in a statement. Ibrahim said it was found when diggers made an opening in the wall of the other tomb. Maai, apart from being the stable master in charge of the army's horses, was also supervising the royal family's farms and livestock, said Ali El-Asfar, an official with the ministry. "The visible inscriptions (on the tomb's walls) are very important as they reveal details about the daily life of the tomb's owner, his family relations, and the lifestyle of senior statesmen at this time", another ministry official, Abdel Hakim Karar, said. One of the scenes shows Maai and his wife Nefret, another shows men and women sitting at banquet tables, and a third shows sacrificial rituals, the statement said.
http://www.middle-east-online.com/english/?id=64624
EGYPTE –
 Gizeh - General manager of the Grand Egyptian Museum and supervisor of Alexandria's sunken monuments' sector Mohamed Mostafa Abdel Megeed said artifacts from other museums and archaeological sites and stores in different governorates have been transferred in preparation for a presentation during the inauguration of the museum in 2015. Abdel Megeed added in a press statement, Tuesday, that 12000 artifacts have been collected so far, pointing out that the target is to transfer 100,000 pieces to the Grand Egyptian Museum. Of these pieces, 50,000 would be displayed during the official inauguration of the museum in 2015, while the remaining would be stored, he said. The transferred pieces date back to different periods of the Pharaonic era including belongings to Tutankhamun like textiles, statues, stone boards and others, according to Abdel Megeed.
http://www.egyptindependent.com//news/official-12000-artifacts-transferred-new-grand-egyptian-museum-so-far
MALTE –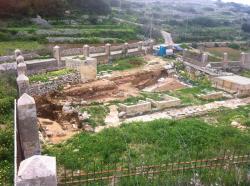 Għajn Tuffieha / Ta' Bistra - Wessex Archaeology, working in partnership with Odgers Conservation Consultants, has been appointed by Heritage Malta to carry out metric survey and detailed archaeological conservation assessment of the above-ground and underground structures within two sites on Malta, the Għajn Tuffieha Roman Baths and the Ta' Bistra Catacombs.  Following a start-up meeting and preliminary site visits attended by Andy Crockett (Regional Manager, Wessex Archaeology) and David Odgers (Director, Odgers Conservation), the metric survey is scheduled to begin during March, with the final conservation assessment report completed in July. The work is funded through European Agricultural Fund for Rural Development (EAFRD) Measure 12/323 – Rehabilitation of Roman Baths and Christian Catacombs (REBACA).
http://www.wessexarch.co.uk/blogs/news/2014/03/04/survey-malta?utm_source=feedburner&utm_medium=feed&utm_campaign=Feed%3A+wessexarchaeology+%28Wessex+Archaeology%29
ROYAUME UNI –  Poole Harbour - The remains of an ancient quay have been discovered in Poole Harbourwhich could date from 1250. Archaeologists have found possible remains of the medieval Ower quay preserved beneath mudflats, where a trackway runs down to the harbour edge. Little is visible now but 800 years ago this was a scene of bustling activity as Purbeck marble destined for the cathedrals of England was loaded. Archaeologist Keith Jarvis said: "It is exciting to have found archaeological remains of this important quay."The archaeologists had always believed the quay was probably at the end of the ancient track from Corfe Castleto Ower. A visual survey revealed a few surface stones and a probe survey and trial holes revealed more stones beneath the surface. They had to work quickly as the quay was only exposed for a few hours between tides. An unusual feature was a large area of white pipe clay at one corner, showing the core of the quay was not all gravel but included other water-resistant materials. Historians have shown that the heyday of the Purbeck stone industry was 1250-1350 and stones from Purbeck were usually transported to Corfe Castle village where they were worked or partially finished.The stone was then sent to Ower quay and taken to Poole to be put on larger vessels. Corfe Castle has an ancient Guild of Marblers which still meets. They paid a yearly peppercorn rent and used to kick a football down to the quay to maintain their rights to the ancient route. The 18th-century historian Hutchins considered the quay to be the main port of Purbeck in medieval times, however it was falling out of use by 1710. There was a passage house in earlier centuries where farmers and their wives waited on market days for ferry boats to Poole. Keith, former archaeological officer at Poole Museums and retired building society manager Alan, believe the quay is similar to the later Redhorn quay and are grateful to the Rempstone Estate for allowing access to the site.
http://www.bournemouthecho.co.uk/news/districts/poole/11050237._/?
MALAISIE –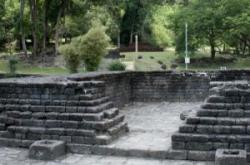 Sungai Batu - A total of 47 spots at the archaeological site in Sungai Batu, Merbok near here have been mapped out for the excavation of artifacts on probably the oldest civilisation in Southeast Asia. Universiti Sains Malaysia (USM) Global Archaeological Research Centre director Profesor Dr Mokhtar Saidin said efforts to trace historical remains would obviously take time as research works had to be carried out meticulously. "Work to open up the 47 sites itself took about five years to complete as mapping is a slow process. "From the 47 sites opened, we found four functions namely iron smelting industry site, a port with 10 jetties, a ritual site for worship at Gunung Jerai and 13 administration buildings," he told Bernama when met at the Sungai Batu archaeological site in Merbok here. Mokhtar said USM had provided a RM1 million grant this year for him and his team to continue with research and excavation at the 50-hectare archaeological site. "The findings were believed to have dated back to the 5th century BC and 1700 AD, however there are still many key functions which we have not found including the burial ground, settlement and brick factory," he said. He said the iron smelting site found by his team was one of the shocking discoveries so far as it showed the iron industry had been established much earlier.
http://www.freemalaysiatoday.com/category/nation/2014/03/03/excavation-begins-at-47-archaeological-sites/
GRECE –
 Karystos-Plakari - Recent excavations at Karystos-Plakari. The identification of an island sanctuary, ca. 1000–325 BC.Since 2010, archaeologists of VU University in collaboration with the 11th Ephorate of Prehistoric and Classical Antiquities conduct a multidisciplinary research project focusing on the ancient site of Karystos-Plakari on the southern tip of the island of Euboia. Plakari is a low ridge of schist stone, with a maximum elevation of 85 m a.s.l., located on the northwest coast of Karystos Bay. The project embraces systematic archaeological excavations as well as archaeobotanical, zooarchaeological and landscape archaeological research. The focus of the research has been on a sanctuary that was in use between the 11th and 14th centuries BC. This has yielded large quantities of pottery and animal bones, but also objects of metal, stone and terracotta. Using various types of archaeological evidence, supplemented by information from written sources, an attempt will be made to identify the cultic activities and rituals performed, the identity of the venerated deity, the social position of the cult participants and the type of sanctuary.
http://www.archaiologia.gr/en/blog/2014/03/04/recent-excavations-at-karystos-plakari/ 
TURQUIE –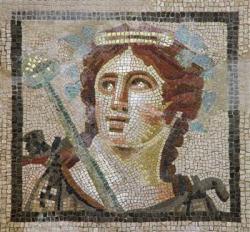 Ephese - Works carried out last year at the ancient city of Ephesus, one of Turkey's most important historical and cultural heritage sites, were announced late last week during a symposium titled "Ephesus 2013: Results and Discoveries." Works in the ancient city have been carried out by the archaeologists of the Austrian Archaeology Institute under the leadership of Sabine Ladstaetter.  Among the discoveries were new findings regarding the development of the nature and plant cover in the region throughout history, an unknown letter of the Emperor Antoninus Pius and significant living areas revealed during the excavations. 
http://www.hurriyetdailynews.com/discoveries-in-ephesus-announced-at-a-symposium.aspx?pageID=238&nID=63149&NewsCatID=375