04 JUILLET 2016 NEWS: Philadelphia - Hilton Head - Tultepec -
04 JUILLET 2016 NEWS: Philadelphia - Hilton Head - Tultepec -
INSTITUT SUPERIEUR D'ANTHROPOLOGIE
INSTITUTE OF ANTHROPOLOGY
ONLINE COURSES / COURS A DISTANCE
FALL TERM : OCTOBER 2016
REGISTER NOW
USA –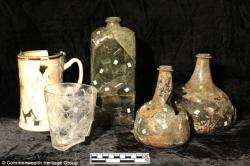 Philadelphia - Excavating toilets might not seem like glamorous work. But this team of archaeologists were not complaining when they unearthed 87,000 artifacts dating back to the American Revolution while digging up 250-year-old outhouses in Philadelphia. The dig started in 2014 and is still ongoing as the archaeologists continue to look for long-lost artifacts dating as far back as the American Revolution. Most of the items appear to come from a tavern that stood on the same Philadelphia street in the 1700s, the archaeologists wrote in a report. Among the most interesting discoveries is a punch bowl showing the ship Tryphena, which sailed from Philadelphia to Liverpool, in England, in 1765. Some of the treasures appear to have come from local business, including printers' type and seashells from a button shop. More than 1,400 fruit pits were found, as well as scores of bottles that once contained alcohol. A large number of animal carcasses were also found, including 66 birds, fish and two whole raccoons.
http://www.dailymail.co.uk/news/article-3671833/Dirty-work-Archaeologists-unearth-87-000-artifacts-dating-American-Revolution-digging-250-year-old-toilets-Philadelphia.html
USA –
Hilton Head Island - A research team all the way from upstate New York is wrapping up a major archaeological dig Friday on Hilton Head Island. The team has spent the past month excavating a Native American shell ring, which dates back more than 3,000 years and was used as a modern day landfill where the Native Americans threw away their trash and leftover food like oyster shells and deer bones. We spoke to the team leader who explained the significance of this project. "This is an area where Native Americans were decimated by diseases early on and warfare, and then were forced out through the Trail of Tears so we don't have a lot of Native Americans living here. So their history is usually lost to us and we don't think about it too much. So one of the major goals is to bring the history to the forefront again and remember that thousands of years before Europeans, Native Americans were living here," said Matthew Sanger, professor of Anthropology at Binghamton University. This is the first leg of the four-year project. The team will be back in late January to finish excavating the site and analyzing their findings.
VIDEO = http://www.wfxg.com/story/32357398/archaeological-dig-on-native-american-shell-ring-in-hilton-head
Mexique –
– Tultepec - Mexican experts are carefully digging up fossils of a Pleistocene-era mammoth believed to have been cut to pieces by ancient humans. Remains of the giant wooly mammal, believed to be some 14,000 years old, were discovered by chance in December near Mexico City while drainage pipes were being installed in the village of Tultepec. Archaeologists have been working at the site since April, and they hope to complete their work in the next few days. Luis Cordoba, an archaeologist with the National Institute of Anthropology and History, said the remains of more than fifty mammoths have been discovered in the area around the capital, where in pre-historic times there was a shallow saltwater lake where the heavy creatures often got stuck. The lake was also very good for preserving the remains. Other mammoth remains have been found in the Tultepec area, "but this is the first time that they can be studied because in general people do not report the finds in time," Cordoba said. When alive, the mammoth was 3.5 meters high, five meters long, weighed around five tonnes, and was between the ages of 20 and 25. The Tultepec mammoth, which is about three-quarters complete and well preserved, still has tusks attached to its skull. However the remaining fossils "do not maintain an anatomical order," Cordoba said, suggesting the mammoth was cut up by humans for its meat or pelt. Scientists hope to eventually assemble the fossils and put them on display.