INSTITUT SUPERIEUR D'ANTHROPOLOGIE
INSTITUTE OF ANTHROPOLOGY
ONLINE COURSES / COURS A DISTANCE
SUMMER TERM : JULY 2013 
REGISTER NOW
CHINE –
 Suizhou- Sacrificial pits for horses and chime bells have been unearthed from a cluster of tombs in central China, providing insight into a dynasty about 3,000 years ago, archaeologists said. Researchers are still excavating the Yejiashan Graveyard, in Suizhou City in Hubei Province, believed to have belonged to lords of the Zeng State during the early Western Zhou Dynasty (1046-771 BC).  Seven sacrificial pits have been found with horse skeletons buried inside, the first time horse pits from that period have been found in the southern part of China, said Li Boqian, an archaeologist at Peking University.  Five bronze chime bells have also been unearthed from a newly discovered tomb, said Huang Fengchun, researcher with the Hubei Provincial Institute of Archaeology. The tomb is believed to be the largest in the dynasty, Huang added. Archaeologists are still excavating the site to find out the chime's full size, hoping that the bells might offer clues on the origin of the musical instrument, Li said. First discovered in 2011, the Yejiashan Graveyard was inscribed among China's Top 10 Archeological Findings that year. More than 700 pieces of crockery, bronze wares, lacquerwares and jade have been excavated from the tombs.
http://english.cri.cn/6909/2013/07/04/2702s774000.htm
ROYAUME UNI – x
 Bucks – An archaeological dig in Monks Risborough may have discovered a first for the county of Bucks.  The dig is being carried out at St Dunstan's Church, which is the oldest parish in the country. As the church is expanding its burial area archaeologists asked to do a dig. Freelance archaeologist Richard Coe and a Chiltern archaeologist called Jill Eyres have been working at the site with volunteers and have discovered a Roman Marching camp. This is 1st century and is an exciting find as it is a first for Bucks. The Roman foot soldiers would have marched from the surrounding towns and set up camp, building a defensive trench. They would then destroy this before they moved on so the enemy could not use it.  As well as this they have evidence of an 800BC Iron Age round house, Neolithic, Bronze and Iron age artefacts and medieval 13th and 14th century occupation of the site. All the artefacts will be sent to Oxford for verification.
http://www.bucksfreepress.co.uk/news/10526469.Dig_discovers_a_first_for_Bucks/
USA –
 Compton - Last year a pair of archaeologists said they believed they had narrowed in on the site of a 1662 Catholic chapel in Compton.  But they were still looking for a key piece of evidence — a post hole that would prove there had been a building on the site. Last month, Scott Lawrence and James Gibb, aided by the Archaeological Society of Maryland, found not one, but several post holes. The original St. Francis Xavier chapel was between the cemetery that is still there and what would have been tidal water leading to Breton Bay, an area that is now silted in. Five confirmed post holes were uncovered – some lined up and some did not, but their discovery "tells us 100 per cent we have the chapel," he said, which would have been 20 by 40 feet in size. The chapel site is free of domestic-use fragments, whereas the nearby residential site has evidence of cooking – pottery pieces, chips from a fireplace, a rusted knife blade and pig, cow and deer bones. Removing the surface soil there showed evidence of a colonial pavement or courtyard, made of stones and oyster shells, which could have led to a house, Lawrence said. The walkway would have kept mud out of the house.
http://www.somdnews.com/article/20130703/NEWS/130709766/1075/team-says-1662-st-francis-xavier-chapel-found&template=southernMaryland
TURQUIE –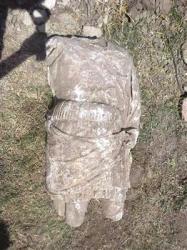 Uzunalan - Sakarya Museum has launched excavations in Kaynarca district's Uzunalan village after a 2,000-year-old damaged sculpture from Roman times was discovered in the area.  Archaeologists believe the sculpture is not the only work in the area and that there could be other artifacts in the vicinity, according to a written statement from the director of the museum, Murşit Yazıcı. "Since the sculpture cannot be here alone, we are looking for a settled area," said Yazıcı. "This sculpture that has a missing hand and no head is from the Roman era and probably belongs to a Roman aristocrat." The sculpture was delivered to Sakarya Museum, where examinations confirmed that it was a 2,000-year-old sculpture from the Roman era. Yazıcı said the studies that were being conducted in the area were not archeological excavations but that only the pre-excavations were being undertaken in an effort to determine whether or not to proceed with a more comprehensive dig. We cannot know that without an examination. Now we are conducting pre-studies because we think that the sculpture cannot be alone here; we are looking for an ancient settlement," said Yazıcı. "This is not an archaeological excavation yet. After the studies, we are going to make a decision."
http://www.hurriyetdailynews.com/a-damaged-roman-sculpture-discovered.aspx?pageID=238&nID=50029&NewsCatID=375 
GRECE –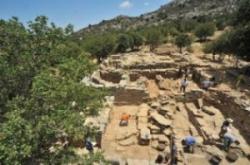 Zominthos - The archaeological excavation on the outskirts of Pisloritis has revealed an important discovery. In the excavations carried out this year in Zominthos under the direction of the honorary curator Efi Sapouna-Sakellaraki, a stately labyrinthine complex with huge halls, stairways, corridors and workshops has emerged under a shower of bulky stones.  The findings are numerous. Seals, bronze, bone and ivory jewelries, as well as bronze figurines of excellent art give another dimension of Minoan Crete, beyond the maritime supremacy and that is the mountains and especially Psiloritis. In parallel with the excavation, specialist craftsmen have undertaken the conservation of the building walls and the revelation of the murals.
http://greece.greekreporter.com/2013/07/04/ancient-zominthos-brought-to-light/