04 JUILLET 2011 NEWS : Maryport - Al Ain - Sedgeford - Lahore - Pennsylvanie - Furless - Los Alamos -
04 JUILLET 2011 NEWS : Maryport - Al Ain - Sedgeford - Lahore - Pennsylvanie - Furless - Los Alamos -
- 04 JUILLET
- INDI-UNI :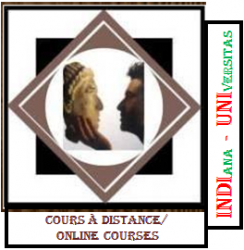 PRE-INSCRIPTION : 15 Juin – 15 Août
PRE-REGISTRATION: June 15th - August 15th
- ROYAUME UNI –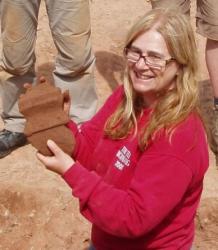 Maryport - The site is internationally famous as the place where 17 altar stones found in 1870 - they are now on display in the museum at the town's Senhouse Roman Museum. Many stones would have made up the altar which was used in worship and Professor Haynes believes that the Maryport ditch could have been dug to enclose a sacred space, but he said further evidence is needed. Fragments of Roman pottery found in the ditch are all Antonine or later, suggesting the ditch was filled up in the late second or early third centuries AD. This newest stone is 22 cm high and 12cm wide and was found 75cm below the ground surface in a Roman ditch. Jane Laskey, curator of the Senhouse Roman Museum said she was excavating the ditch with a student from Newcastle University when they made the discovery.
http://www.newsandstar.co.uk/news/important-roman-altar-stone-unearthed-at-cumbrian-dig-1.853863?referrerPath=news
- UAE – Al Ain - Al Ain has become the first site in the United Arab Emirates to make it to UNESCO's World Heritage List. Unesco has cited Al Ain's distinguished cultural sites and the geological, archaeological and historic importance of sites throughout the city.
These include: Jebel Hafit, the 1,249 metre-high peak – the highest in the emirate - which backdrops the city and which boasts 500 ancient burial tombs dating back 5,000 years in its foothills; the bronze and iron age sites of Al Hili; the tombs of the Bida Bin Saud area as well as Al Ain's ancient oases with their preserved traditional Al Falaj system which irrigated palm groves and farms.
http://www.tradearabia.com/news/TTN_201379.html
- ROYAUME UNI –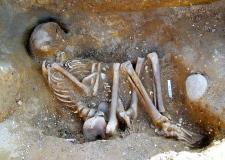 Sedgeford - Curled up in her burial pit with her amber beads, an ancient woman's remains show our ancestors farmed a lush Norfolk valley thousands of years earlier than previously believed. Archaeologists confirmed the significance of the discovery yesterday as work got under way for the summer season at Sedgeford, near Heacham. Martin Hatton, curator of human remains at the site, was staking out an area of chalk down close to where the find was made last summer, ready for this year's eagerly-awaited dig to begin. "It was a total surprise to us," he said. "You don't bury people anywhere other than near where they live, so what we can say is that people were farming the land here 4,000 years ago." Fifteen years ago, a community dig began to uncover the secrets of the village's Saxon graveyard. Since then, each summer has shed more light on the past. Project director Gary Rossin said the aim of this summer's dig was to explore a D-shaped ditched enclosure on the side of the chalk down overlooking modern-day Sedgeford. "We've been trying to understand the Anglo-Saxon settlement side of things but over the last two years we've had these curve balls thrown at us - burials where we didn't expect to find burials. "They're late-Neolithic, although you'll find some archaeologists disagree about that." As if to prove the point, a man looks up further down the field and shouts: "Bronze Age." Mr Rossin went on: "We had radio carbon dating done on the one we found in 2009, which said 2450 - 2200BC. That's 4,500 years old. A body found crouched in a burial pit in 2009 was that of a tall young man. The woman uncovered during last year is believed to be aged from 35 to 45. Amber beads and a primitive digging tool fashioned from a cow's shoulder blade were found nearby, a few feet under the surface. Archaeologists wore forensic suits as they painstakingly recovered her remains - to avoid contaminating the skeleton's DNA. The 2009 skeleton pre-dates the building of Seahenge, at nearby Holme-next-the-Sea, by several generations.
http://www.edp24.co.uk/news/woman_s_skeleton_found_at_sedgeford_dig_sheds_light_on_norfolk_4_000_years_ago_1_951125
- PAKISTAN – Lahore - Ancient ruins reportedly of an old bridge were discovered during an excavation campaign on the banks of River Ravi on Monday. The remains appear to be of a bridge but the details will be revealed after the Department of Archaeology studies it. The remains were found from area between Mehmood Booti and Bheeni where digging has been going on for several years to remove sand. They said that only investigations will reveal why this bridge was built in River Ravi and what areas it connected. The remains of an ancient building attached to pillars were also discovered during the digging. These remains hint that the building was either a castle or a dome. According to Archaeology Department officials, the pillars built on a large area hint that a catastrophe must have hit this area.
http://tribune.com.pk/story/202124/ancient-ruins-of-bridge-discovered-at-river-ravi/
- USA – Pennsylvanie - The role of amateur archaeologists in Schuylkill County and around Pennsylvania cannot be understated, according to experts in the field. About 22,000 archeological sites are recorded in Pennsylvania, said Kurt Carr, senior curator with the State Museum of Pennsylvania, Harrisburg. "Close to half of those were recorded by amateur archaeologists," he said. Of those sites, 84 are located in Schuylkill County with some dating back 12,000 years, he said. In comparison, nearby Berks County has 909 sites. Carr said the low number of sites in Schuylkill County could be attributed to many reasons, one being a lack of development within the county. Sites that have more farming and road work, for example, are more likely to yield finds, he said. About 90 percent of the sites are now found by professionals, he said. One find by amateur archaeologists was the "Kimmel Mine Site" in Armstrong County, northeast of Pittsburgh. "The area was going to be destroyed by a strip mine," Carr said. Dating back to 1260 A.D., the seven-acre site produced finds of pottery, stone tools and other Indian remnants. That was without even excavating all seven acres. "It was a little farming village," Carr said.
http://republicanherald.com/news/amateur-archaeologists-digging-up-county-s-lost-history-1.1170729
- ROYAUME UNI –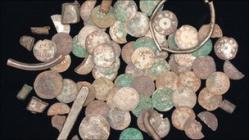 Furness - A metal detectorist uncovered a Viking hoard of silver coins and artefacts in the Cumbrian countryside. The collection, which has been provisionally valued at tens of thousands of pounds, was found in an undisclosed site in Furness. It consists of 92 silver coins and artefacts including ingots and a silver bracelet. Among the coins is a pair of Arabic dirhams. Experts believe it is significant evidence of material culture of the 9th and 10th Century Vikings in the peninsula. British Museum Viking expert Dr Gareth Williams said: "On the basis of the information and photographs that I have seen so far, this is a fascinating hoard. "By the mid-950s, most of England had become integrated into a single kingdom, with a regulated coinage, but this part of the north-west was not integrated into the English kingdom until much later, and the hoard reflects that."
http://www.bbc.co.uk/news/uk-england-cumbria-13987176
- USA – Los Alamos - A mammoth wildfire raging in northern New Mexico is threatening sacred sites of American Indian tribes, after it forced thousands to evacuate from a town and a major nuclear weapons laboratory. Archaeological sites at the northern end of the blaze at Bandelier National Monument hold great significance to area tribes.
http://www.npr.org/2011/07/03/137588938/tribes-fear-loss-of-sacred-sites-near-n-m-fire