INSTITUT SUPERIEUR D'ANTHROPOLOGIE
INSTITUTE OF ANTHROPOLOGY
ONLINE COURSES / COURS A DISTANCE
WINTER TERM : JANUARY 2016
REGISTER NOW
TURQUIE –
Turhal - An inn, which is estimated to have been used as the entrance to a "hidden tunnel" in the past, is undergoing cleaning work in the Turhal district of northern Tokat province. The hidden tunnel is located in a 5,000-year-old castle which is being restored to its original state. Turhal Mayor Yılmaz said there were rumors the houses around the castle had been built with stones from the castle. "The reason why I give importance to the castle is that every city center has a castle that gives that city a historical look. Bekler said the castle had dungeon gates and an inn, which has some 390 stairs. Some of the stairs have been cleaned already, while the work was continuing, he said. Bekler said the historical castle was built for defense. "Only soldiers lived in the castle. When they were surrounded, they used this inn to reach water. We think that the inn goes through a water resource like a riverside."
http://www.hurriyetdailynews.com/secret-tunnel-in-castle-keeps-its-mystery--.aspx?pageID=238&nid=91982
BULGARIE –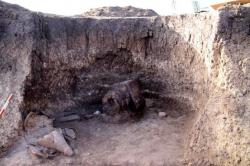 Radnevo - An Ancient Thracian clay altar, the first of its kind ever found inBulgaria, has been discovered duringrescue excavations of a newly found ancient and medieval settlement on the territory of the Maritsa East Mines near the town of Radnevo in Eastern Bulgaria. The rescue excavations have been organized after the discovery of structures from an Early Byzantine and medieval Bulgarian settlement in the Troyanovo North Mine, the state-owned company Maritsa East Mines Jsc has announced.Thus, during the rescue digs, the archaeologists have come across several Ancient Thracian pits from the Late IronAge. It iin one of these pits that they have found a Thracian clayaltar as well as a large number of ancient clay vessels, includingamphorae from the Ancient Greek polis of Chios. Another find representative of the Antiquity is a fragmented luxury Ancient Greek krater, a red-figure pottery item. The newly found settlement has been established to cover a huge area in several quarters outside the town of Radnevo. The most interesting discovery, the Ancient Thracian clay altar, has been found in Pit No. 18. According to the initial findings of the archaeologists, the altar dates back to the 4th century BC. The altar has a cylinder base, while its upper part is rectangular. It is made of high–quality clay. Next to the pit where the clay altar has been found, the archaeologists have started exploring a building from the same Late Iron Age period.
http://archaeologyinbulgaria.com/2015/11/29/archaeologists-discover-ancient-thracian-clay-altar-in-newly-found-ancient-and-medieval-settlement-in-coal-mine-near-bulgarias-radnevo/
FRANCE – Solutré-Pouilly - Suite au diagnostic réalisé en mai 2015 et dans le cadre d'un aménagement privé, l'Inrap réalise actuellement une fouille archéologique route de la Roche à Solutré-Pouilly. Ces recherches, menées sur prescription de l'État (Drac Bourgogne) permettent pour la première fois d'étudier ce secteur, situé sur le versant sud de l'éperon emblématique de la Roche. Les archéologues vont ainsi tenter de comprendre la chronologie de son occupation aux périodes préhistoriques et la vie des habitants du lieu à l'époque magdalénienne (entre - 17 000 et - 15 000).
http://www.inrap.fr/archeologie-preventive/Actualites/Communiques-de-presse/p-20323-Rencontre-archeologique-Au-c-ur-de-Solutre-Pouilly-nouveaux-vestiges-de-la-Prehistoire.htm