04 DECEMBRE 2014 NEWS: Range Hotel Township - Xiaohe - Aberdeenshire - Kirkdale - Bhubaneswar - Rome -
04 DECEMBRE 2014 NEWS: Range Hotel Township - Xiaohe - Aberdeenshire - Kirkdale - Bhubaneswar - Rome -
INSTITUT SUPERIEUR D'ANTHROPOLOGIE
INSTITUTE OF ANTHROPOLOGY
ONLINE COURSES / COURS A DISTANCE
WINTER TERM : JANUARY 2015
REGISTER NOW
AUSTRALIE –
 Range Hotel Township - Archaeologists are attempting to unlock the secrets of an abandoned town that disappeared from the map more than 100 years ago. The team are trying to map the Range Hotel Township at a site 36 kilometres southwest of Townsville. In its heyday, it included a hotel, a blacksmith, a butcher and a cemetery but was only inhabited for 18 years from 1866. The little settlement was located at the foot of the Herveys Range and was used as a rest stop by people travelling from Townsville to the goldfields and farms of the hinterland. The search has borne some fruit with the team discovering the stables for the hotel this year. Last searches uncovered the blacksmith forge, a domestic rubbish pit, abandoned trackways, a large stone floor and a granite rock-splitting site.
http://www.abc.net.au/news/2014-12-03/archaeologists-search-for-range-hotel-township-in-queensland/5937294
CHINE –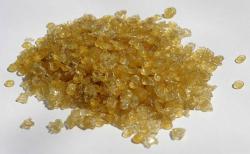 Xiaohe- Scientists have identified China's oldest adhesive, in the form of gelatine, from a 3,500-year-old ritual staff in a tomb complex known for its well-preserved mummies in Xinjiang, northwest China. The translucent yellow adhesive was found on a wooden staff inlaid with bone sculpture in the Xiaohe Cemetery in Taklamakan Desert, said Yang Yimin, associate professor with the Chinese Academy of Sciences. Scientific analysis later identified the adhesive as gelatine made from cattle. It was also the earliest known evidence of gelatine use in China, Yang said. Gelatine can be manufactured by cooking animal bones, skins and tendons and has been commonly used as glue. Prior to the discovery, its use in China dates back to the Han Dynasty (202 BC - 220 AD). Experts said China's ancient glue is prone to decomposition, posing difficulties for conducting analysis, but the dry climate in Xiaohe Cemetery has helped preserve the substance. The Xiaohe cemetery, 175 km west of the ancient city of Loulan, was first explored by Folke Bergman, a Swedish archaeologist in 1934. The massive burial site, with over 300 graves, is best known for its many mummies preserved in ship-shaped coffins.
http://www.shanghaidaily.com/article/article_xinhua.aspx?id=255421
ROYAUME UNI –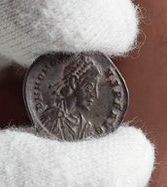 Aberdeenshire - An "important" hoard of Roman and Pictish silver, coins and jewellery has been discovered in a field in Aberdeenshire. Archaeologists from National Museums Scotland and the University of Aberdeen's Northern Picts project made the find at an undisclosed spot. It contains more than 100 pieces. The discovery has been hailed as the most northern of its kind in Europe. and will now be researched and catalogued. Elements of the hoard will be on display for the first time at the University of Aberdeen from 20 January to 31 May.
http://www.bbc.com/news/uk-scotland-north-east-orkney-shetland-30316388?
ROYAUME UNI –
  Kirkdale - Remains of what could be an original Saxon church on the site of St Gregory's Minster, Kirkdale have been discovered during work on the ancient landmark. Work on the paving inside the church and trench outside its walls has been carried out with the aim of reducing dampness in the building, said the Vicar, the Reverend Andrew de Smet. He said that a chancel has been revealed in the minster, which it is thought could be a Saxon chancel dating back to the first century. Lorna Watts, of Harome, a prominent local archaeologist,said an axe had been found, which could date back to Saxon times. "Kirkdale was a place where people met from a wide area," said Mrs Watts. "An interesting feature discovered during the project was that paving stones were in parts on different levels. But all the archaeological evidence is only approximation." Among the many historic features of the minster is its famous monument, an Anglo-Saxon sundial just above the doorway. Old English inscriptions on the sundial reveal that St Gregory's was bought by Orm Gamelson when it was in ruins and he had it rebuilt. According to the inscription, the church replaced an earlier one, and, say historic experts, there is evidence of decorated stone slabs dating the site back to about 750 or even earlier.
http://www.gazetteherald.co.uk/news/11642433._/?
INDE –
 Bhubaneswar - The Archaeological Survey of India has found remnants of an ancient temple near Lingaraj temple here in the city. "The temple, belonging to the 11th and 12th century, was found on Sunday. It is built in pancharatha style," said Arun Nayak, an eminent heritage conservationist. According to reports, a technical team of the ASI, led by professor G.C. Mitra on December 3, 2012 had conducted groundwork survey of Ekamreswar temple situated at a distance of nearly 40 feet to the southeast of the Lingaraj temple, for renovation work. As some parts of the temple, neglected since years, was buried underground, the ASI team had dug up around 15-20 feet to examine the structures. Later, a team of the state archaeological department began the renovation work of the excavation work of the Ekamreswar temple.
http://www.asianage.com/india/remnants-11th-century-temple-found-bhubaneswar-533
ITALIE – Rome - Archaeologists have unearthed an ancient commercial farm in the heart of modern Rome, taking advantage of subway construction to explore deeply in urban settings. They explored some 20 metres down near St. John in Lateran Basilica. Rossella Rea, the dig's leader and a culture ministry official, said Wednesday that a farm business from Imperial era Rome was discovered, along with an irrigation basin measuring 35 by 70 metres (115 feet by 230 feet) near an ancient water source known as Aqua Crabra. Notable finds included a three-pronged iron pitchfork and traces eroded in stone of a waterwheel. Also extraordinary area well-preserved vestiges of willow tree roots and peach pits, presumably from the farm's orchard. Rea said peaches were then a pricey market novelty for consumers.
http://www.ctvnews.ca/sci-tech/subway-dig-unearths-ancient-farm-in-heart-of-modern-day-rome-1.2131025