INSTITUT SUPERIEUR D'ANTHROPOLOGIE
INSTITUTE OF ANTHROPOLOGY
ONLINE COURSES / COURS A DISTANCE
SUMMER TERM : JULY 2013 
REGISTER NOW
EL SALVADOR 
x Nuevo Lourdes - A recent archaeological finding in El Salvador, which included six complete pots from the late Classic period and human remains next to two vessels placed as a ritualistic offering and apparently at least 1,200-years-old, has thrown light on ancient Mayan settlements in the region. In an interview, the director of Archaeology at the Salvadoran National Cultural Heritage Office, Shione Shibata, said that the discovery in western Nuevo Lourdes, in Colon, about 20km from San Salvador, was historically important because the distribution of the remains indicated they formed part of a village. The finding was first reported by workers at a residential compound construction site who were digging a ditch to lay down water piping and came across pieces of broken pottery and obsidian shards. Shibata, who is Japanese but has acquired permanent residency in El Salvador, said that archaeologists who went to Nuevo Lourdes immediately noted that the area had been affected by the eruption of the El Boqueron or Quezaltepeque volcano.  "There was a layer (of volcanic ash) 1m thick covering what was later exposed," he explained. Work began in late May to remove the earth and study the archaeological remains. Archaeologists also found evidence of a sugarcane field located below the first section that was excavated and uncovered. The field, measuring about 500sq m, is apparently at a depth of between 2 or 3m. They found that under the first layer of ash there was yet another layer of ash that resulted from the eruption of another volcano, the Ilopango, now a lake. The Quezaltepeque and the Ilopango volcanoes are both on the rim surrounding the valley where the capital San Salvador lies. Shibata explained that the human remains (whose sex have yet to be determined) in the burial site, the adobe wall and the field were strong evidence that ancient Mayan settlers had specifically chosen to live in the Nuevo Lourdes region, which is near two rivers, the Sucio and the Lempa. "Based on these findings we can understand scientifically how and where people lived, not only because of the proximity of the rivers," Shibata said. "What is interesting is that in the Terminal pre-Classic period people had settled there to farm the land and when the volcano eruption hit, it buried those populations," he said. "Then, hundreds of years later people returned, perhaps because it was near to the river, a source of water, to make their lives, and another volcano eruption occurred and now yet again there are people who want to live there," Shibata said.He said the discoveries correspond to the Terminal pre-Classic period. "There is much discussion about when the Ilopango volcano eruption occurred ... (However) It has been established that it occurred between 400 and 536 AD, but the pieces at the burial site found are attributed to the late Classic period: between 600 and 900 AD."
http://www.gulf-times.com/culture/238/details/358326/ancient-burial-site-unearthed-in-el-salvador
ROYAUME UNI –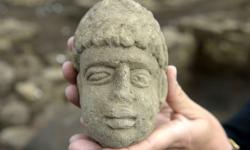 Binchester - An 1,800-year-old carved stone head of a possible Geordie Roman god has been discovered buried in an ancient rubbish dump. The discovery was made by a first-year archaeology student at Binchester Roman fort, near Bishop Auckland in County Durham, as the team dug through an old bath house. The 20cm sandstone head, which dates from the second or third century AD, is similar to the Celtic deity Antenociticus, thought to have been worshipped locally as a source of inspiration in war. A similar head, complete with an inscription identifying it as Antenociticus, was found at Benwell, Newcastle upon Tyne, in 1862. Dr David Petts, a lecturer in archaeology at Durham University, said: "We found the Binchester head close to where a small Roman altar was found two years ago. "We think it may have been associated with a small shrine in the bath house and dumped after the building fell out of use, probably in the fourth century AD. "It is probably the head of a Roman god – we can't be sure of his name, but it does have similarities to the head of Antenociticus found at Benwell in the 19th century. "Antenociticus is one of a number of gods known only from the northern frontier, a region which seems to have had a number of its own deities. "It's possibly a Geordie god, though it could have been worshipped at the other end of the wall." Antenociticus is not mentioned at any other Romano-British site or on any inscriptions from Europe, which is why it has been identified as a local deity.
http://www.guardian.co.uk/uk-news/2013/jul/04/stone-head-roman-geordie-god 
VIET NAM - Binh Son - Thousands of antiquities from an ancient sunken ship have been discovered in Binh Son district in Vietnam's central province of Quang Ngai, state-run news agency reported on Monday.  Among the discovered objects, over 4,000 artifacts, including coins and ceramics, were recovered undamaged, which are believed to date back to the 13th century.  The objects were collected from the seabed during an excavation on June 4-23, according to the Quang Ngai provincial steering board for archaeological exploration and excavation of underwater cultural heritage. The ship measures 20.5 meters long and 5.6 meters wide with 13 holds. Remnants left from holds 4 to 6 prove that the ship caught fire before sinking. The findings are expected to contribute to the research of Vietnam's ceramics in the 13th century and enrich the country's cultural heritage.
http://news.xinhuanet.com/english/sci/2013-07/01/c_124939978.htm
ROYAUME UNI –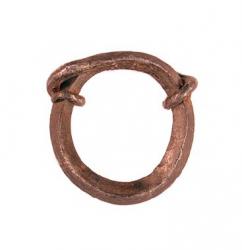 Rugby – A rare Viking ring discovered on the outskirts of Rugby goes on display to the public for the first time later this month to celebrate the National Festival of Archaeology. Rugby Art Gallery and Museum stages the free Relics and Romans day on Saturday, 13 July. The ring dates back to the 9th or 10th century, and was declared treasure after experts discovered it contained silver. Thering proved a rare discovery of Viking artefacts in Warwickshire, and has led experts to suggest the local area had links with Viking traders.
http://www.aboutmyarea.co.uk/Warwickshire/Rugby/CV21/News/Local-News/251939-Viking-Treasure-Found-On-Outskirts-Of-Rugby-Goes-On-Display-To-Public