INSTITUT SUPERIEUR D'ANTHROPOLOGIE
INSTITUTE OF ANTHROPOLOGY
ONLINE COURSES / COURS A DISTANCE
FALL TERM : OCTOBER 2017
REGISTER NOW
EGYPTE –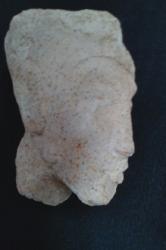 Tel el Amarna - A British-Egyptian archaeological mission from Cambridge University discovered a gypsum head, on Saturday, from a statue of King Akhenaten (around 1300 BC) during excavation work in Tel El-Amarna in Minya governorate. The head – which is 9cm tall, 13.5 cm long and 8 cm wide – was unearthed during an excavation dig in the first hall of the Great Atun Temple in Tel El-Amarna, secretary-general of the Supreme Council of Antiquities Mostafa Waziri said in a statement released by Egypt's ministry of Antiquities. he Cambridge University mission is led by archaeologist Barry Kemp, who started excavations in Tel El-Amarna in 1977 at several sites including the grand Aten Temple, the Al-Ahgar village, the northern palace, and the Re and Banehsi houses.
http://www.egyptindependent.com/gypsum-head-king-akhenaten-statue-unearthed-minya-statement/
INDE –
Manambadi - The renovation of the Sri Naganatha Swamy temple, constructed over 1,000 years ago by the Chola emperor Rajendra I, at Manambadi village, 15 km from Kumbakonam in Thanjavur district, has been halted. The Madras High Court has imposed a blanket ban on refurbishing of temples in the State. The temple has nine stone inscriptions — three belonging to Rajendra I period (regnal years 1014-1044 CE) and six belonging to Kulothunga I era (regnal years 1070-1120 CE). Over a period of time, the temple fell into ruins, and after a thorough inspection in 2007, the then Commissioner of Archaeology and Museums, R. Kannan, had in unambiguous terms recorded that the structure was in a dilapidated condition and declared it unsafe to enter the premises. Then in 2013, the threat of demolition of a part of the ancient shrine complex came from the NHAI when it was executing the Kumbakonam-Vikravandi road widening project. Public pressure saved the day for the temple. Later, the shrine was declared a State monument. After dismantling the shrine meticulously, reconstruction commenced and reached the Adishtanam level, including replacement of the stone inscriptions, when the court ban halted the work in November 2016.
http://www.thehindu.com/news/national/tamil-nadu/renovation-of-1000-year-old-chola-era-temple-halted/article19780576.ece
ROYAUME UNI –
St Ishmael - Archaeologists have discovered the remains of a deserted medieval village on the shore of Carmarthenshire. The remains in St Ishmael appear to represent a settlement dating back to the 12th Century. Eight buildings are partially exposed but archaeologists are puzzled by the lack of historical references surrounding the site. Beneath the sand dunes on the edge of Carmarthen Bay, archaeological evidence suggests the village was abandoned over time rather than wiped out. Investigations will continue until 7 October.
http://www.bbc.co.uk/news/uk-wales-south-west-wales-41445589
PAYS BAS –
Meuse - Archaeologists have discovered a 'spectacular' graveyard of shipwrecks in the flood plains of the river Meuse. 'It is one of the largest if not the largest graveyard of its kind ever found in the Netherlands,' a spokesman for cultural heritage organisation RCE told the Volkskrant. . Apart from the wrecks, archaeologists found the remains of a Roman temple as well as a multitude of other artifacts. Public broadcaster NOS also mentions the remains of mammoths which were found spread out over the 275 hectare site between Alphen en Dreumel which at present is used for sand and clay extraction.
http://www.dutchnews.nl/news/archives/2017/09/archaeologists-uncover-spectacular-shipwreck-graveyard/
ROYAUME UNI – Wylfa Newydd - Evidence of a Roman-British settlement has been found by experts who are studying one of Europe's biggest archaeological digs on Anglesey. According to senior archaeologists what they have gathered so far suggests evidence of Romano-British settlements in northern Anglesey, dating sometime between 43 and 410 AD. Despite a more militarised Roman fortlet being discovered at nearby Cemlyn Bay in 2015, this represents one of the first Roman settlements discovered in northern Anglesey. The earliest evidence for human activity on the island dates from the Mesolithic period (7000-4000 BC) but there's been little evidence of widespread Romanisation, with most of Roman sites and roads appearing in the southern portion.
VIDEO = http://www.dailypost.co.uk/news/north-wales-news/roman-british-settlement-found-wylfa-13691613
ROYAUME UNI –
Cata Sand - Braving the inter-tidal waves at at Cata Sand beach on Sanday, Orkney, archaeologists have uncovered the first 'classic' early Neolithic house to be discovered on the island. Dating from c.3400-3100 BC, the house's remains comprise two construction layers, with internal structures ranging from a stone set hearth and various pits to partitioning walls. Its footprint yielded various artefacts including flint debitage, Skaill knives, a grinding stone, and animal bones. The structure is particularly unusual in having been built on a deep layer of sand, which itself rests on rounded beach stones, the team reports, but this sandy context has provided stellar preservation conditions, offering a unique level of information about daily life in an early Neolithic house.
https://www.archaeology.co.uk/articles/neolithic-house-cata-sand.htm