02 MARS 2015 NEWS: Buyck's Bluff - Patan - Newtown - Beijing -
02 MARS 2015 NEWS: Buyck's Bluff - Patan - Newtown - Beijing -
INSTITUT SUPERIEUR D'ANTHROPOLOGIE
INSTITUTE OF ANTHROPOLOGY
ONLINE COURSES / COURS A DISTANCE
SPRING TERM : APRIL 2015
REGISTER NOW
USA – 
Buyck's Bluff - Archaeology experts describe the Buyck's Bluff Archaelogical Site in Calhoun County as "significant for the questions it can answer about the archaeology of South Carolina." The site, which is at a "restricted address," according to the South Carolina Department of Archives and History, contains a complete sequence of human occupation beginning with Paleo-Indian, continuing through the Archaic and Woodland periods and terminating with the Mississippian Period, thus spanning some 10,000 years. Human behavioral activities at the site were likely varied, though in general terms, Buyck's Bluff probably served as a base camp through most of its occupation. Evidence at the site indicates the stone tool industry was diversified, with a wide variety of raw stone materials being used, including chert from the base of the bluff. There is also diversification in the ceramics discovered at the site. Additionally, archaeological materials have been found buried at a depth of 36 inches and the strata has been preserved undisturbed. Because of the extensive human occupation represented by its relatively deep stratigraphy, the Buyck's Bluff site is believed to contain important chronological information about the central Congaree River basin and central South Carolina as a whole. Materials at the site are thought to reveal a deal great about camp labor, processing activities, social organization, residence patterns and population sizes of the early inhabitants. The Buyck's Bluff site was visited in the late 1980s by archaeologists for additional study.
http://thetandd.com/news/faces-places-day-archaelogical-site-reveals-human-occupation-dates-back/article_2300cb77-25a5-59d9-9fc6-faeafeba9500.html
INDE – 
Patan - Even as Finance Minister Arun Jaitley's Union Budget proposing development of Rani ki Vav (stepwell) in north Gujarat's Patan district as global heritage site, among nine other historic Indian sites, has found favour with historians, many believe that attention should also be given to the adjoining Sahastralinga Talav located near Rani ki Vav stepwell. The stepwell at Patan, the medieval capital of Gujarat, found a place in the UNESCO's World Heritage Site in 2014. The stepwell was built in the last decades of the 11th century AD by Queen Udaymati in the memory of her husband Bhimadeva I , a ruler of the Chalukya dynasty. Measuring more than 65 metres in length, it is among the largest in Gujarat and has 500 sculptures as a unique feature.The Sahastralinga Talav (Tank), a huge reservoir having little temples containing 1,000 lingas placed on the banks of Saraswati river, was among the many artificial tanks built in parts of Gujarat by Siddhraj Jaisinh, who ruled from 1093-1143 and around 1,000 shivalings (shrines) were found on the edge of the tank.
http://indianexpress.com/article/cities/ahmedabad/rani-ki-vav-for-global-heritage-site-patan-experts-want-more/
USA –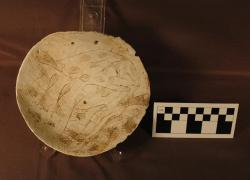 Newtown - The discovery of a rare Native American artifact in Newtown is exciting for archeologists, but it's also raising more questions. Contractors digging a trench for a fiber optic box north of Newtown's administrative hall earlier this month found human remains. "When the police department actually called us, when I talked to them, he said they found some human remains and he said there was a plate with it.  And I kind of knew exactly what he meant because we had found these other two back in 1981," says Rieveschl Curator for Archeology Bob Genheimer. Genheimer says the plate is actually a gorget, a decorative seashell, with the image of an animal carved on it. "A gorget is an ornamental item.  These gorgets have three holes in them. They have two at the top for suspension and there's one in the middle where they possibly could have been attached to clothing or something else," he says.  "And on the inside, they are engraved." Two other gorgets found in Newtown had images of an opossum and a panther carved on them.  This one had a hybrid: part bird, part cat. "Anywhere else in the world, you would refer to this as a griffin.  But that's not something that's very viable in the Americas.  "We believe that the bird may be a Carolina Parakeet.  Which, as many people know, is now an extinct bird, but used to be prevalent in the southern United States and as far north as here," Genheimer says. It's not uncommon to find Native American artifacts around Newtown.  The area was home to people for hundreds of years.  Genheimer says the gorget dates to the fifth century, and adds to our knowledge of the people who lived in the valley. "These people lived their lives like anyone else, but they had a little more elaborate ceremonialism when they died, and they would bury things with them." But there are still questions.  The shell itself is believed to have come from the Gulf Coast, or the southern Atlantic region. "It's a good question how these got up here.  Obviously it's probably trade.  We don't think anyone from here went down and got them.  One of the real questions is where were they engraved?  Were they engraved somewhere in the southeast where the shell came from?  Or was the shell brought up here and were they engraved here?  We really don't know the answer to that," he says.
http://wvxu.org/post/rare-native-american-artifact-discovered-newtown
CHINE – Beijing - A massive tomb complex has been found in a southwest suburb in Beijing, the Beijing institute of cultural heritage said on Sunday. The 70 hectare archeological site consists of 129 tombs built over 1,100 years, spanning from the East Han Dynasty (25-220)to Tang Dynasty (618-907) and Liao (907-1125). Some of these tombs have exquisite murals depicting people and furniture, and artifacts found so far have included pottery, porcelain, lacquerware, and other funeral paraphernalia. Archeologists say the complex is a rare discovery due to its size, time span and location. The site was discovered due to a planned residential complex slated for construction on top of the site. A 2014 municipal cultural relics protection measure mandates that all plots of land must be screened for relics before development.
http://www.china.org.cn/china/2015-03/01/content_34920508.htm?