INSTITUT SUPERIEUR D'ANTHROPOLOGIE
INSTITUTE OF ANTHROPOLOGY
ONLINE COURSES / COURS A DISTANCE
WINTER TERM : JANUARY 2014
REGISTER NOW
USA –
 Chanhassen - An archeological dig in the south metro is turning up artifacts thousands of years old.The crew has been at it for six weeks now and as traffic passes by the site, 8,000 years ago it was a place hunters and gatherers stopped. "There's very few sites in Minnesota that are that old and this well preserved," said Florin. "This site, a lot of it is capped below six to ten feet of more recent sediment so it's quite well preserved." Florin showed off one of the finds, a spear point that's believed to be about 8,000-years-old. "To show up and they say we just found some bison teeth," smiled Audrey Schmitt, who lives down the road.
http://www.kare11.com/story/news/local/2014/01/03/archaeology-chanhassen-shakopee-dig-artifact-spear-point-bison-hunters-gatherers/4309619/
CHINE –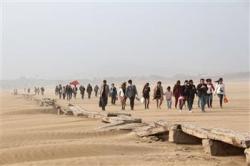 Poyang lake- A stone bridge dating back to the Ming dynasty has been discovered after water levels plunged at China's largest freshwater lake, a Beijing newspaper reported Friday.The remains of the 2,930-metre-long bridge, made entirely of granite and dating back nearly 400 years, appeared at Poyang lake in the central province of Jiangxi, the Beijing News reported. The lake, which has been as large as 4,500 square kilometres in the past, has been drying up in recent years due to a combination of low rainfall and the impact of the Three Gorges Dam, experts say.State broadcaster ChinaCentral Television reported in November that drought had shrunk the lake to less than 1,500 square kilometres, threatening the plankton, fish and other organisms that inhabit it and the livelihoods of the nearly 70 percent of local residents who make a living by fishing.By lowering the level of the Yangtze river, the vast Three Gorges dam project has also caused an increased outflow of water from both Poyang and Dongting, another lake in neighbouring Hunan province, experts told the Beijing News last year, decreasing the water levels of both bodies.In 2012, Chinese authorities air-dropped shrimps, millet and maize over Poyang lake to feed hundreds of thousands of birds at risk of hunger due to the drought.
http://www.hurriyetdailynews.com/ancient-stone-bridge-revealed-after-chinese-lake-dries-up.aspx?pageID=238&nID=60519&NewsCatID=375
EGYPTE –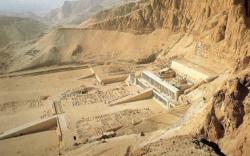 Deir el-Bahari - A Polish archaeologist has appealed for material support in a bid to uncover what he believes to be the intact tomb of an Ancient Egyptian high priest. Professor Andrzej Niwinski of the University of Warsaw's Institute of Archaeology believes his team's work could lead to the most significant find in his field since the discovery of Pharaoh Tutankhamun's tomb in 1922. In an appeal published in the Gazeta Wyborcza daily, the Polish professor said archaeologists are just 30 metres away from their goal, having first got on the trail in 1999. "The success that we have dreamed about for so many years is close at hand, and only a number of rocks stand between us," he declared. According to the professor, 60,000 zloty (14,400 euro) still needs to be raised in order to carry out the coming season's work at the Deir el-Bahari burial complex, near Luxor. Herihor, as High Priest of Amun at Thebes from 1080 BC to 1074 BC, effectively ruled Upper Egypt. Professor Niwinski believes that the supposedly intact tomb will bear "at the very least" the mummy of Herihor, adorned with a gold mask and jewellery. "It will be a great success for the University of Warsaw and Polish archaeology, and a day of great satisfaction for all those who have contributed to this success," he assured. "I therefore extend a heartfelt appeal to all those who would like to participate in something exceptional: support our work - we can all be explorers."
http://www.thenews.pl/1/10/Artykul/157576,Poles-seek-funds-to-uncover-Ancient-Egyptian-tomb
INDE – 
 Phanigiri - In what is considered a Buddhist site as great as the Nagarjunakonda and Amaravathi, the State Department of Archaeology and Museums, this month, will go all out for once and all to excavate the untapped areas of Phanigiri Hills of Tirumalagiri mandal in Nalgonda district. The vast hillock that housed a Buddhist monastery about 2000 years ago, derived its name from the shape that resembles a snake-hood. The site, about 100 km away from the city, is already an acclaimed unique Buddhist site and final round of excavation, starting mid-January, is expected to throw more light on the spread of Buddhism in the region. The first three seasons of excavations, held in 2002-03, 2009-10 and 2010-11, have unearthed extensive Buddhist relics of the 2nd century AD and 4th century AD. Structural remains of a strong past were identified with excavations of four aspidal chaityagrihas, eight votive stupas (both circular and square), a maha stupa, a stone pillared congregation hall with 64 pillars, three viharas with thick brick walls, sculptured panels, Brahmi inscriptions belonging to Satavahana and Ikshvaku dynasties, coins of Mahatalavarasa, Satavahana, Ikshvaku kings and even Roman coins and Persian pottery were found apart from some cultural materials.
http://www.newindianexpress.com/states/andhra_pradesh/Phanigiri-Buddhist-Site-Excavation-to-Begin-This-Month/2014/01/01/article1976230.ece
INDE - Chandravati - An MoU has been signed between the department of archaeology and museums and Janardhan Rai Nagar Rajasthan Vidyapeeth, Udaipur, for excavation and exploration at the historical site of Chandravati, a village spread over 150 bighas in Sirohi district. It was the well-known capital of the Arbud branch of the Parmaras. The excavation project aims to study the town planning, temple architecture and the sculptures of Hindu and Jain faiths. 
http://articles.timesofindia.indiatimes.com/2014-01-01/jaipur/45763152_1_excavation-exploration-research-work
ISRAËL –
 Mer Morte - In a rare discovery, scientists have confirmed that an almost 2,000-year-old piece of fabric found near the Dead Sea contains remnants of the Biblical blue color known as tekhelet, haaretz.com has reported. It is only the third piece of fabric ever found to contain this precious blue dye derived from snail glands. In accordance with a Torah commandment, tekhelet was used in ancient times to dye the tassels, or tzitzit, attached to the four-cornered garment traditionally worn by men, as well as the clothing worn by the High Priest during the days of the temple. The finding was revealed on Dec. 30 in Jerusalem. To this day, scientists and scholars have not reached a consensus on whether tekhelet was a light sky-blue color, as most modern day experts on the subject now believe, or a darker, more purple-hued blue. The shade discovered on the piece of fabric tested by Sukenik was sky blue. The tassels on the fragment were spun in a way that was common in Israel in ancient times.
http://www.hurriyetdailynews.com/ancient-tekhelet-dye-found-near-dead-sea.aspx?pageID=238&nID=60377&NewsCatID=375