02-03 AOUT 2°14 NEWS: Kenetkol - Fort Pierce - Caerau - Zorita de los Canesa - Crownsville -
02-03 AOUT 2°14 NEWS: Kenetkol - Fort Pierce - Caerau - Zorita de los Canesa - Crownsville -
INSTITUT SUPERIEUR D'ANTHROPOLOGIE
INSTITUTE OF ANTHROPOLOGY
ONLINE COURSES / COURS A DISTANCE
FALL TERM : OCTOBER 2014
REGISTER NOW
KAZAKHSTAN –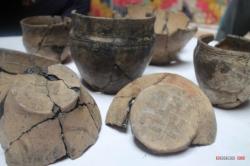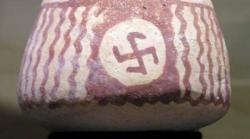 Kenetkol - Bronze Age vessels depicting swastika have been excavated by archaeologists in Kazakhstan. The unique discovery was made near the village Kenetkol at Koshkarbai burial in Akmola Oblast, Tengrinews reports citing Express K. "Fragments of three vessels цшер symbolic images of the sun and parts of the world, characteristic for Aryan [Indo-Iranian] tribes of the Andronovo culture have been discovered at a depth of 45 cm," Serik Iskakov, senior fellow at the Center for Protection of Cultural Heritage, said. The Andronovo culture is a common name given to the group of close archaeological cultures of the Bronze Age, which existed 17-9 centuries BC in Western Siberia, western part of Central Asia and South Ural. Iskakov explained that the symbol that is now mostly associated with fascism because it was used by Nazi Germany, was in fact far more ancient and its origin had noting to do with fascism.  The symbol was much older and was used by many cultures, including Ancient Greeks, Old Slavs, and inhabitants of South-East Asia. Some nations use this symbol to this day, for example, in India and Nepal.
http://en.tengrinews.kz/science/Swastika-depicting-vessels-discovered-in-Kazakhstan-255131/?
USA –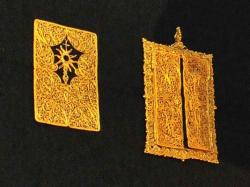 Fort Pierce - Searching around undersea boulders, shipwreck salvager Eric Schmitt spotted a glint of gold beneath a heap of shells, sand and stones on the ocean floor. Then Schmitt started hollering expletives of surprise and joy – underwater. With his right thumb and pointer finger, the scuba diver gently pulled out the back half of a gold filigree pendant. The high-karat religious artifact was lost when a doomed Spanish treasure ship sank in a fierce hurricane in 1715 off the coast of modern-day Fort Pierce. This gold insert is the missing portion of an elaborate rectangular pyx – a decorative vessel used to hold a Catholic communion wafer – that was handcrafted in the late 1600s to early 1700s. Treasure hunters had discovered the pyx's hinged front half a quarter century ago, in 1989.In July 1715, a fleet of cargo-laden Spanish vessels set sail from Havana, Cuba, northward along the Gulf Stream on the way back to Spain. But a hurricane struck, sinking 11 ships off Florida's East Coast. The first generation of treasure hunters found gold, silver, jewelry, cannons, anchors and other items during the 1950s and '60s, and the stretch of shoreline from Sebastian to Palm Beach County was nicknamed Florida's Treasure Coast. Schmitt discovered the ornate pyx May 25 at the "Douglas Beach wreck" in roughly 15 feet of water about 1,000 feet offshore from Fort Pierce. 
http://www.floridatoday.com/story/news/local/2014/07/30/major-archaeological-discovery-unveiled-in-sebastian-florida/13365989/
ROYAUME UNI –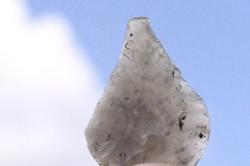 Caerau - An army of volunteer archaeologists has stunned the experts by unearthing evidence of an ancient conflict which took place in Wales . A six-year-old schoolboy was the first to spot what turned out to be a Neolithic arrow head, dating back to 3,600 BC, at an archaeological dig site in Caerau on the outskirts of Cardiff. More than 250 volunteers from the CAER Heritage Project began digging at the site of an ancient Welsh hill fort in early July with the hope of finding artefacts dating back up to 2,000 years. But as the excavation of prehistoric ditches proceeded the expert team from Cardiff University was shocked as volunteers unearthed a plethora of early Neolithic finds. Finds suggesting an ancient conflict range from flint tools and weapons, including arrowheads, awls and scrapers as well as polished stone axe fragments and pottery, dating to around 3,600 BC. A dig last year revealed the fort was the site of a powerful Iron Age community pre-dating the arrival of the Romans. The latest discovery pushes back finds a further 4,000 years in time.Oliver Davis, co-director of the CAER project, explained: "The ditches appear to date to the early Neolithic, when communities first began to settle and farm the landscape. "The location and number of Neolithic finds indicate that we have discovered a causewayed enclosure; a special place where small communities gathered together at certain important times of the year to celebrate, feast, exchange things and possibly find partners. "Such sites are very rare in Wales with only five other known examples, mostly situated in the south. What's fascinating is that a number of the flint arrowheads we have found have been broken as a result of impact - this suggests some form of conflict occurred at this meeting place over 5,000 years ago."
http://www.walesonline.co.uk/news/wales-news/schoolboys-find-unearths-evidence-ancient-7551939?
ESPAGNE –
 Zorita de los Canesa - Davidson Day School students are making rare archaeological finds on a dig at the 12th-century medieval castle of Zorita de los Canesa in Spain. The team has discovered a new section of the castle wall with carved stone cannon balls, several coins from the era of the Catholic kings, and most importantly, the crypts and bodies of dozens of individuals, Saunders said. "One section that we've investigated is roughly 2 meters by 3 meters and is filled with human remains (no particular order, just piled high)," he said. "The other individuals are buried properly in carved tombs. The images that we're getting are amazing." The team uncovered three castle windows with openings from which cannon balls or bullets from early rifles were shot, Saunders said later by phone. The walls were under 6 feet of dirt, he said. The castle was occupied by Christians, Jews and Muslims over its life and was built from the stones of an ancient Visigothic city, Saunders said. The team is excavating a cemetery presumed to hold the tombs of medieval knights.
http://www.charlotteobserver.com/2014/07/31/5078448/davidson-day-students-make-rare.html#.U95XEvl_vVR
USA –
 Crownsville - Near General's Highway in Crownsville, archaeologists were searching for a Revolutionary War campsite when they discovered a 34-by-34 foot stone foundation with brick floors—where slaves once walked more than 200 years ago. They also found thousands of artifacts, including dish fragments, beads and animal bones.The find came during a survey of General's Highway as part of a federally funded transportation enhancement program. The plantation was home to Francis Scott Key's grandmother. Up to 35 enslaved African-Americans lived there. "In here, we have a brick patio. This is an area where the African-American slaves would sit here and probably talk and spend time. Archaeology will tell us what they did," Schablitsky said.
http://baltimore.cbslocal.com/2014/08/03/archaeologists-find-slave-quarters-along-aaco-highway/