INSTITUT SUPERIEUR D'ANTHROPOLOGIE
 INSTITUTE OF ANTHROPOLOGY
ONLINE COURSES / COURS A DISTANCE
 INSCRIPTION : Année Universitaire 2012/2013
   REGISTRATION : Academic Year  2012 / 2013
USA –
 Webster - Centuries collided at Webster Outlying Field as the thunder from helicopters flying overhead smothered the faint sounds of digging and scraping at the archaeological site below. In October, as part of a cultural resources mapping project, archaeologists from Louis Berger Group, working in conjunction with representatives from the conservation division at NAS Patuxent River, conducted shovel test pits on the installation in an open grassy area known as Old Chapel Field. "They went down about three feet, as far as they could dig by hand but they kept finding artifacts, so they opened a more formalized unit to see what else was under the ground," said Mike Smolek, archaeologist and cultural resources manager at Pax River. "It is believed we may be in a cellar that has been filled in. Some preserved wood was found and other evidence suggests it may have had a wooden plank floor." Wine bottle glass, ceramic shards from storage jars and dishware, pipe bowls and stems, pieces of glazed brick, animal bones and large oyster shells were among the items painstakingly unearthed at the site, which is believed to date from the early to mid-1700s. One artifact discovered was a well-preserved piece of pipe bowl clearly displaying the maker's markthe initials WR.
http://www.dcmilitary.com/article/20121101/NEWS14/711019925/1024/webster-field-archaeological-dig-unearths-artifacts
ROYAUME UNI –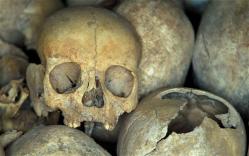 Southwell - The discovery of a skeleton found with metal spikes through its shoulders, heart and ankles, dating from 550-700AD and buried in the ancient minster town of Southwell, Notts, is detailed in a new report. It is believed to be a 'deviant burial', where people considered the 'dangerous dead', such as vampires, were interred to prevent them rising from their graves to plague the living. In reality, victims of this treatment were social outcasts who scared others because of their unusual behaviour. Only a handful of such burials have been unearthed in the UK. The discovery is detailed in a new report by Matthew Beresford, of Southwell Archaeology. The skeleton was found by archaeologist Charles Daniels during the original investigation of the site in Church Street in the town 1959, which revealed Roman remains. In his report, Mr Beresford says: "The classic portrayal of the dangerous dead (more commonly known today as a vampire) is an undead corpse arising from the grave and all the accounts from this period reflect this."Throughout the Anglo-Saxon period the punishment of being buried in water-logged ground, face down, decapitated, staked or otherwise was reserved for thieves, murderers or traitors or later for those deviants who did not conform to societies rules: adulterers, disrupters of the peace, the unpious or oath breaker. "Which of these the Southwell deviant was we will never know."
http://www.telegraph.co.uk/history/9647904/Buried-with-a-stake-through-a-heart-the-medieval-vampire-burial.html
CHINE – Shimao - City ruins found in northwest China's Shaanxi province covering more than a thousand acres are the largest ever found dating to neolithic China, scientists say. Archaeologists studying the 4,000-year-old Shimao Ruins in Shenmu County measured the exact size of the ancient stone city, China's state-run Xinhua News Agency reported Monday. "The city has magnificent stone walls and we've unearthed a large number of carved jade, which hint at the city's core status in north China's early civilization," Zhang Zhongpei, head of the Archaeological Society of China, said. The ruins were first found in 1976 and thought to be the remains of a small town, but a thorough survey last year led to the discovery of more city walls, officials said. Inner and outer structures were uncovered and the walls surrounding the outer city were found to cover an area of 1,050 acres.
http://www.upi.com/Science_News/2012/10/29/Largest-neolithic-ruins-in-China-studied/UPI-16351351554274/
ROYAUME UNI – Truro - Cornwall Council are pushing ahead with the Truro Eastern District Centre (TEDC) despite finding the remains of a one-off prehistoric enclosure thought to be 5,500 years old on the site. Archaeologists, led by Cornwall Council's Historic Environment Service, suggest the eastern end of the site may have been a "causewayed enclosure" dating from the early Neolithic period (3800BC to 3600BC.). Around 80 sites with evidence of causewayed enclosures are known across southern Britain. The find at Truro is the first to be discovered to the south west of the border between Dorset and Devon although the "tor enclosures" at Carn Brea and Helman Tor are thought to have been built at the same time and may have served similar functions. Mr Ratcliffe said: "A causewayed enclosure was a large circular or oval area enclosed by a large bank and ditch. "These sites date to the early Neolithic period - a period which also saw the first introduction of agriculture to Britain, the domestication of animals, the manufacture of pottery, and the first appearance of large communally built and used ceremonial monuments. Both the construction of the site and the activities within and around it probably served to bring communities together." Investigations at the site, on land owned by the Duchy of Cornwall between the A39 Newquay Road and the A390 Union Hill, are expected to be completed at the end of November.
http://www.thisisthewestcountry.co.uk/news/cornwall_news/10016057.Rare_prehistoric_remains_found_under_new_Truro_development/
 FRANCE –
 Poitiers -  Le remblaiement des vestiges de la ville antique découverts sur le site des futurs jardins de Puygarreau est en cours. Il en assurera la conservation.  Il faut d'abord saluer la décision de la mairie de maintenir les vestiges en place, c'est une bonne position entre l'aménagement urbain et la conservation, commentait hier Thierry Bonin, directeur régional de l'archéologie, présent sur le site des futurs jardins de Puygarreau. « La fouille a frappé les esprits, a poursuivi le représentant de l'État, mais on ne peut pas tout montrer, l'important est maintenant de donner du sens à tout ça en replaçant collectivement cette opération - avec la ville et l'Inrap - dans un contexte plus large, celui de la compréhension de la ville romaine. » Plutôt que la destruction des vestiges après les fouilles programmées, la ville de Poitiers a donc opté pour le maintien des structures sous les futurs aménagements. Avec cette décision, l'enfouissement s'apparente à un véritable enterrement de première classe pour les structures en place grâce à des méthodes de remblaiement adaptées à leur conservation. En provenance des carrières de Quincay, le remblai est constitué de granulat de pierres concassées. Une granulométrie fine est au contact des vestiges, le calibre est plus gros pour les couches supérieures. Fin du remblaiement du site prévu autour du 20 novembre. « Les colonnes seront elles aussi enfouies, elles vont être rassemblées dans la cave médiévale située au centre du site », précisait hier l'archéologue.
http://www.lanouvellerepublique.fr/Vienne/communes/Poitiers/n/Contenus/Articles/2012/10/31/Enterrement-archeologique-de-premiere-classe
LA REUNION –
 - La première opération d'archéologie préventive sous-marine réalisée par l'Institut national de recherches archéologiques préventives (INRAP) sur prescription du Département des recherches archéologiques subaquatiques et sous-marines (DRASSM) touche à sa fin. :A bord du bateau "La Curieuse", les scientifiques analysent les fonds marins à l'aide d'une moto-pompe, tout en réalisant des prélèvements. Entre prises de notes et échantillons prélevés dans les fonds marins, rien n'est laissé au hasard. Un chantier bien particulier qui s'effectue entièrement sous l'eau. Au total, douze plongeurs-archéologues venus de métropole participent à cette mission qui devrait permettre au projet de la nouvelle route du Littoral d'être mené à bien. Un travail sous l'eau mais également en surface pour baliser le chantier qui s'étend au long du littoral. Avant de commencer ces fouilles archéologiques subaquatiques, le sol a donc été sondé. Grâce à des balises GPS, les archéologues s'intéressent à ce qu'ils appellent "les anomalies magnétiques" et à leurs origines. Pour l'heure, rien d'extraordinaire n'a encore été découvert lors de ces recherches. Cette opération d'archéologie préventive sous-marine a été orchestrée sur six semaines et doit s'achever vendredi 2 novembre.
http://www.linfo.re/-Societe-/Littoral-fouilles-archeologiques-sous-l-eau
TURQUIE –
 Göreme - Two churches in Göreme have undergone restoration work in Göreme. The Tokalı and Şehitler churches, significant examples of Byzantine art, were erected in the 13th century to commemorate Christian soldiers. Restoration and conservation work at the Tokalı and Şehitler churches, considered among the most important ones in the Mediterranean basin by experts, has been completed for the season. The paintings and frescos in Tokalı Church are technically very important, Professor Maria Andalora of Italy's Tuscia Viterbo University Restoration and Conservation Faculty, who initiated the project, said. "One of the most important characteristics of Tokalı Church is that it is the Cappadocia version of the Vatican's Sistine Chapel. The problems at Tokalı Church are the same as those at the Sistine Chapel. Both churches need restoration."
http://www.hurriyetdailynews.com/turkish-italian-teams-prep-goreme-churches.aspx?pageID=238&nID=33655&NewsCatID=375