INSTITUT SUPERIEUR D'ANTHROPOLOGIE
INSTITUTE OF ANTHROPOLOGY
ONLINE COURSES / COURS A DISTANCE
SPRING TERM : APRIL 2018
REGISTER NOW
USA –
Sonoma - The shiny black piece of obsidian, pointed at one end and with chiseled edges, lay in plain view on earth scorched bare by the Nuns fire on private land in Glen Ellen. David Carrio, a full-blooded Coast Miwok born and raised in Sonoma County, recognized it immediately as a tool fashioned by his forebears who once inhabited Marin and southern Sonoma counties, a bountiful land for hunter-gatherer people, rich in food and laced by freshwater streams. Obsidian tools, including at least one fashioned more than 11,000 years ago, are prevalent throughout the county, where what is now Annadel-Trione State Park was a major source of the hard rock formed from volcanic lava. Martin said he knew other artifacts have been found in areas burned by the wildfires, calling it "an opportunity for us to learn a little bit more about the prehistory of our area." Native Americans gleaned obsidian from Trione-Annadel State Park — "a little like us going to Safeway" — and carried it far and wide, Origer said. Obsidian was used to make tools for cutting and scraping, as well as points for arrows and spears, he said. Generally, obsidian artifacts are found throughout the American West, hundreds of miles from their source, he said. Annadel obsidian is "medium grade" material, while the rock from a place called Glass Mountain near St. Helena is higher quality and found as far away as Eureka, Lake Tahoe and Santa Barbara, Origer said.
http://www.sonomanews.com/news/8051396-181/sonoma-county-wildfire-debris-cleanup
EGYPTE –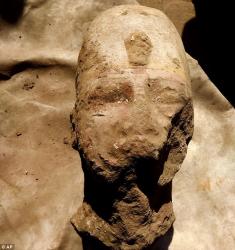 Kom Ombo - Egypt's Antiques Ministry announced today the discovery of parts a statue of Ramses II. The head and chest of the statue of Ramses II were found in the Temple of Kom Ombo during a project to protect the site from groundwater
http://www.dailymail.co.uk/sciencetech/article-5442287/Parts-newly-discovered-Ramses-II-statue-Egypt.html
ROYAUME UNI –
Sherborne - Archaeologists digging on a housing development site in Sherborne have found evidence of funeral pyres and pots used for cremations. The archaeologists have dated the site to the Middle Bronze Age, and uncovered evidence that it was being used around 1,500BC for ceremonies associated with the cremation and burial of the dead. Initial findings have included several pits containing large pottery vessels, normally associated with burial sites, but as yet have not revealed traces of human remains. Dig director Steve Robinson said: "It is remarkable that this pottery has survived so long – it is so poorly fired that when it gets wet some turns back into clay." Nearby, the team found evidence of fires or pyres on which bodies may have been cremated at the time.
https://www.somersetlive.co.uk/news/local-news/evidence-funeral-pyres-cremation-pots-1271365
ROYAUME UNI -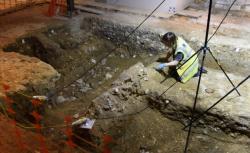 Norwich - Excavation work is under way in the basement of Norwich Castle as archaeologists delve deeper into the historic landmark and the mound on which it stands. The work is the first major excavation in the castle in nearly 20 years and the largest ever undertaken. It is involving careful analysis of two large areas in the south west and north east of the basement. Dr Tim Pestell, curator of archaeology at Norwich Castle, said an important part of the excavation work was to gain a greater understanding the different layers beneath the basement. He said: "What we really want to try to find out is when some of these levels were built up because at the moment we think we first had a mound built and a wooden castle keep on top of the motte, and then the second castle was built in stone, the one that we have here today, and to do that they had to build a bigger mound to support that stone castle. We would like to date the stone elements of the keep and that is the reason for this excavation." He said the pier bases in the basement - which had originally supported the floor for the great hall - and what the excavation work discovers around these bases, was also key to the understanding of the castle's structural history.
http://www.eveningnews24.co.uk/news/excavation-work-under-way-at-norwich-castle-1-5412401
USA - Manasota Key - An unmarked Native American burial site more than 7,200 years old was discovered a quarter-mile off Manasota Key, Florida Secretary of State Ken Detzner announced Wednesday. It's against the law to disturb any unmarked human burial sites, so underwater archaeologists had to use techniques such as sonar and magnetometry to investigate. After a year and a half of investigating, they could firmly say that the area that measures less than an acre was an inland, peat-bottomed, freshwater pond used for burial from the Early Archaic Period.
VIDEO = http://www.bradenton.com/news/local/article202620174.html