01 MARS 2017 NEWS: Leekfrith - Falmouth - Ninive - Colorado - Guizeh -
01 MARS 2017 NEWS: Leekfrith - Falmouth - Ninive - Colorado - Guizeh -
INSTITUT SUPERIEUR D'ANTHROPOLOGIE
INSTITUTE OF ANTHROPOLOGY
ONLINE COURSES / COURS A DISTANCE
SPRING TERM : APRIL 2017
REGISTER NOW
ROYAUME UNI –
Leekfrith - Two metal detecting friends have found a hoard of superb iron age gold jewellery after returning to a Staffordshire field where they previously found nothing. The four iron age gold torcs – three collars and a bracelet-sized piece, including two made of twisted gold wire, two with trumpet shaped finials and one with beautiful Celtic ornament – are of international importance. The pieces were made in present-day Germany or France, possibly in the third or fourth century BC and, according to Julia Farley of the British Museum, are some of the oldest examples of iron age gold, and of Celtic ornament, ever found in Britain. They could have arrived through trade or on the neck and arms of an extremely wealthy immigrant.
https://www.theguardian.com/science/2017/feb/28/detectorists-strike-iron-age-gold-staffordshire-field
ROYAUME UNI –
Falmouth - The restoration of an historic pub on Falmouth's waterfront has led to some "remarkable" archaeological finds which has delayed the project. St Austell Brewery are currently restoring and refurbishing the Chain Locker and builders have discovered that not only is the building older than first imagined, but some of the earliest features of the place are still in situ. This includes an original earth and hair plaster-bounded wall, a timber partition wall featuring hand-painted wallpaper and a stone-built fireplace.
http://www.cornwalllive.com/archeological-finds-during-restoration-of-falmouth-s-chain-locker-pub-surprise-st-austell-brewery/story-30163164-detail/story.html
IRAQ –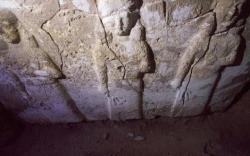 Ninive - The Nebi Yunus shrine - containing what Muslims and Christians believe to be the tomb of Jonah, as he was known in the Bible, or Yunus in the Koran - was blown up by Isil militants soon after they seized swathes of north Iraq in 2014. The shrine is situated on top of a hill in eastern Mosul called Nebi Yunus - one of two mounds that form part of the ancient Assyrian city of Nineveh.The Iraqi army retook the area from Isil last month, revealing the extensive damage wrought by the jihadists. Local archaeologists have said that Isil also dug tunnels deep under the demolished shrine and into a previously undiscovered and untouched 600BC palace. Inside one of the tunnels, Layla Salih, an Iraqi archaeologist, discovered a marble cuneiform inscription of King Esarhaddon thought to date back to the Assyrian empire in 672BC. While the king's name is not visible on the slab, a historian who has seen photographs of it says phrases are legible which were used only to describe him, in particular his rebuilding of Babylon after his father Sennacherib had it destroyed. There are only a handful of such cuneiforms recovered from the period.
http://www.independent.ie/world-news/middle-east/underground-palace-from-600bc-found-in-isil-tunnel-35488750.html
USA –
Colorado - On August 26, 1776, after descending the eastern side of the Uncompahgre Plateau to the Uncompahgre River Valley, Father Francisco Silvestre Vélez de Escalante wrote, "In the meadow of this river … there is a very wide and well-beaten trail." Similarly, on Sept. 9, when the expedition he led with Father Francisco Atanasio Domínguez descended the north side of Douglas Pass, Escalante wrote that the group traveled nearly 30 miles "over a very well-beaten trail with only one bad stretch." Since very few Europeans had traveled this region prior to Dominguez and Escalante, it's clear that these "well-beaten trails" were established by the natives who lived there. In 1776, that meant the Utes. But the trails were likely used by a variety of native people over the ages. "Lots of people used these areas," said Carl Conner, owner of Grand River Institute, an archaeological consulting firm in Grand Junction. He is also founder of the Dominquez Archaeological Research Group, or DARG, an associated nonprofit organization. In the Piceance Basin of western Colorado, there is plenty of proof the Utes once lived here. But Conner and his team have also found evidence in the area for members of the Fremont Culture, as well as Shoshones, Navajos and early ancestors of the Navajos. And there are traces of Dismal River culture, believed to be ancestors to the Apaches. Additionally, archaeologists have found in western Colorado shell beads that originated on the Pacific Coast and obsidian from Wyoming, New Mexico and other parts of Colorado. Clearly, many people moved through this region, whether trading, traveling or relocating. They almost certainly had a number of long-established routes. Through DARG, Conner and Project Coordinator Richard Ott have undertaken the Ute Trails Project, attempting to trace major trails or routes in western Colorado.
http://www.gjsentinel.com/news/articles/routes-trails-crisscrossed-area-long-before-europe
EGYPTE –
Guizeh - Egypt's Ministry of Antiquities said Tuesday that it initiated the second phase of restoring the Dream Stele of Thutmosis IV, which lies between the hands of the Sphinx at the Giza pyramids plateau. The Dream Stele is made of pink granite and has a height of 144 cm, width of 70 cm and thickness of 40 cm. It dates back to the era of the Eighteenth Dynasty.King Thutmosis IV has ordered to put as a memorial slab between the Sphinx' hands, in remembrance of a dream he had before he ascended Egypt's throne in 1,401BCE (Before Common Era). In the dream, the Sphinx appeared to Thutmosis IV and promised him that he would attain the throne of Egypt, asking him to kindly remove the sands which had accumulated over him through the years.
http://www.egyptindependent.com//news/egypt-initiates-second-phase-restoration-giza-plateau