01 DECEMBRE 2014 NEWS: Odisha - Aylesham - Otago - Kolkata - Rarikhal -
01 DECEMBRE 2014 NEWS: Odisha - Aylesham - Otago - Kolkata - Rarikhal -
INSTITUT SUPERIEUR D'ANTHROPOLOGIE
INSTITUTE OF ANTHROPOLOGY
ONLINE COURSES / COURS A DISTANCE
WINTER TERM : JANUARY 2015
REGISTER NOW
INDE –
 Odisha - The Archaeological Survey of India (ASI) on Sunday found the remnants of an ancient temple near Lingaraj temple in Odisha's capital city."The temple, belonging to the 11thand 12th Century, is built with pancha ratha style", said Arun Nayak, heritage conservationist, to Sambad. According to reports, a technical team of ASI, led by Prof GC Mitra on December 3, 2012 had conducted groundwork survey of Ekamreswar temple situated at a distance of nearly 40 feet to the south-east of Lingaraj temple, for renovation work. As some parts of the temple, neglected since years, had buried underground, the ASI team had dug up around 15-20 feet to examine the structures. Later, a team of State Archaeological department began the renovation work of the excavation work of the Ekamreswar temple. After digging out 11-12 feet around the temple, the team had found an ancient temple beneath the ground on the south-west side of the temple. Nearly two years after, the ASI team, while digging up around 10 feet of the earth around the main temple of Ekamreswar on Sunday, found the temple top (dadhi nauti) of another ancient temple on the south-east side facing towards Lingaraj police station. "We have found the existence of another underground temple inside Ekamreswar temple after digging out the temple periphery area for conservation and renovation work. The excavation work of the underground temple is presently underway, said BP Ray", said Superintendent of the State Archaeology department.
http://odishasuntimes.com/101613/remnants-ancient-temple-found-near-lingaraj-temple-odishas-capital-city/
ROYAUME UNI –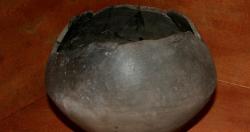 Aylesham- Archaeological excavations usually uncover items from a single, specific era. A recent dig in Kent however, has turned up a truly remarkable array of archaeological artefacts from a wide range of time periods. Bronze Age urns, Roman domestic objects and a complete Saxon skeleton have been unearthed during excavations in Aylesham, Kent. The oldest of the discoveries are likely to date back over 2,000 years. The team, led by Dr Paul Wilkinson of SWAT Archaeology, has uncovered some incredible finds. Bronze Age cremation urns have been found in a remarkable state of preservation. Urns from this time are particularly rare and offer valuable insight into ancient funereal customs. Roman domestic pottery was also found in ditches. "The Bronze Age urns are rare, exotic and wonderful and the ditches were full of very nice Roman domestic property so there was obviously a settlement nearby," Dr Wilkinson said in a statement. Kent was an important region in Roman Europe. Aylesham is about 20 miles away from the site of the Roman town of Durolevum, where Dr Wilkinson had already discovered some impressive Roman items. Archaeologists can find out a huge amount about human activity in an area by looking at what ancient people threw away. The Roman pottery which was discarded shows what normal people were using on a daily basis. One of the most impressive finds was a wonderfully well-preserved Saxon skeleton. The skeleton is thought to be 1,500 years old and is in a very good condition. Post-excavation work on the skeleton will be undertaken by Dr Chris Deter at the University of Kent.The skeleton could provide valuable clues about population movement in the Saxon era. It has long been debated by historians when exactly a large influx of migrant groups, particularly from an area encompassing modern-day Denmark and the Low Countries, forced the native British westward. If the skeleton turns out to be of European origin, carbon dating will allow historians to pinpoint a specific date when these ancient population movements occurred.
http://www.newhistorian.com/saxon-bronze-age-roman-artefacts-found-single-site/2279/
NOUVELLE-ZELANDE – Otago -Heritage New Zealand has settled with Oamaru company Mitchell & Webster Limited following damage to two of North Otago's most iconic stone structures at a dairy conversion site earlier this year. The Teaneraki or Meeks Lime Kilns date to 1896 and about 1906, and were among the earliest kilns built in the region. Heritage New Zealand archaeologist Dr Matt Schmidt says about three to four metres was taken off the kilns during earthworks before work on the site was halted. Because the working area and one of the kilns are pre-1900 an archaeological authority was required prior to work commencing.
http://www.scoop.co.nz/stories/AK1412/S00019/settlement-reached-after-lime-kilns-damaged.htm
INDE - Kolkata - Recent archeological excavations at the Dum Dum mound could very well rewrite the history of the origins of this city. The city, as was always known, had come into existence with the arrival of Job Charnock who consolidated the three villages of Kalikata, Sutanuti and Gobindapur to create the urban centre known as Kolkata or erstwhile Calcutta. However, recent excavations, at the raised ground towards the north of Clive House — the oldest building in the city — have yielded remains of an urban settlement dating back to 2nd Century BC. The site remained in occupation almost till modern time, with a break during the 12th to 14th Century AD. Speaking to Gulf News, P K Mishra regional director (east) of Archeological Survey of India (ASI) said: "Our findings reveal Kolkata was not a creation of Job Charnock, but it was there much before his arrival, as traces of urban settlement have been found that bears a close resemblance with those found in an urban settlement at Chandraketugarh." Artefacts from the excavation are various and include exquisite terracotta plaques and figures from the 2nd and 1st Century BC to 8th-9th Century AD.The excavation has proved that Kolkata was inhabited by civilised people who used materials normally found in an urban settlement. The discovery of various things bearing close semblance at many artefacts that hints that the settlement was an extension of Chandraketugarh. Archeologists are keen to continue digging as many believe that the revelations will not only give a complete understanding of the origins of Kolkata, but they may as well unearth a whole city.
http://gulfnews.com/news/world/india/archeological-excavations-may-rewrite-the-history-of-kolkata-s-origin-1.1416829
BANGLADESH –
 Rarikhal - The High Court has ordered the authorities to take initiatives within seven days for preserving the ancestral house of noted scientist Acharya Sir Jagadish Chandra Bose. The court also issued a rule against the respondents asking why they should not be directed to preserve the 300 years old historical house. Acharya Sir Jagadish Chandra Bose's ancestral house is situated at Rarikhal village under Rarikhal union of Sreenagar upazila in Munshiganj.  Sir Jagadish Chandra Bose, CSI, CIE, FRS was an Indian polymath, physicist, biologist, botanist, archaeologist, as well as an early writer of science fiction.
http://www.dhakatribune.com/law-rights/2014/nov/30/hc-preserve-jagadish-chandra-bose%E2%80%99s-ancestral-house