INSTITUT SUPERIEUR D'ANTHROPOLOGIE
INSTITUTE OF ANTHROPOLOGY
ONLINE COURSES / COURS A DISTANCE
WINTER TERM : JANUARY 2014
REGISTER NOW 
GUATEMALA –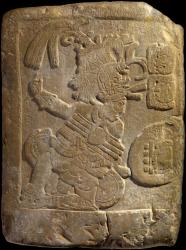 La Corona - The Guatemalan government announced the repatriation from the United States of a Mayan panel dating from the classic period, 250-900. The limestone piece, which stands roughly 50 centimeters (19.6 inches) tall, was taken from the La Corona site in the northern province of Peten, an area seen as the cradle of the ancient Maya civilization. Guatemala learned in 2001 that the panel was part of a private collection in San Francisco, the country's deputy minister for Cultural and Natural Heritage, Rosa Maria Chan, told Efe. Guatemalan officials eventually obtained the piece from an auction house that ended up with the panel after the death of the unnamed collector, she said. In the last 10 years, Chan said, Guatemala has recovered more than 10,500 antiquities from the United States, Germany, Britain and France, among other countries. La Corona and the other archaeological sites in Peten were extensively looted in the 19th century, she said.
http://www.hispanicallyspeakingnews.com/latino-daily-news/details/guatemala-recovers-mayan-artifact-dating-from-250-b.c.-from-u.s/28198/ 
ROYAUME UNI –
 Pinchbeck - A full scale exploration to hopefully find the remains of a "lost manor" in Pinchbeck is to start next spring.It is more than three years since Pinchbeck History and Archaeology Group's last dig at Healey's Field was closed down, mainly to lack of funding.But the project, which unearthed a wealth of information and artefacts to add new chapters to early village life, was never meant to be confined to the history books. Group press officer Ray Tucker says that new funding means that the entire project can be brought back to life. He said: "But the new dig will take place at a different site quite close to Healey's Field. "In mid-August this year a full geophysical survey over an area of approximately five hectares, was carried out at Abbey Field adjacent to Herring Lane, and compelling evidence that a medieval manor really did exist in the village have been revealed. The survey, carried out by Lincoln-based Allen Archaeology, clearly shows building outlines and a number of areas where stone structures lay beneath the surface of Abbey Field. Mark Allen, of Allen Archaeology, says the results of the survey are some of the most detailed he has ever seen. Now plans are in place to excavate a number of trenches up to six feet wide and to whatever depth is needed to discover what is actually hidden.
http://www.spaldingtoday.co.uk/news/latest-news/search-to-start-for-village-s-lost-manor-1-5719153
ROUMANIE –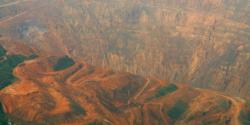 Rosia Montana - A leaked British report into the archaeological significance of an ancient Roman gold mine has helped to scupper plans by the Romanian government to approve invasive mining at the site. The expert report, kept hidden for three years by the Bucharest government, was commissioned by Romania's ministry of culture and funded by a not-for-profit organisation, Pro Patrimonio, which works to protect Romania's cultural heritage. The report says that the ancient site, in Rosia Montana in the Apuseni Mountains of western Transylvania, is worthy of consideration as a Unesco world heritage site and that its galleries are "the most extensive and most important underground Roman gold mine known anywhere". This month, the ministry of culture presented a list of monuments that it would like to see included as world heritage sites, but the picturesque village of Rosia Montana, with its ancient galleries that tell of Roman mining, was not on it. The village sits near one of the largest undeveloped European gold deposits. A Canadian mining company, Gabriel Resources, wants to extract the gold using a method that would reportedly require 40 tons of cyanide daily. Politicians have backed the plans.
http://www.independent.co.uk/news/science/archaeology/news/golddiggers-thwarted-by-ancient-rome-romania-shelves-plans-to-allow-the-exploitation-of-a-heritage-mining-site-8975118.html